Well the promised wet spell has arrived – we had some showers over the weekend and then a lot more through this week as winds turned onshore and the upper temperatures cooled. So far in town we've recorded 86mm this week, but there are some much higher (and lower) totals out there. Total rain to 9am this morning looked like this: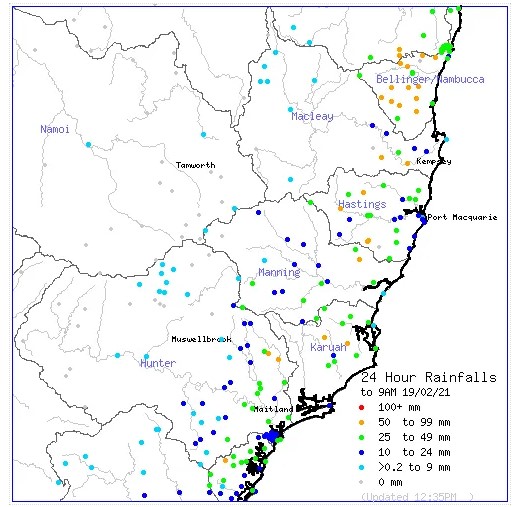 …You can see a lot of totals over 50mm across our valleys. Since 9am (to 3pm) we've already seen these totals: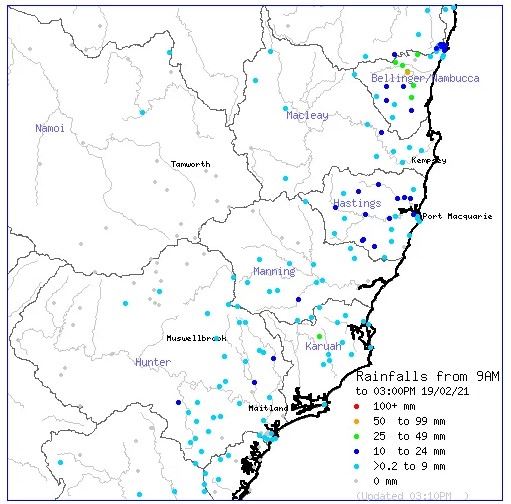 …and you can see once again totals over 50mm already in the Kalang. We'll see the showers and storms continue at times through the afternoon and overnight, and with the ground now saturated we could see some quick river rises in areas that see the bigger falls. Worth watching the upper Bellinger and Never Never in particular, though the falls in the Kalang valley could also bring it up fairly quickly.
We'll see the trough move offshore over the weekend and, at the same time, spin up a decent Tasman low. That low will likely send some more showers and storms onshore in strong southerly winds. That low will move away and we'll then see the next system start to move in through next week, increasing the chance of showers once again as winds turn more onshore.
Models continue to show the chance of higher than average rain totals as we head into autumn and winter, so expect more of the same as we head further into our traditional wet season. Flooding could be an issue from time to time – as significant events develop I'll post updates.
Handy Links:
River Heights: www.bellingenweather.org/rivers.htm
Rain Totals: www.bellingenweather.org/rainfall.htm
Floodcams: www.kombuwholefoods.com.au/floodcam/
BoM Warnings: www.bom.gov.au/nsw/warnings/index.shtml