We've got a trough deepening along the coast through today and tomorrow – and at some point that trough will likely develop a low. The location where that low develops will determine the location of the heaviest rain – however even before that happens there will be some big falls along the trough itself.
Right now the peak of the rain still appears to be just to our south with Kempey on 120mm since 9am at the time of writing, but no guarantees that the rain will remain down there and definitely one where it is worth keeping an eye on the radar and warnings. Here's our radar (courtesy of Weather Chaser) since 5am this morning. You can see the showers and storms moving in, but then moving towards the south: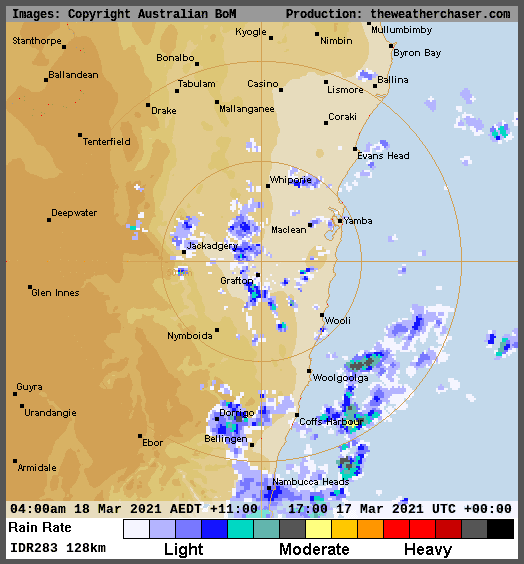 The BoM have flood watches still out for our region, with the latest Severe Weather alert suggesting that some locations in the Mid North Coast could see life threatening flash flooding – so definitely one to take seriously. There is every chance the bigger falls could be to our south, but with the threat of big falls across our region still valid for the next 24 hours at least, it's definitely worth being aware of what is happening. In their words:
---
Severe Weather Warning for HEAVY RAINFALL and DAMAGING WINDS
For people in Mid North Coast and parts of Northern Rivers and Hunter Forecast Districts.
Issued at 1:58 pm Thursday, 18 March 2021.
HEAVY RAIN, POSSIBLY LIFE THREATENING AND DAMAGING WINDS FOR THE MID NORTH COAST, THEN EXTENDING SOUTH.
A coastal trough continues to deepen near the northern New South Wales coast, with the forecast of an embedded Coastal Low to form within the trough on Friday. This low is forecast to slowly track down the coast later on Friday
HEAVY RAINFALL, leading to FLASH FLOODING, has begun about parts of the exposed Hunter coastline as the trough deepens. Increased rainfall rates about areas of the Mid North Coast are likely to continue to develop into Friday as a low are forecast to form off the Mid North Coast on Friday, shifting south as the low moves down the coast.
INTENSE RAINFALL which may lead to dangerous and life-threatening flash flooding may develop in areas of the Mid North Coast and northern Hunter districts as continued rainfall impacts the region. Roads are likely to be cut off by water, and there will be an increased risk of landslips over this period.
DAMAGING WINDS, averaging 60 to 70 km/h with peak gusts in excess of 90 km/h are likely to form on Friday along the coastal fringe as the low develops in the Mid North Coast, with the area of impact moving south by the evening.
The exact positioning and movement of the Coastal Low will impact the areas of strongest winds and highest rainfall, and updates to the warning will be issued as this system develops.
As catchments are relatively wet in the Mid North Coast, RIVERINE FLOODING is also possible. A Flood Watch has been issued, covering the Mid North Coast, Hunter and parts of Sydney.
Locations which may be affected include Coffs Harbour, Port Macquarie, Taree, Kempsey, Newcastle, Gosford, Cessnock, Maitland, Woolgoolga, Sawtell, Dorrigo and Dungog.
---
Flood Watch for the Mid North Coast, Hunter and parts of Sydney
Issued at 10:20 am EDT on Thursday 18 March 2021
A coastal trough is expected to develop along the northern New South Wales coast today bringing heavy rain to the area. This trough is expected to extend south on Friday and Saturday generating widespread rain along the coast and adjacent ranges.
Catchments likely to be affected by flooding are currently wet following rainfall earlier in the week.
The weather system is expected to cause flooding for the catchments listed from Thursday into the weekend as the weather system moves south. Flood Classes (minor, moderate, major) are only defined for catchments where the Bureau provides a flood warning service.
Catchments likely to be affected include:
Orara River: minor to moderate flooding
Coffs Coast
Bellinger and Kalang Rivers: minor to moderate flooding
---
With this event now coming together in real time we won't be updating on this eventas we will just be duplicating information available elsewhere. I'll post again once we are through this event and looking to see what lays further ahead. Until then here's some useful links:
Live river heights are available here.
Live river cams available here.
Live weather information for Bellingen town is available here
BoM rainfall monitors across our region can be found here.
Up to date warnings from the BoM can be found here.
Local SES warnings can be found here.