Weather models work in a couple of ways – short term models look at current conditions and then project what will likely happen over the next couple of weeks, while longer term climate models are used to develop seasonal forecasts.
These models forecast larger scale ocean and atmospheric conditions and have improved markedly over the last few years. They were used for this Bellingen Weather post from way back in September…over a quarter of a year ago…and they were absolutely on the mark. To quote from the post: "…right now November would be a significant concern. The outlook is a result of the forecast temperatures and weather patterns in the Indian Ocean (positive forecast until end of the year – much drier than normal across SE Aus), Pacific Ocean (neutral for now – much less of an impact) and Antarctic Oscillation (how far north the westerlies come – and right now this one has the potential to head into record negative territory through October and November – which is not good for us at all)."
The result of that combination of the IOD and SAM are clear for the entire world to see – the worst fire season on record. These conditions were also forecast by the BoM in their seasonal outlook. Here's their August forecast for the October to December period:
Moving ahead the next few months show significantly less extreme conditions with the IOD and SAM both heading into neutral territory. What that does is give seasonal influences have more of a role to play, and at this time of year that means higher than average chances of seeing some decent rain.
What climate models are still indicating though is for slightly drier than average conditions continue for the time being – though it's worth emphasising that the severe conditions are forecast to ease and the forecast slightly drier than average conditions are still likely to bring some decent wet spells.
Here's the forecast from the best-of-the-lot EC model for the coming three months: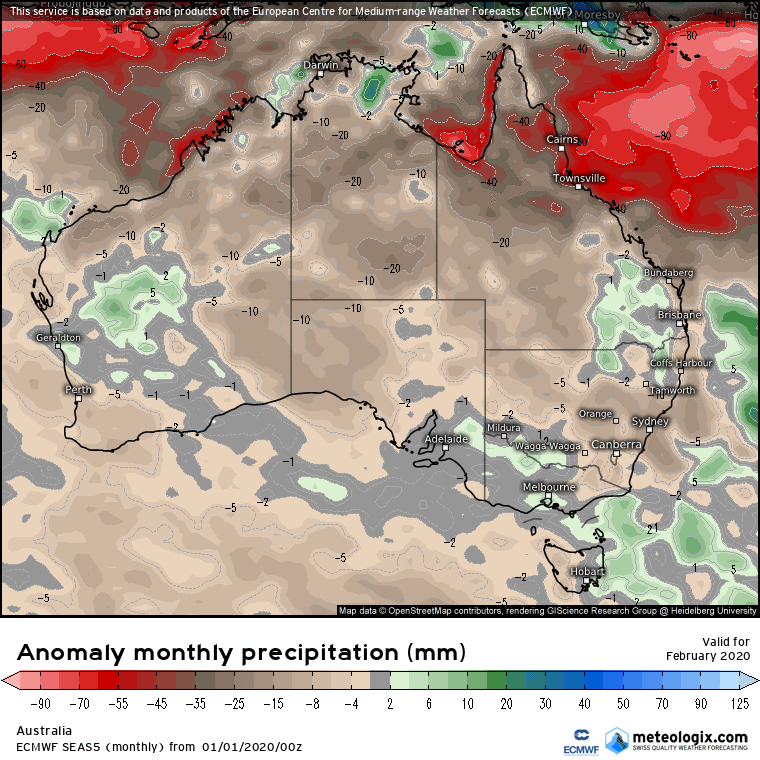 This ties in with the BoM forecast for the next three months, which again indiciates a continuation of slightly drier than average conditions across our region and parts of SE Qld:
Despite the forecast, the easing climate drivers combined with our traditional wet season mean that we are still forecast to see somewhere around 500mm of rain for February through April. There is some decent reliability in this forecast, though at this time of year we can also see tropical systems moving down the coast – and if that happens we could see considerably more. Conversely, if they remain further north we could see less.
Temperatures are again forecast to be significantly above average across our region, so expect some hotter spells from time to time:
Looking even further ahead there are mixed signals. Whilst it is now clear that Australian weather is influenced by many more ocean patterns than just the ENSO cycle in the Pacific, that ocean still has a massive role to play. Some models forecast a transition to La Nina conditions through our coming winter, while a new ENSO forecasting models indicates an 80% chance of a signifiant El Nino event developing later this year – which would be a big worry across much of the inland.
The biggest influences across our region are the IOD and SAM, while ENSO is a huge influence west of the divide. Seasonal outlooks for both the IOD and SAM are not available yet, but as we head through the coming year I'll keep an eye on the climate models and post regular updates as patterns develop. In the meantime here's hoping we see some good rain over the coming few months.