We've been a *little* drier over the last week or two. This has happened because we're impacted by the Southern Ocean as well as the Pacific Ocean…but we also need to keep an eye on the Indian Ocean. Confused yet? I'll go through them in turn and try to make sense of what they're telling us…
The circulation around the Southern Ocean turned negative last week. When that happens westerly winds reach further north. In bushfire season this is *not* what you want – you will usually find bushfire danger levels ramping up at that time….however when it's been as wet as it has we welcome some drier weather! Here's the latest graph showing the Southern Ocean circulation turn negative, which has helped stop the ongoing flow of humid and wet easterly winds from the Pacific:

…but what you can also see is that the index is heading back into strongly positive territory, at least in the short term. This increases the risk of easterly winds from the Pacific Ocean returning. If they do we need to know what state the Pacific is currently in as this tells us how wet those winds will likely be. We can check this using the ENSO index – and right now it is looking as positive as we've seen all year – and for the Pacific positive means wetter for us: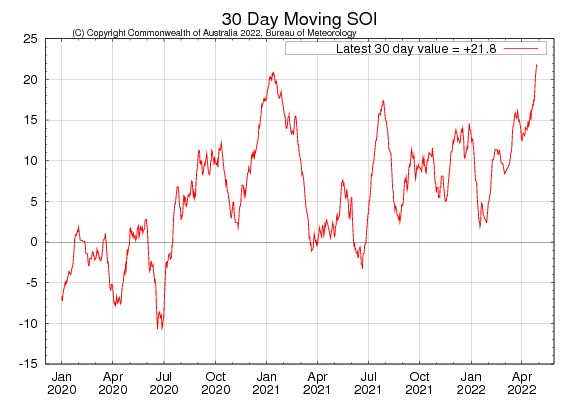 …and as we look at the temperature patterns in the Pacific we can see the La Nina still in full swing:

This pattern usually results in rising air across our region with descending air over the Americas…so we can see how this increases the chance of wetter conditions for us.
We also need to look at the Indian Ocean. The Indian Ocean Dipole is another graph that indicates an increased or decreased risk of wetter conditions across Aus. For this one negative is wetter (as it indicates warmer than usual water to the northwest of Aus as you can see in the image above)…and checking out the latest forecast for winter: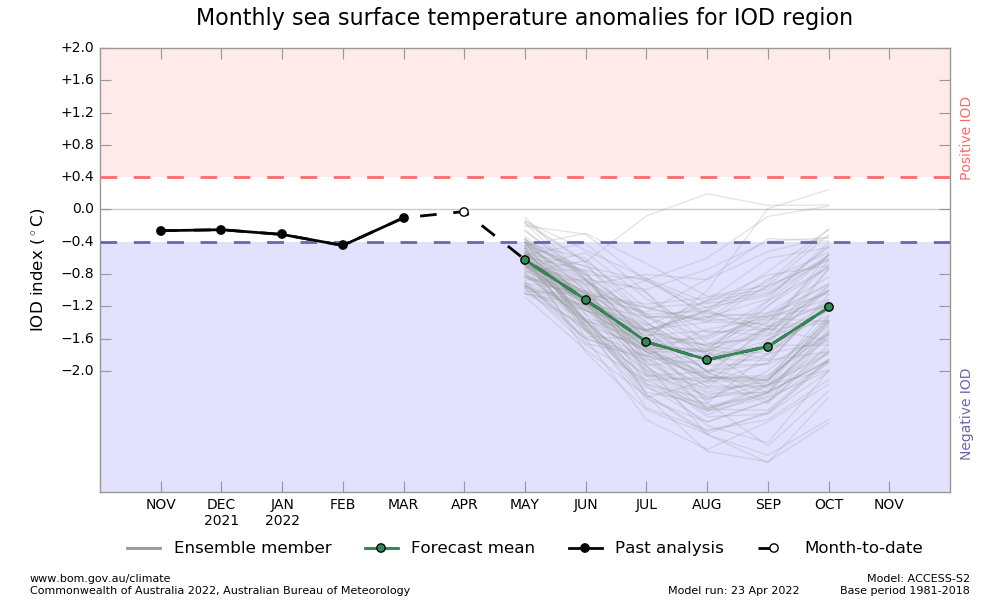 …it is forecast to turn strongly negative through our winter. Negative is wet.
What this all means is that the Pacific and Indian Oceans are both working hard to offer wetter than average conditions. The Southern circulation turning negative can help stop the flow of wetter weather east of the divide (where we are) – and has done so over the last couple of weeks and will likely do so at times again – but until we see the changes in the oceans to our east and west we'll continue to see wetter conditions at times.
We should see drier conditions through the first half of this week, before another westerly change moves through. This will likely give us a little rain, but as is usual with systems coming in from the west we'll likely not see to much. It will also bring much drier air, at least for a few days. Looking beyond that however we'll see the atmosphere move back towards a more easterly regime…which will increase the risk of wetter weather. I'll post again if / when more significant rain looks likely.
Sorry that there is not better news, but hope that the information above helps explain what is happening, and why. Good news? looks like the La Nina will clear away next summer, bringing the chance of drier than average conditions back across Australia. Not so good news? When that happens we'll likely see the significant growth from the last couple of wet summers dry out, increasing the risk of fires once again!
Thanks to: Kombu Wholefoods and Snapfrozen for supporting and sponsoring these posts
Thanks to: NOAA / BoM for the images and graphs