It's been fantastic sitting in Bellingen and watching the storms build on the hills each afternoon. As we hit mid-summer usually find that steering winds are less strong. Storms usually kick off close to the hills, and in Spring the steering winds usually bring them over the valleys – but once we reach summer they tend to move more slowly, with more rain over the hills and less making it towards the coast….which is what we've seen over the last few days.
We've got a trough moving closer to our region however, which will serve to increase instability further (especially when we sit on the northern side of that trough in the hotter and steamier air). The BoM detailed models show some decent falls today. Here's the forecast from two variations of that model, showing forecast rain to 11pm tonight: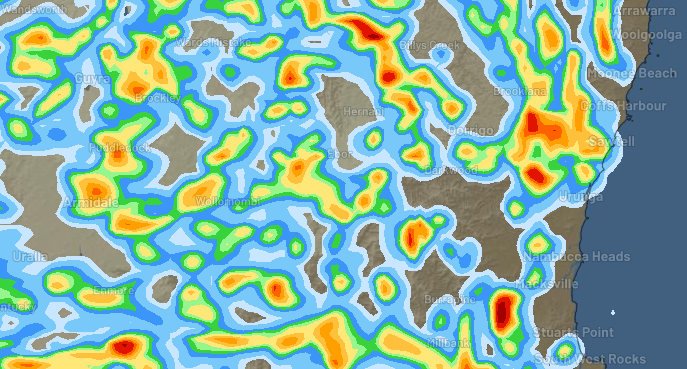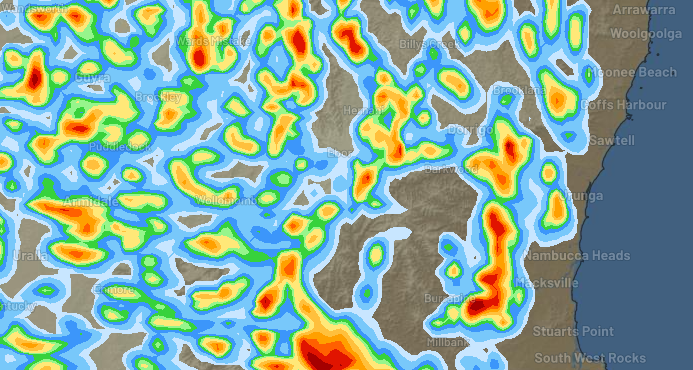 You can see they both show the 'popcorn' convection signature that you would expect on days like today – so expect to see storms around the place – though as is usually the case some will see some good falls, while others – more likely closer to the coast – will see less.
We'll see a similar pattern in place through Wednesday and Thursday – so by the time we reach the end of Thursday there could be some decent accumulations across the higher parts of our region. Here's the forecast total to 5pm Thursday from the EC model. You can see the focus over the hills with lower totals towards the coast: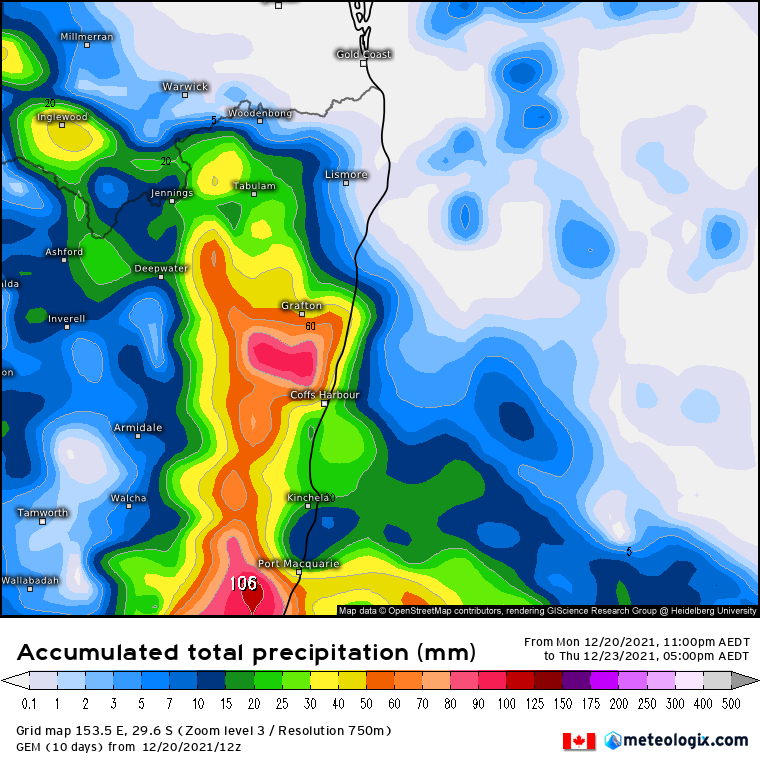 Once we move through these stormy days we'll then likely see a bigger shift in the weather, with the *risk* of some more significant rain totals across our region. To see what is forecast to happen compare the current chart: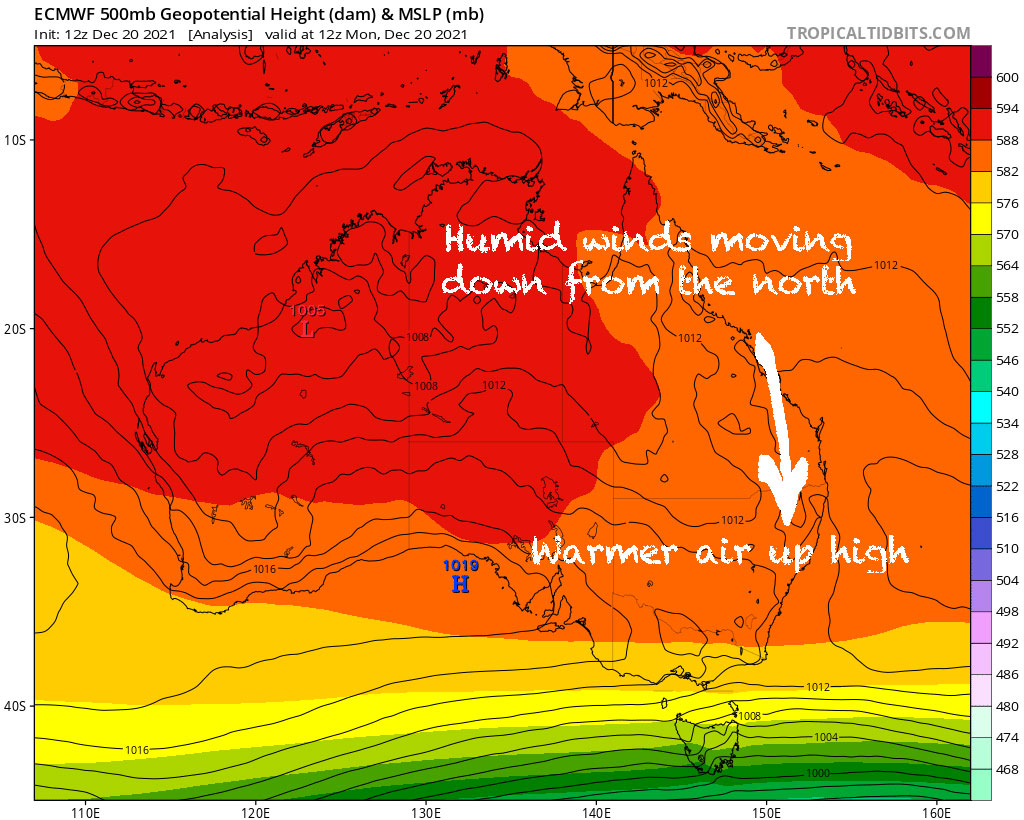 …with the chart for 9 days ahead: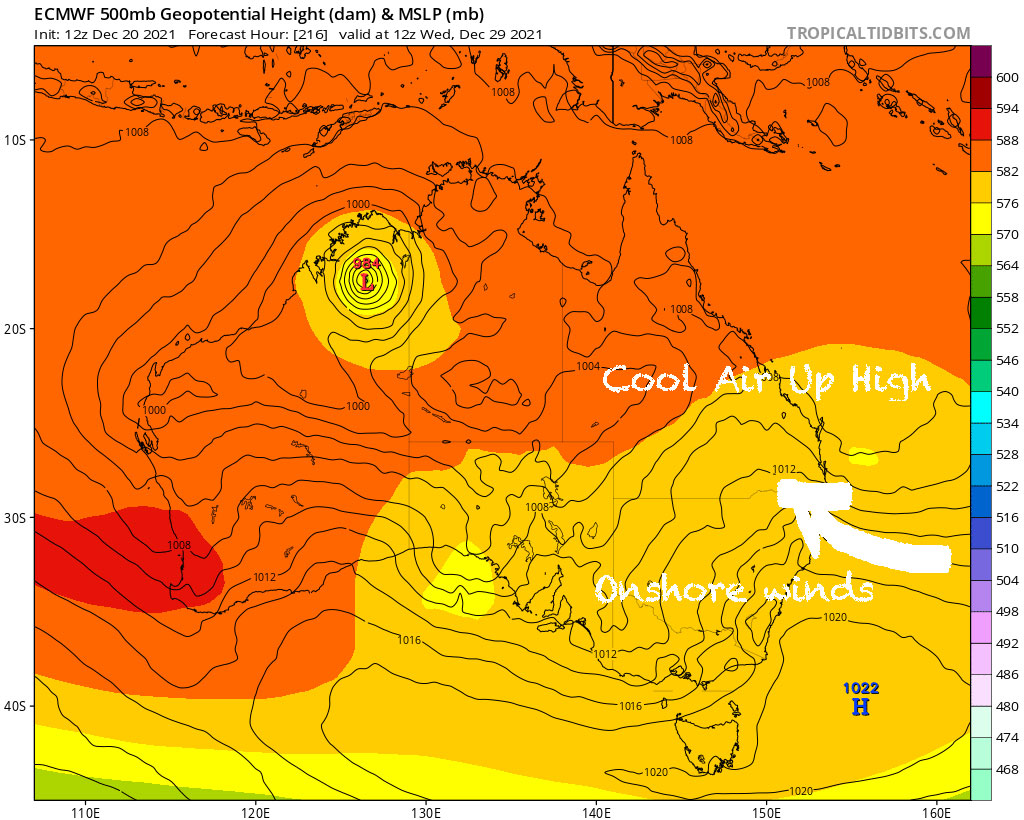 You can see the forecast cooling upper temperatures combined with a strong onshore flow. This is a classic flood pattern for us. It is still a LONG way off however and models WILL change over the coming days – so don't read too much into the forecasts for now…but worth being aware that there is the risk of some bigger rains kicking off in a week or so. A lot will depend on the development and movement of any tropical systems to our north…and until they develop the models will keep chopping and changing…so this is one of those 'risk is there but the details are not there yet' posts. I'll post again as we get closer to any potential event – but for now here's the forecast rain totals out to 10 days from a few of the major models. You can see the detail changes between the models, which is usual this far out from an event: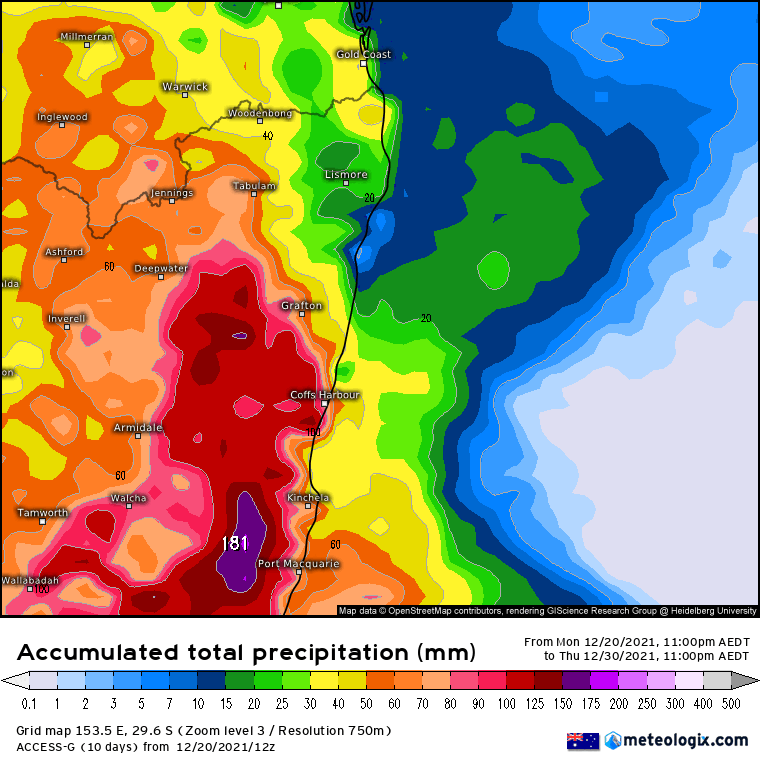 That's it for now – enjoy the storms, wishing you a fantastic Christmas, and thanks for all your messages of support and feedback through the year. Kev
Thanks as always to: Kombu Wholefoods | Snapfrozen | Meteologix | Tropical Tidbits