We've got the first big cold change of the winter moving through today. The same system that has brought some big rain totals through in inland will finally clear through our region this afternoon into this evening. Don't be expecting any big totals from it – we are sheltered by the Dividing Range from the strongest impacts of westerly systems, so we'll likely see the rain and storms die down a little before strengthening again as the change heads over the warm waters offshore – so could be quite a lightning show offshore this evening.
Here's the forecast radar for lunchtime through into tonight: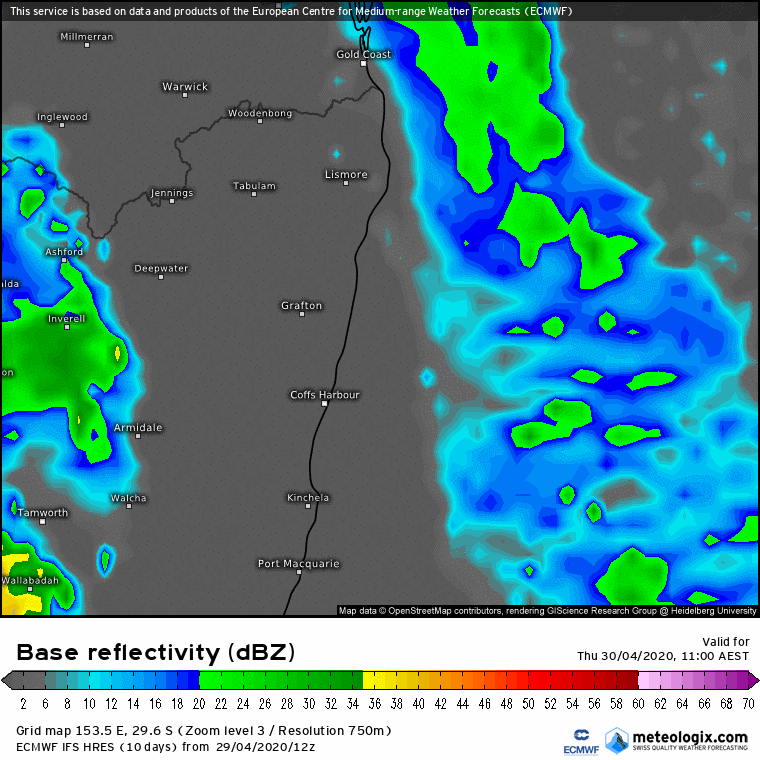 …and here's the lightning forecast for mid afternoon and again tonight as the change moves offshore:
The biggest change we'll notice is a change in temperature and humidity. Here's the forecast top temps for this arvo and again for tomorrow afternoon – you can see the drop:
…and the drop in dew point from today through tomorrow – going to be much drier air across the region through tomorrow:
We're likely to see some gusty winds through the next few days too – here's the maximum gust forecast for this afternoon:
….and with the strength of the cold moving through we could even see some light snowfall on the hills to our west! Here's the snow forecast for the next 24 hours – not much, but a big change from what we've seen, and a taste of winter to come:
Once we're through this change we're unlikely to see temperatures come back to the levels we'll see today anytime soon, so enjoy today if you like heat. Still not looking too bad – this is only a Bello version of cold…so we'll still see temps into the low 20s with some good sunshine. No sign of any decent rain events at this time…starting to need one again. I'll post updates again when the next interesting events moves closer.