Well the promised rain finally arrived and the Bellinger hit minor flood. I actually felt for the BoM on this one…the last event was less likely to give us flooding rain, but the flood watch came out…then for this event we weren't on this list…then added late…then cancelled just as the showers kicked in and the rivers headed towards flood levels. Just shows how hard it is to pick some minor flood events.
For this one we had a stream of showers form across our area as the onshore winds were forced to rise by the hills. Those winds were full of moisture, so once the showers got going the persisted for some time, giving some spectacular images from the mountain road once again. Here's the radar for yesterday: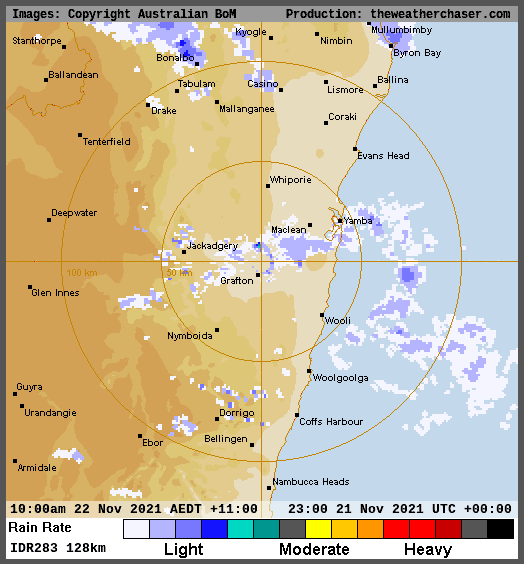 And here's how it looked at Thora – quickly into minor flood and not far off moderate:
….and Bellingen – close to minor flood in town: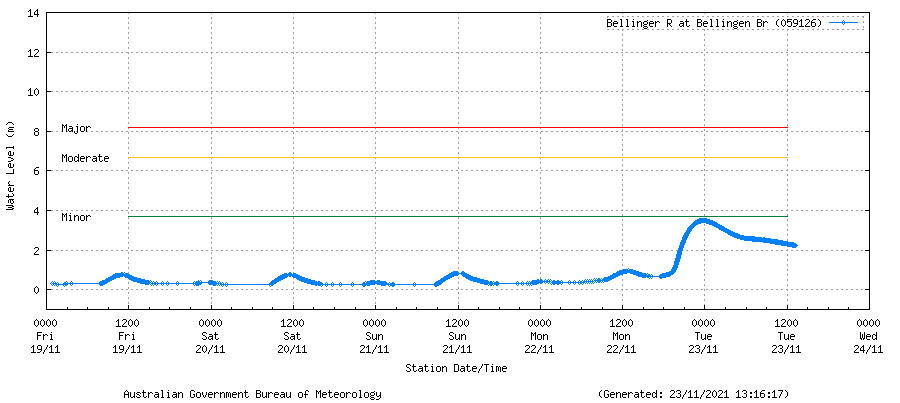 Whilst the rivers have gone down, the rain does have a longer term impact. Ground water levels are now high across much of NSW: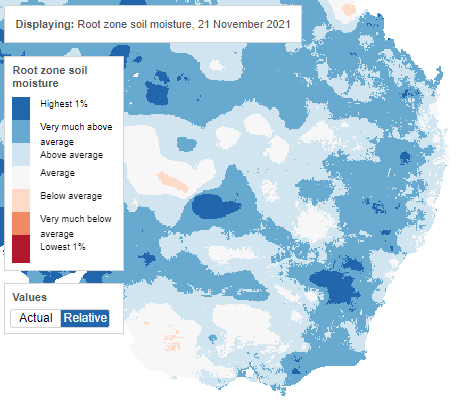 …and the BoM announced today that we are formally into a La Nina pattern:
A combination of already saturated soils and a La Nina pattern heading into summer usually spells floods ahead. It doesn't mean everyone will see flooding, but we're likely to see at least some flooding as we move into and through summer. The latest 10 day outlook from the EC model for our region shows how locked into a La Nina pattern we are, with rain or showers forecast on pretty much every day: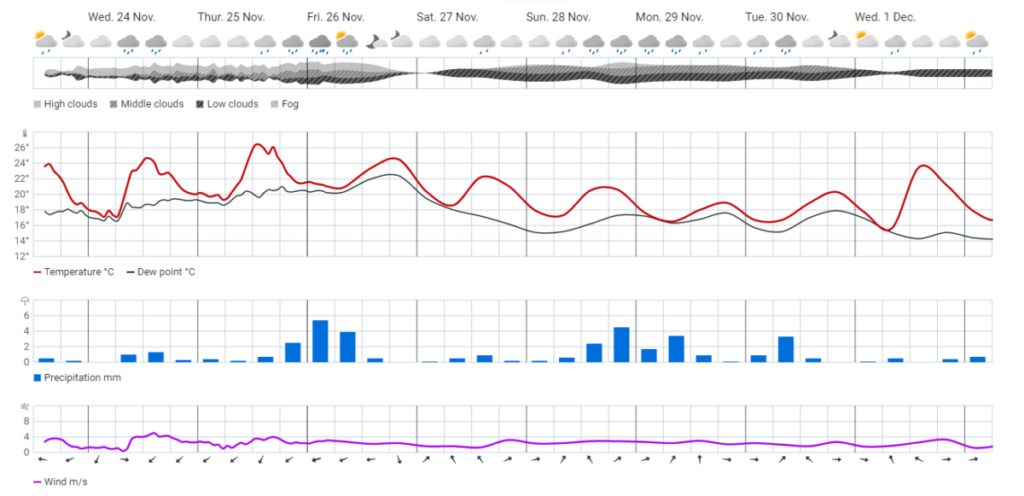 What is worth highlighting at this time is that while some of the key models – such as the European model that produced the forecast above – only show us getting moderate totals each day…there is a LOT of moisture around and it would not take much for us to see much higher totals over the next couple of weeks. Right now it's too early to be sure what will happen, but if significantly higher totals looks likely I'll post again with the details. In the meantime the rainfall outlooks for December and January are locked onto La Nina with wetter than average conditions forecast: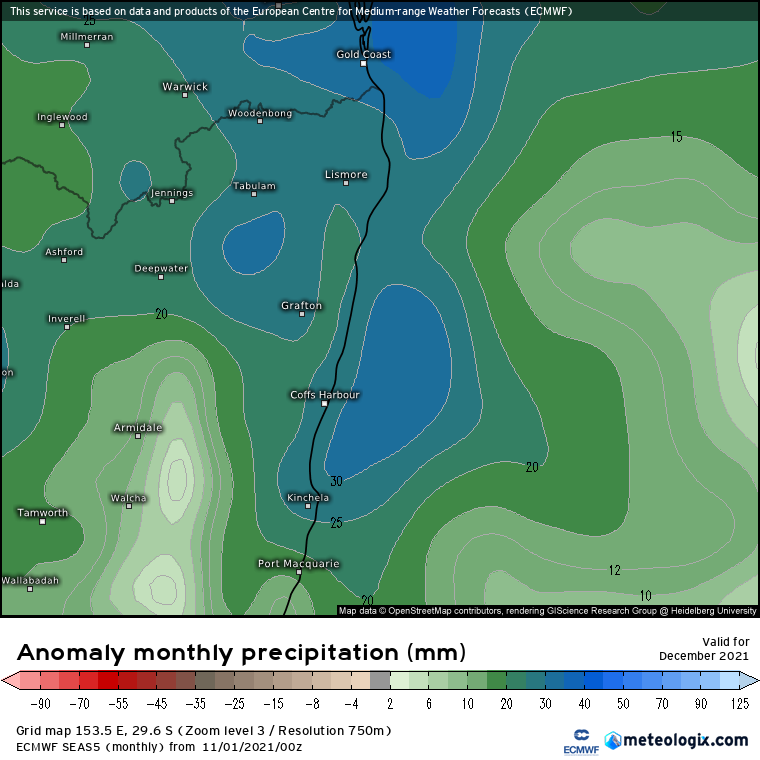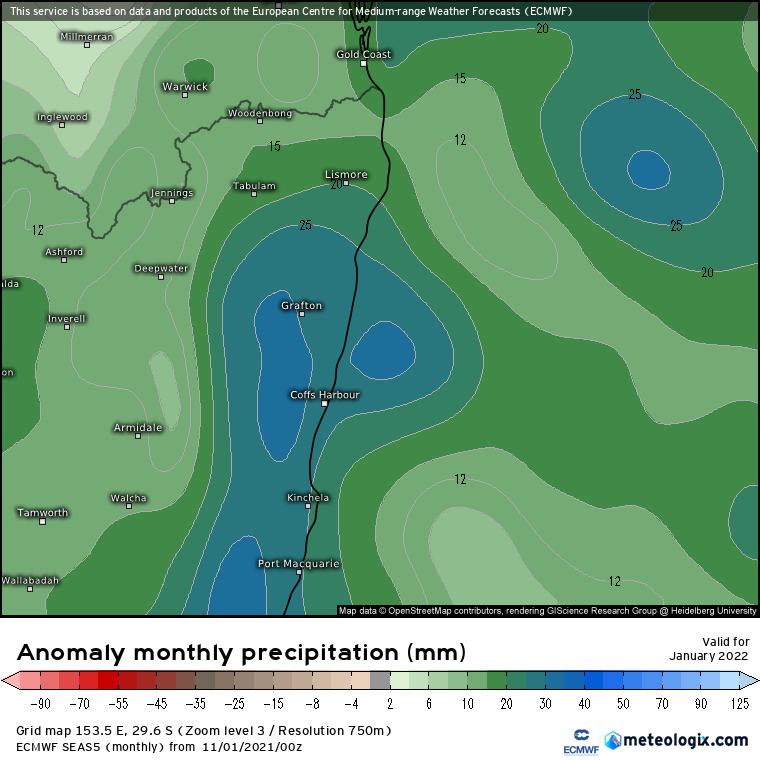 As always, many thanks to: Kombu Wholefoods (floodcam and Bellingen Weather sponsorship and hosting) | Snapfrozen (sponsorship and website development and hosting) | BoM (river height graphs, forecasts and some images) | Meteologix (forecasts and some images) | Weather Chaser (radar archive) – these posts and this site would not be here without them.