A few rumbles over the hills yesterday and more to come today. Yes – we have a quickly strengthening sun, are into storm season, and today have a change also moving in from the south. With La Nina in full swing and a heap of moisture around to play with, any storms have the potential to bring some good totals – though find yourself a few km away and you might be wondering what all the fuss is about! Here's the forecast totals for today and tomorrow from the BoM hi-resolution model. Worth noting that storms are fickle things so don't take the locations literally – but you can see the chance of some higher totals around the higher ground in particular with flash flooding an isolated risk: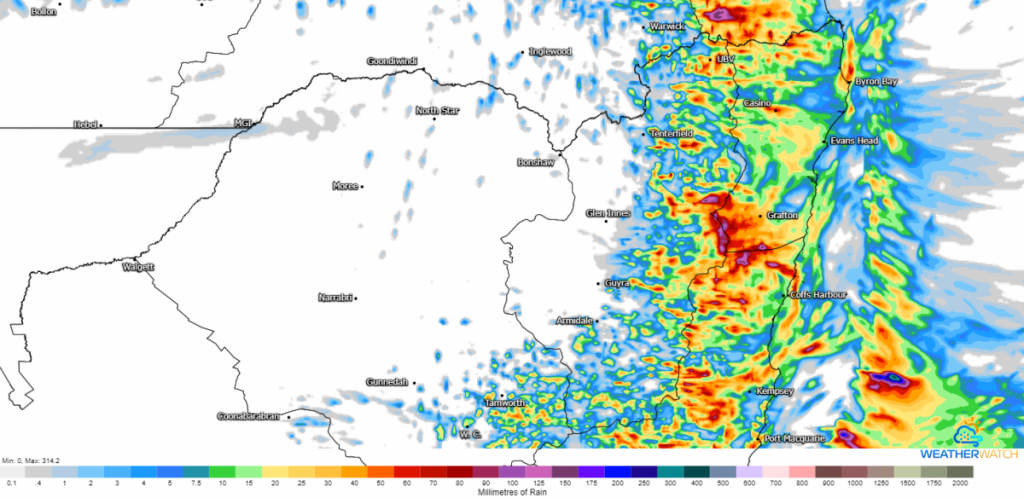 Those totals are fairly well represented on the lower resolution European model – this map also shows forecast totals across Monday and Tuesday: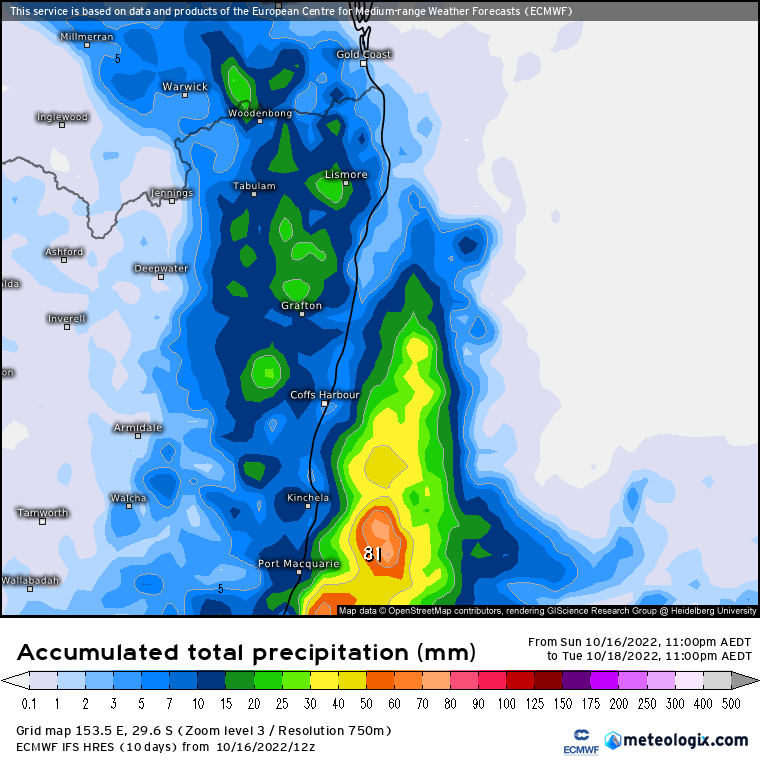 Worth being aware that because this models runs at a lower resolution it shows lower totals spread across a wider area. Once we move beyond Tuesday we have a BIG upper cold low moving in across SE Aus once again – and that is going to play with the heat and abundant moisture and kick off more big falls across SE Australia. And once that one moves away? It looks like there will be another one to follow: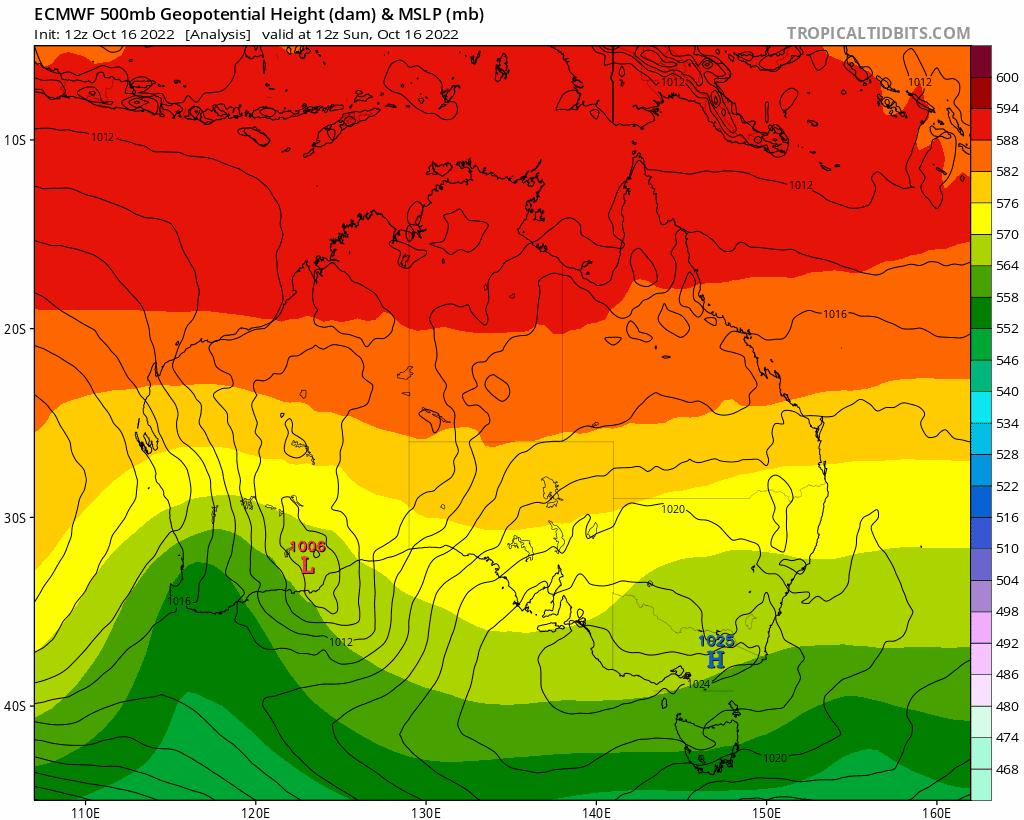 In an El Nino we would be sitting in dry air to the north of these systems, but right now we have moisture pumping in from both the Pacific and Indian oceans. What does that mean for rain totals? A reminder of the forecast rain for Monday and Tuesday: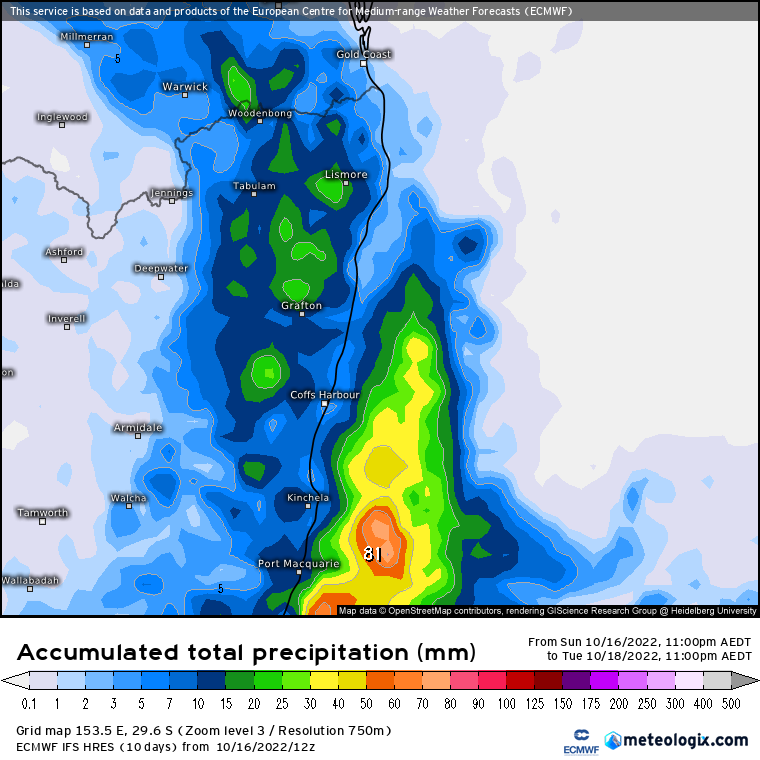 …but then have a look at the same model forecast totals from today through to early next week – wow!: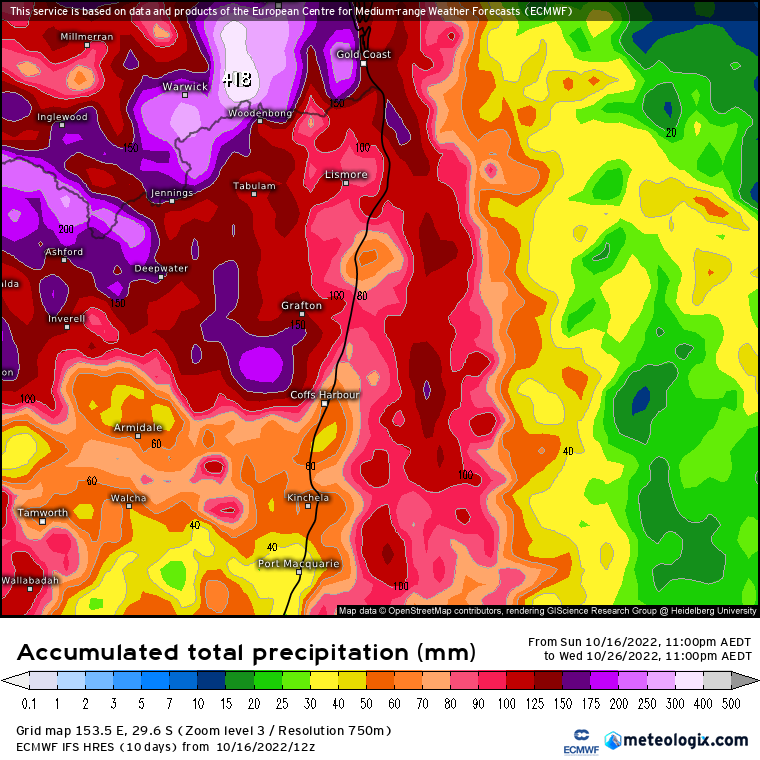 It is the absolute nature of storms to play hard-to-forecast…as the storms that form each day will likely spread out into longer spells of rain for some locations – and then impact the location of storms the following day…but the bigger picture here is that we are likely to see some big totals accumulate over successive days across NE NSW and SE QLD – just don't take the exact forecast locations as gospel – it *will* change from day to day. Regardless – it is still a concerning picture for much of Eastern Australia. The good news (for us) is that it looks like the focus will be outside our region – inland on and west of the divide…but the nature of storms means that totals will go up and down and we'll need to keep an eye on what is happening in real time.
Looking slightly further afield and you can see a similar pattern across much of NSW. With many areas already in flood, the coming 10 days will only add to the problems – expect to see more reports of significant flash flooding and river flooding over the coming couple of weeks: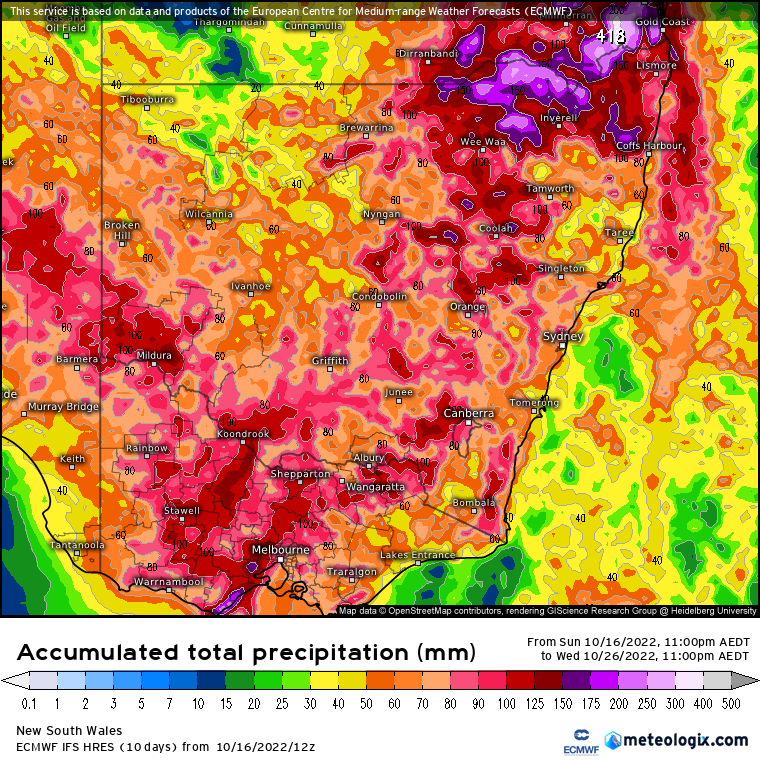 Longer term models show the impact from the Indian Ocean declining as we move into summer – but they also show the Pacific will remain in a La Nina state through spring and well into summer. Expect more wet weather to come. I'll post updates as larger / more significant events look likely.
Post thanks to our sponsors – Kombu Wholefoods and Snapfrozen
Thanks to Meteologix / WeatherWatch / Tropical Tidbits for the images.