With a change moving north (and currently causing fire havoc and losses down south) we've got hot weather streaming across from the north west. That weather is also bringing some storms as well, with the peak so far today just to our south. This verifies nicely with the forecast model: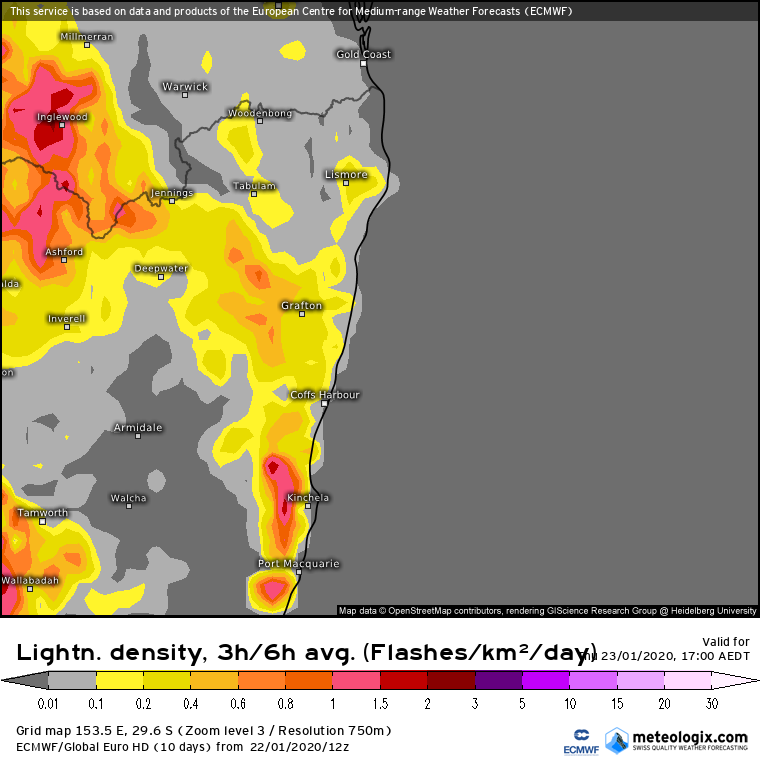 Tomorrow will see that change weaken and move closer – and we'll likely see quite an increase in storms across our region. Here's the lightning forecast for the same time tomorrow:
This ECMWF forecast can also be seen in the GFS model. Here's the forecast from that model for tomorrow afternoon:
Yellow – storms possible…orange – severe possible….red – severe likely. Those storms could also bring some decent rain totals with them. Averaged across the area it looks like this:
…however as is the nature of storms some areas will likely see significantly more, while others could miss out. More showers and storms possible through Saturday, though likely not at the intensity we'll see on Friday.
A chance of a few more showers and storms heading into next week, though nothing like the intensity we'll see tomorrow and Saturday. No sign at this time of any widespread heavy rain events, though this is the time of year when they're most likely…so I'll keep an eye out and post updates if the situation changes.