We've enjoyed some great sunshine over the last couple of days, with temperatures hitting the low 30s – a big change from last week. We'll look at why in a minute…but first it's worth noting that there is a chance of some severe storms later today across our region. As is always the case some regions will get good storms while others miss out. Here's the warning map from the BoM: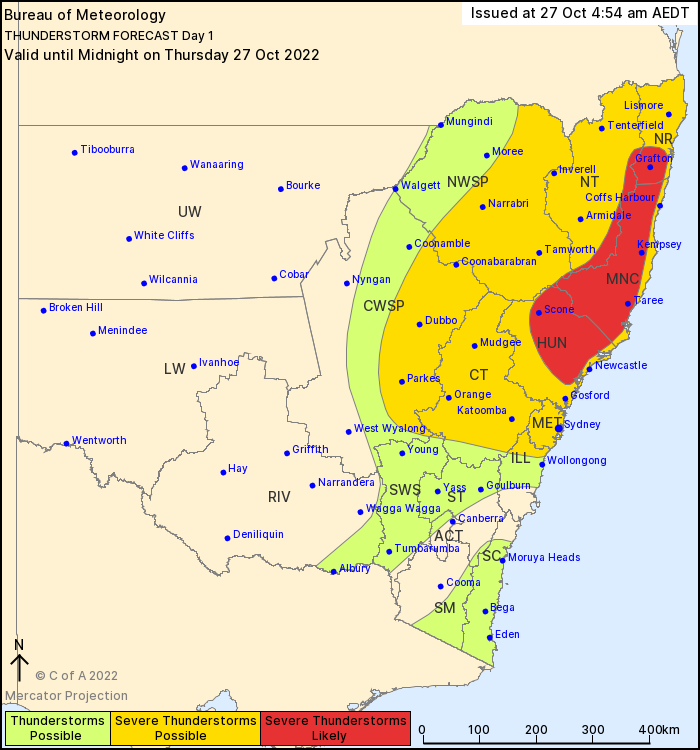 …and a great explanation to go with it: "Thunderstorms possible about most of the eastern half of NSW today ahead of the passage of a trough. Moisture levels remain high ahead of the trough providing deep instability for storms this afternoon. This creates the potential for severe storms across the central and northern ranges and coast. Damaging winds, large hail and heavy rainfall is possible. Winds in the low levels of the atmosphere are favourable for storms to become organised in the afternoon, especially around the Hunter Valley and Mid North Coast, creating the potential for giant hail and destructive winds in these areas."
Let's see how we go – I think we've seen enough weather events recently to keep us going for some time, so keen that we don't add to it today. Worth keeping an eye on warnings and the radar.
Despite the storms today we are in a relatively drier phase. The La Nina is in full swing but the circulation around the south pole has weakened – and that means the westerly flow has moved further north across our region and blocked the onshore winds from a La Nina Pacific. You can see this in the graph below – negative means weaker:

Usually that would mean dry weather – but with the Indian Ocean still pumping moisture in and a very wet inland, it's not as dry as we would normally expect….as such we'll still see some showers and storms at times. You can also see the circulation turning positive again at the beginning of November, which could indicate more wet weather to come.
One thing we'll also see from the weakening in the southern circulation is some Antarctic air leaking north across Australia. Check out the temperature anomalies from 3 days out to 10 day as a polar air mass moves across (and then remains over) Australia. We could well see some rain as the cold air moves in and pushes the warmer, wetter air out of the way – but with blue sky to follow. Going to be some strong sun but also lower humidity levels – so it won't feel that cold through the day…but regardless temperatures are going to be down on what we usually see at this time of year, with some chilly nights to come. The mountains down south should see some snow! Here's how it looks: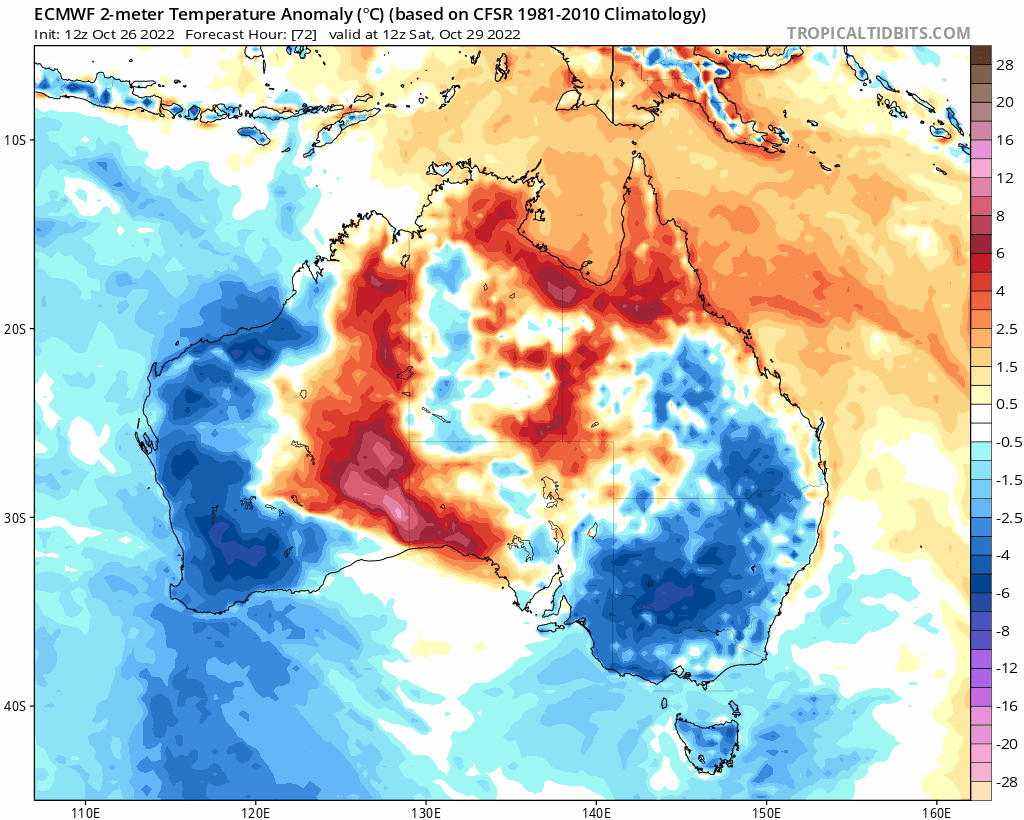 Meanwhile the La Nina itself is sitting there strong and proud – check out this image of the Pacific Ocean surface temperatures:

Models show the event continuing and perhaps even strengthening further as we head into summer, before weakening as we move towards winter: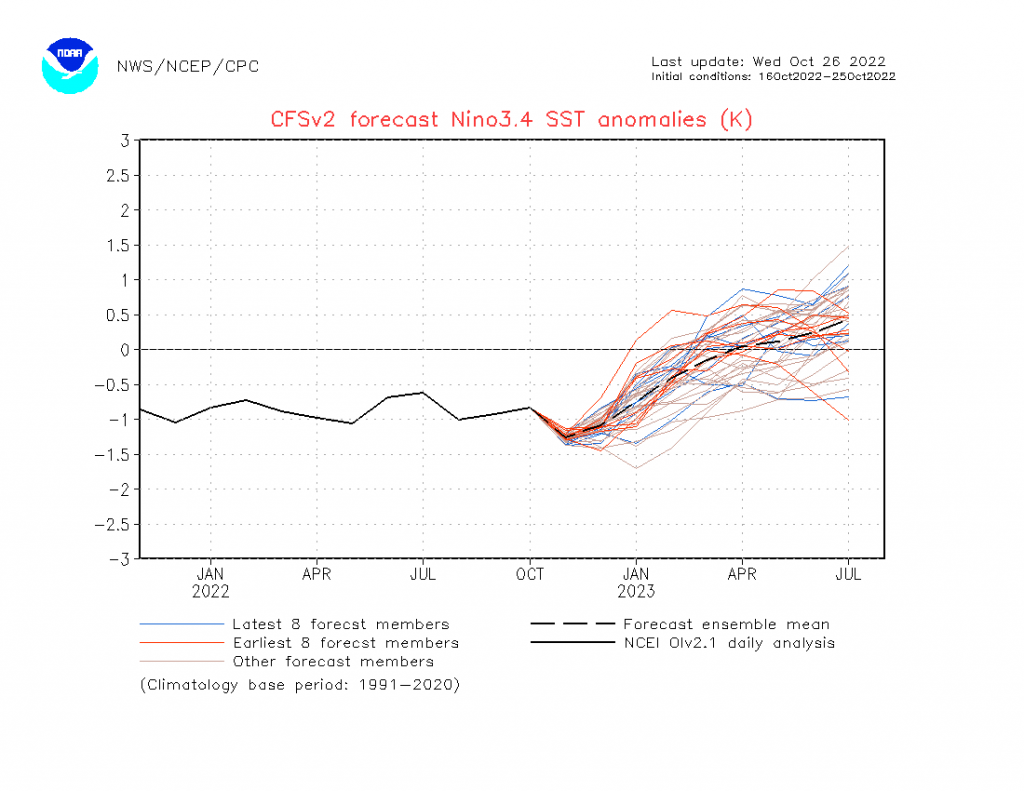 …and the atmospheric response is there as well, with the SOI strongly positive: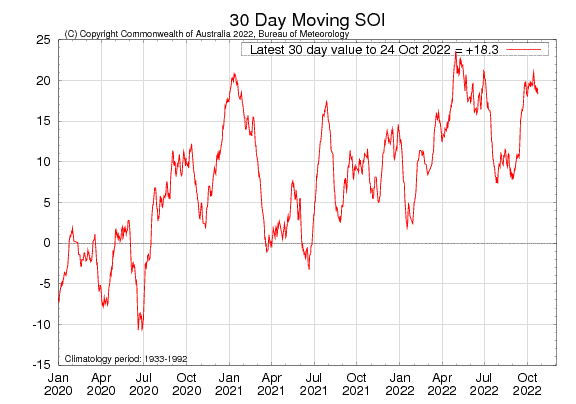 …so expect more wet weather to come as we head into summer. I'll post again as more significant events look likely.
Thanks to our sponsors Kombu Wholefoods and Snapfrozen
Images courtesy of BoM / NWS / Tropical Tidbits