it's warming up out there and we have a trough to our west that is moving east – so that means an increasing risk of storms over the next couple of days. The rain forecast for today looks like this – you can see the focus to the west over the hills: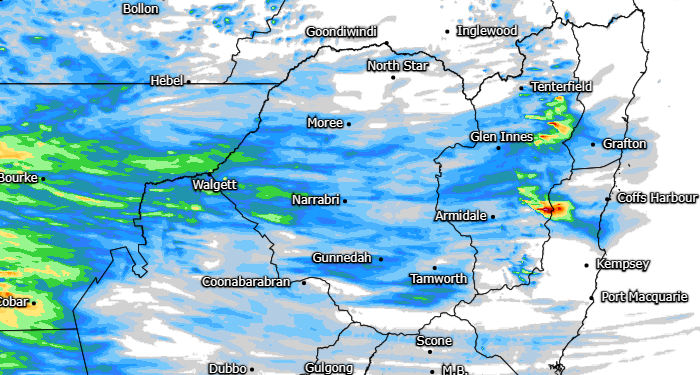 Could be some good totals over the hills, with the risk of some making its way towards the coast as well. Storms are hard to forecast accurately, so a day of keeping an eye on the radar, particularly if you are in the west of our region. Tomorrow and the threat of showers and storms moves closer to the coast: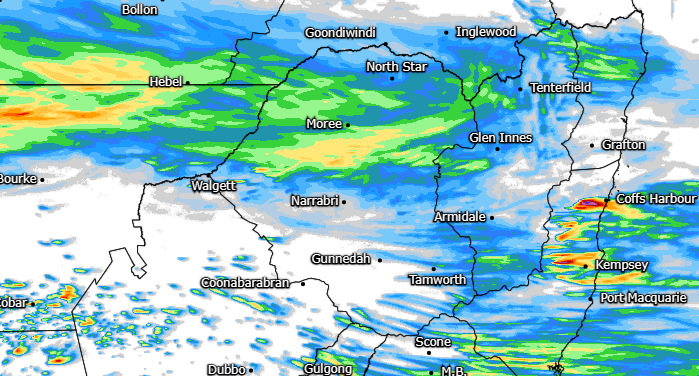 Looking further ahead and the Southern Oscillation is strongly positive and likely to remain so. This increases the chance of onshore winds with associated humidity and rainfall..however (and particularly with cooler than average sea temperatures offshore from us) it is a chances game – so while the risk is higher than normal at this time, it doesn't guarantee big rain events. This combines with the current La Nina, which is still firmly in place across the Pacific:

it's worth noting that it's not as strong as it was even a couple of weeks ago – and if we look at the changes from 7 days ago to now we can see it warming up closer to South America and cooling down closer to Australia:

We're still in the La Nina for now however…so combined with the positive state of the Southern Oscillation I'll be keeping an eye on models, looking for the potential to bigger rain events. We'll likely be in the same boat until early to mid Autumn, when drier weather will become more likely.
In other news – the fibre connection to the Kombu Floodcam should be going into place (after 6 months of waiting for the NBN) in mid January, giving us a higher quality and more stable floodcam image regardless of the conditions outside.
Thanks as always to Kombu Wholefoods and Snapfrozen.
Images thanks to NOAA / Meteologix