I've had a few people ask for more information about what we're likely to see this week…so here's a quick breakdown of what's happening / why / what it will likely mean. Hope it's useful and excuse the paint job on the images.
Today – Monday: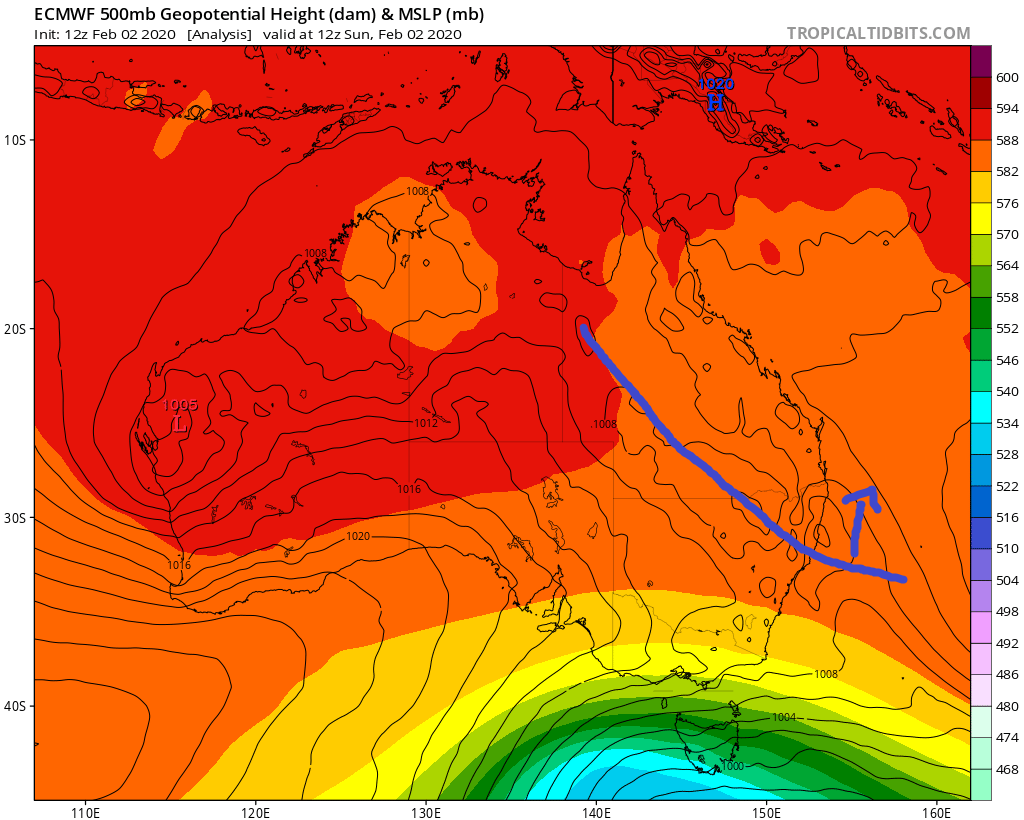 We've got the surface trough (blue line) moving north, closer to our area. As it does so we'll see conditions destabilise with showers and storms possible later today and into tonight. As the trough moves through we'll see winds swing from a hot northerly into cooler south easterlies.
Tomorrow – Tuesday:
By tomorrow we should see the surface trough to the north of us, with cooler south easterly winds moving in. Not much rain likely at this time as a ridge builds up the coast.
Wednesday:
We'll start to see winds turn a little more easterly as a high builds to the south of us through the Tasman. As the winds turn more easterly they'll be passing over increasingly warm water, picking up more moisture as they do so. At the same time we should see an upper trough (cold air up high, circled) start to build north through South Australia and far west NSW. A combination of cooling upper air in the west and increasingly humid air moving in from the east should start destabilising the atmosphere, with showers developing along the coast and storms likely well inland.
Thursday:
The upper trough in the west will build and start moving east, as winds turn more north easterly across our region. Cooling uppers and even more humid easterlies in the lower atmosphere will produce an increasingly unstable atmosphere. A surface trough (which I've indicated with the blue dots) will likely develop as a result along the coast. The result – increasing showers and rain along the NE coast, with more storms well inland. Big falls possible as the trough develops.
Friday:
The trough along the coast continues to deepen with a low likely forming within that trough. The biggest falls will be close to that trough – so if it sits a little out to sea we'll still see showers, but not such high totals. Still cold up high…and a combination of surface trough / cold uppers / very humid and warm onshore winds at lower levels should bring more showers and rain periods along the coast. The upper trough will likely also bring significant storms across the NE inland.
Onshore winds and cold uppers are likely to remain for at least a few more days. If a low forms it will give big falls to it's south – and this could well include our region initially…and then as the low moves south it will dry things out (at least temporarily) to its north. Heavy falls looking likely, as previously indicated.
I'll update again as the situation develops…in the meantime with the temperature creeping towards 40c once again we'll be happy to see the trough move through…while at the same time keeping an eye to our west – temps close to 40c today combined with an approaching trough mean that showers and storms should get going later today….with a lot of energy to play with there any areas that see storms could get some heavy rain in a short period of time.