Models still indicating that we'll see a wet week ahead….with flooding a real possibility. We've got a trough moving up (giving us storms this evening and more widespread storms again tomorrow). We've got another hot day tomorrow before temperatures cool off as the trough moves through. Here's the forecast max temps for Monday: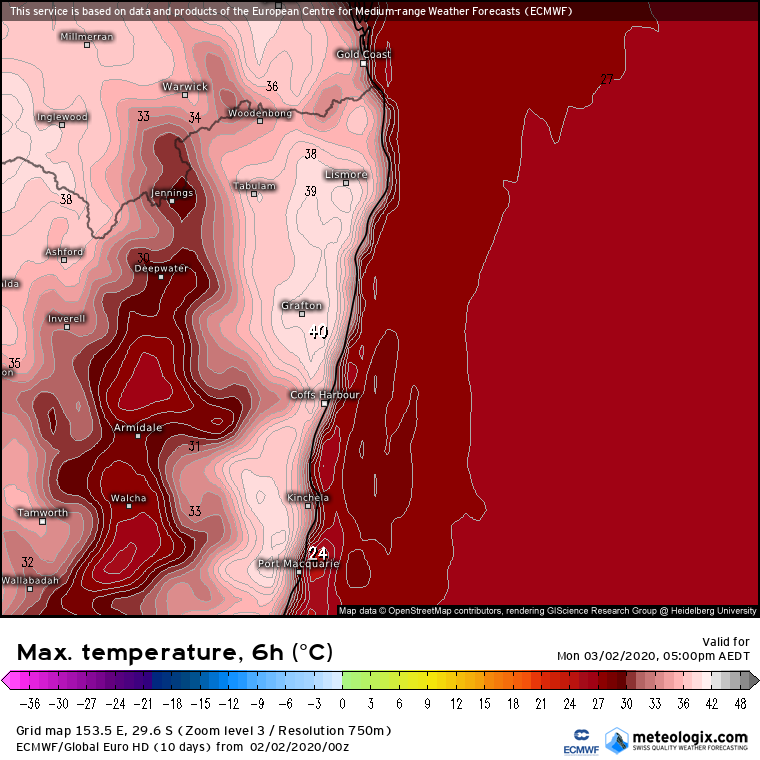 Looking forward to that change coming through…here's the forecast max temps for Tuesday afternoon:
…a BIG drop from Monday. That change will also bring onshore winds – and moving over some hot oceans that means the chance of some heavy falls through the week. Here's the forecast 10 days rain totals from a range of models….likely totals will be somewhere between the top and bottom totals shown here…so don't take the top values as what we'll see:
Australian Model:
American model:
European model:
…you get the idea…big falls looking likely and I would not be surprised to see a flood watch coming out in the next couple of days. Showers will likely kick in tomorrow afternoon, with storms likely…before winds turn onshore and we see showers and rain periods start to move in….I'll update again as the event kicks off.