As mentioned earlier in the week we've got a change coming this weekend. The trough that is currently bringing heatwave conditions across SE Australia will slowly move towards us over the weekend, and as it moves through it will slow down and turn winds more onshore. Ocean temperatures in the Coral and Tasman seas are currently sitting above average for this time of year: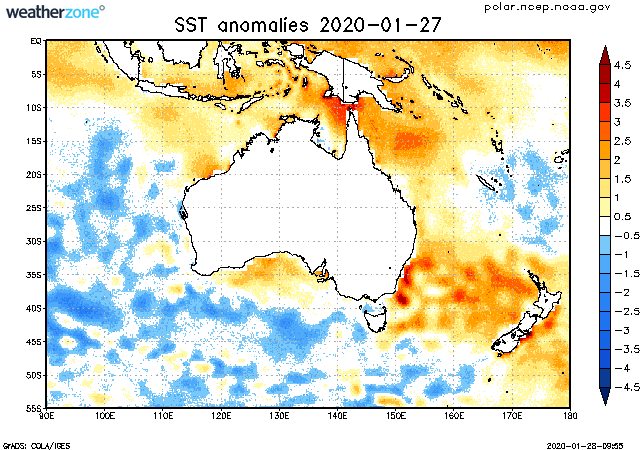 …and those above average ocean temperatures should help some decent wet weather to develop and move in across our region early next week. Some models even develop a low just off the coast, and if that happens we will see some much higher falls. Here's the EC forecast for next Wednesday:
It's not a strong low pressure centre but if it develops it would bring some big falls across NE NSW. Here's how much the EC model shows us receiving next week:
Some BIG totals there, mostly falling mid week. Other models still show some big totals, but don't generate the low so close to the coast, giving us lower totals. Here's the Australian model:
….and the American model:
No agreement between them on exactly where the higher totals will eventuate, but there is agreement that parts of NE NSW could see some big rains next week. If you have assets along our rivers it's worth being aware of the threat of wetter weather coming up. With such a long lead time there is still every chance we'll end up with some showers and nothing more, with the wetter weather moving north or south (or even out to sea)…but with most models in agreement at this time it's worth being aware of the potential. I'll update again as we get closer.