A quick post this morning with an update on the forecast wet weather for next week. All models still show some wetter weather kicking in next week as an onshore flow passes across a very warm ocean and then combines with an upper trough to our west. The details are still likely to change over the coming days, but the chance of at least some wet weather is looking fairly clear at this time.
The BoM WATL forecast takes all available predictions out to 8 days and then gives more weight to the models that have been coming up with the most accurate preditions. Here's the latest 8 day outlook: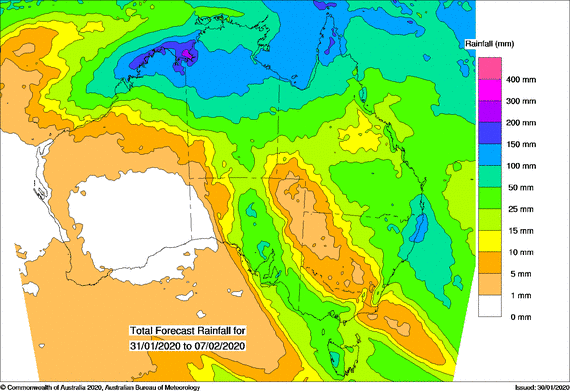 The WATL run only goes out to 8 days and there is some rain forecast beyond that time frame. Models running out to 10 days all give higher totals across NE NSW. Here's how the latest runs look:
Some good totals indicated with flooding a good possibility if it comes off as currently forecast. Once we head through the 10 day mark the pattern pretty much remains the same with an onshore flow from a warm ocean – meaning the chance of more showers and rain in the 10 to 15 day range. Here's how the 10 day outlook from the European model compares to the 15 day outlook – you can see totals increase further, indicating further rain is possible:
The forecast rainfall is still some days away, and so it's worth bearing in mind that there is still ample time for models to change, and for the highest totals to go north or south of our region…but right now there is some consistency across models and model runs, giving more weight to the chances of a rain event occuring. I'll update again later in the weekend, by which time we should have a clearer idea of the totals we'll likely see across our region. In the meantime we've got a couple of hot days coming up – take care out there.