Greetings from Dubai. Arrived here and the first rain fell for some time – ended up with flooded roads – an amazing sight in the desert….and then checked the radar and saw showers and storms across Bellingen Shire as well. A lot more is needed to bring rivers up and knock out the fires…and the good news is that there is likely to be some more showers over the next couple of days. Models show totals like this: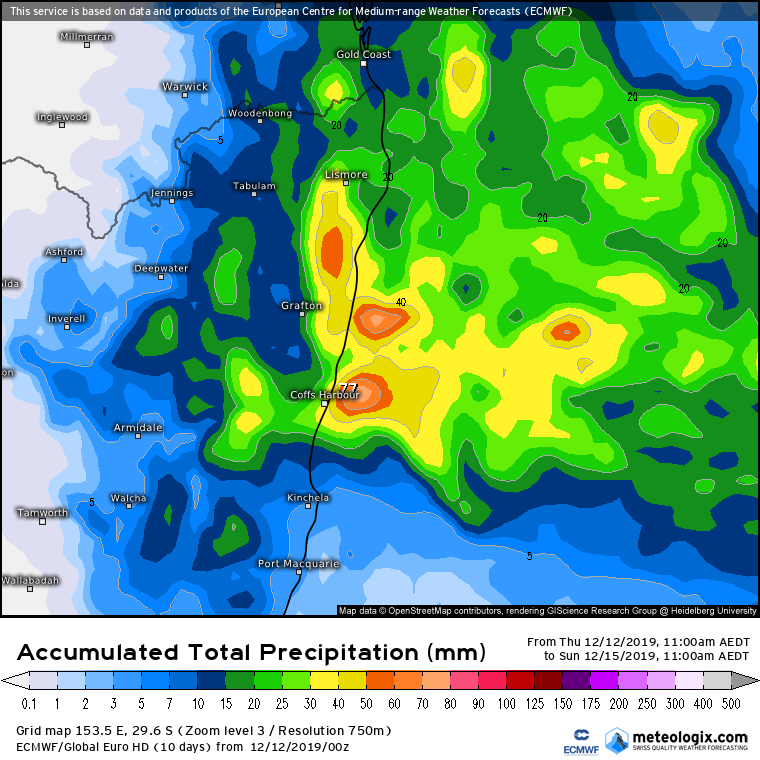 If those totals happen then it will be good news for everyone and will help keep fire danger levels down for the time being….but unlikely to be enough to completely knock out the fires. Any rain over the next couple of days will be appreciated, as next week we'll see higher temperatures and very little if any rain. Forecats maximum temperatures over the next week look like this:
You can see a very (and potentially record breaking) hot air mass sitting inland and occasionally making its way towards the coast…but the sea breeze fights back so inland we'll be looking at hot temperatures day after day, while closer to the coast (east of the divide) we'll see the sea breeze win out on some days…so we'll likely see a hot day then a cooler one, then back to hot again.
Beyond next week we'll see the Southern Annular Mode slowly on the rise. This means a greater chance of onshore winds. The current SAM forecast shows this well:
…and sure enough the models indicate the chances of more showers once we head into the 10 to 15 day forecast timeframe. Whilst a flooding downpour would help alleviate river and fire concerns, it would also send a massive amount of ash and silt into our creeks. A gradual relaxing of the dry weather with increasing showers will open up the opportunity for some greening up to get started before big rains arrive – and for our river health that is not necessarily a bad thing.