We've had the flooding from last week drop away from most locations now, leaving some decent mud behind. Hope it didn't do too much damage to your place. Here's the one week totals for NSW – a massive dump right up and down the east coast:
It's February so we've got our seasonal humidity in place, and given a few triggers we'll see more rain and storms. One such trigger is a trough to our south at the moment, which is giving some decent rain and storms across a strip of eastern NSW. Here's the latest lightning and rain image, courtesy of Weatherzone: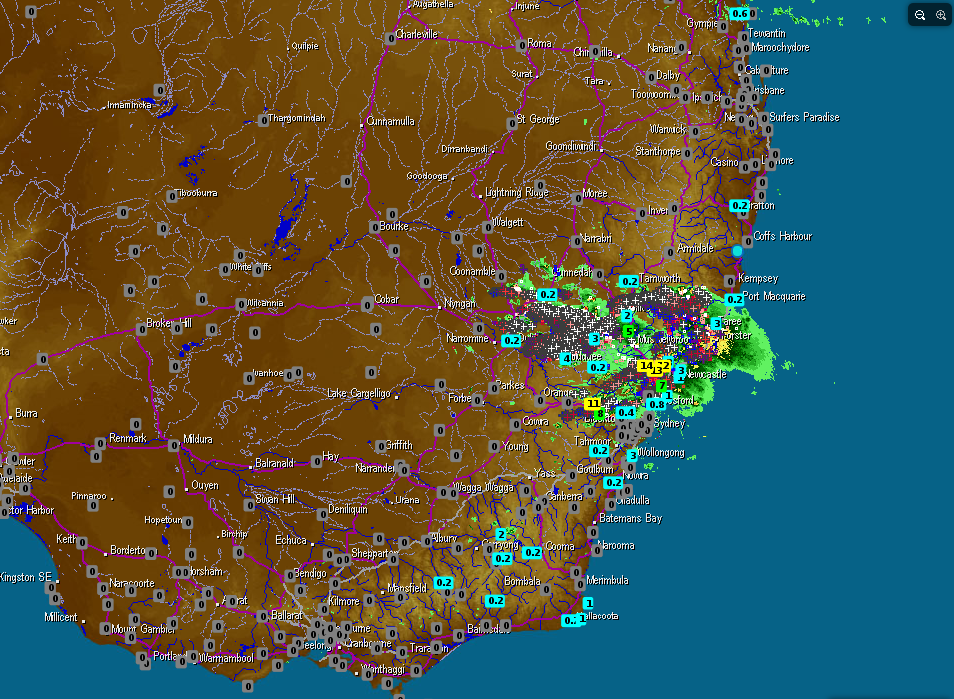 A good chance we'll see some of those rain (and storm) areas move up across our region over the next couple of days – and if we do so we'll see some more decent point totals….though hopefully nothing like we saw at the end of last week. Some models do show some decent totals in the headwaters, so worth keeping an eye on the radar if you live in the Darkwood / Thora area.
Looking further ahead we've got models indicating a cyclone is likely to form in the Gulf of Carpentaria in a few days. Models were showing the chance of it moving inland and then south east towards our region, but right now that's looking less likely with the system, if it forms, likely to move west across the top end. Here's how the European model sees it:
It's something to keep an eye on…but right now the upper systems are not looking like bringing it south any time soon. That can change – if it does I'll post again. Right now if it moves as forecast it will likely be a little drier than recently down our way – a big system up north can focus energy and rainfall up there, meaning less making it's way down towards our region.
Despite that system forecast to develop we've still got some reasonable totals forecast across our region from showers and storms. Here's how the four top models see it over the next seven days:
Enjoy the storms if they move through, and may we see some more sunshine at times to help it dry out a little.