We've got a classic flood pattern developing overhead:
An upper pool of cold air sitting just inland from us, generating lift and instability
Lower level winds coming over a very long stretch of very warm water giving us more an ongoing source of water (=rain) and heat = more instability
A range running north / south giving us more lift as the winds move onshore
A pattern that is only going to change slowly
Here's how that all looks on a synoptic chart – you can see the onshore winds (that have travelled over a long stretch of water) and the cold air up high inland of us: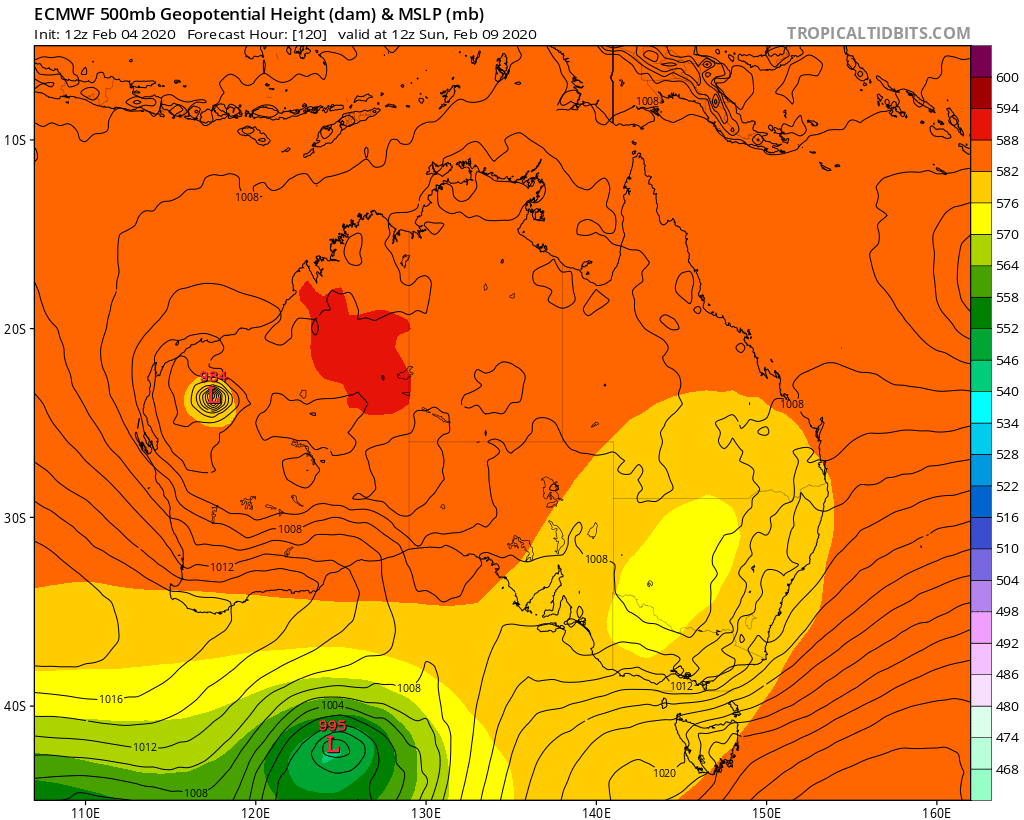 …and this is the rain potential as a result of that pattern. The animation shows the accumulated forecast rain totals over the next 10 days – and all of them show 500mm or more across our region. There is NO guarantee that this will happen, but the models have had this locked in for some time (I think I first posted about this over a week ago) so it is worth taking the risk seriously:
That rain is forecast to fall over a decent period of time, but even so there will be some big point falls in a short period likely, giving flash flooding…and as time goes on river flooding is also likely as the ground becomes saturated. Highest falls are likely tomorrow and again later in the weekend – but there is going to be a lot of instability out there so we could see high point totals at any time from later today onwards.
As I write the BoM has just issued a Severe Weather Warning for our region:
TOP PRIORITY FOR IMMEDIATE BROADCAST
Severe Weather Warning for HEAVY RAINFALL
For people in Northern Rivers, Mid North Coast and parts of Northern Tablelands Forecast Districts.
Issued at 12:07 pm Wednesday, 5 February 2020.
COASTAL TROUGH TO BRING HEAVY RAIN
Rainfall is expected to increase along the New South Wales northern coast from Thursday, as a low pressure trough deepens in the area. Intense rainfall is possible for some areas. Longer-term there is potential for this system to shift south on the weekend, also increasing rainfall along parts of the central and southern coast.
HEAVY RAINFALL which may lead to FLASH FLOODING is possible about parts of the Northern Rivers, Mid North Coast and eastern parts of the Northern Tablelands from Thursday.
The location of the heaviest falls will be determined by the movement and strength of the coastal trough, and by where thunderstorms occur. It is most likely that the heaviest rainfall will be focused about the Northern Rivers during Thursday, then the Mid North Coast during Friday.
A Flood Watch is also expected to be issued.
Locations which may be affected include Lismore, Grafton, Coffs Harbour, Port Macquarie, Taree and Dorrigo.
That flood watch has now been issued:
Initial Flood Watch for the New South Wales Coastal Rivers from the Tweed to the Hastings
Issued at 12:28 pm EDT on Wednesday 5 February 2020
Flood Watch Number: 1
RIVER LEVEL RISES ABOVE THE MODERATE FLOOD LEVEL ARE POSSIBLE ACROSS THE NORTHERN RIVERS AND THE MID NORTH COAST
Rainfall is expected to increase along the New South Wales northern coast from Thursday, as a low pressure trough deepens in the area. Intense rainfall is possible for some areas.
Coastal catchments are relatively wet due to recent rainfall.
High tides may exacerbate flood conditions in low lying coastal areas.
A Severe Weather Warning has been issued for the Northern Rivers, Mid North Coast and Northern Tablelands districts.
Catchments likely to be affected include:

Tweed and Rouse Rivers minor flooding
Wilsons River moderate flooding
Richmond River minor flooding
Orara River minor flooding
Coffs Coast minor flooding
Bellinger and Kalang Rivers moderate flooding
Nambucca River moderate flooding
Macleay River minor flooding
Hastings River minor flooding
Camden Haven River minor flooding
I'll post again as the event develops – but for now it's worth making sure you have food in the cupboard if you are at risk of being isolated and check the warnings in the usual places.