It's a dull and damp Good Friday across our region today. The culprit? A cold pool to our west with onshore winds at the surface. Those winds pass over a warm ocean, bring moisture ashore, which then rises, and falls as rain with the colder temperatures up high. Here's how it looks on the chart: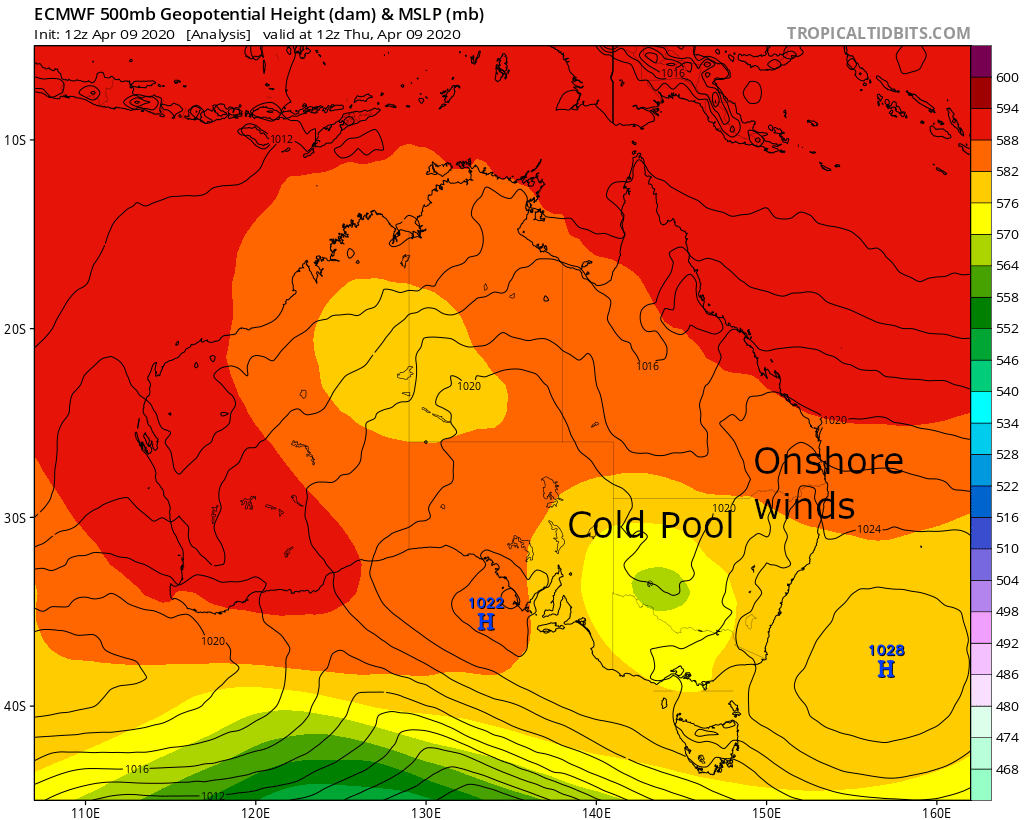 …but by tomorrow it all changes…Here's the forecast chart for 10am Saturday – and you can see that a low has developed to our south as a result of that cold upper pool, swinging winds from onshore to offshore:
You can see the storm to our south, and also an unusual cold pool over Northern WA – don't see them there that often. It'll bring showers and storms to that part of the world, but no real impact for us, unless you're a weather nerd like me and get excited by such things.
We'll see cloud clearing through tomorrow and then see high pressure build across Eastern Australia, bringing heaps of sunshine and some warm afternoons with temps in the mid to upper 20s. Fantastic Autumn weather that should last for some days.
Beyond that we'll likely see some more unsettled weather return. Here's the chart for day 10:
…a long way off but a fairly consistent forecast the models that more unsettled weather could move back in next weekend (not this weekend).
Looking even further ahead we could see an La Nina pattern kick in through our Spring, bringing the potential for a wetter Spring for a change…more on that over the coming weeks!
PS: You might spot that the Bellingen Weather Facebook page has gone. It was taking an increasing amount of time to manage – time that was sadly not available, particularly at this time of pandemic and changes in how we live and work. I'll keep posting here, cross posting to our Twitter page, and of course you're welcome to email questions or post them in comments as replies to these posts. I'll keep posts happening here, particularly at times of severe or unusual weather. If you're not signed up yet there's also an option to get these posts in your inbox.