We've got an interesting couple of weeks coming up. First off we have an upper cold pool moving across down south – and you can see it clearly in the animation below: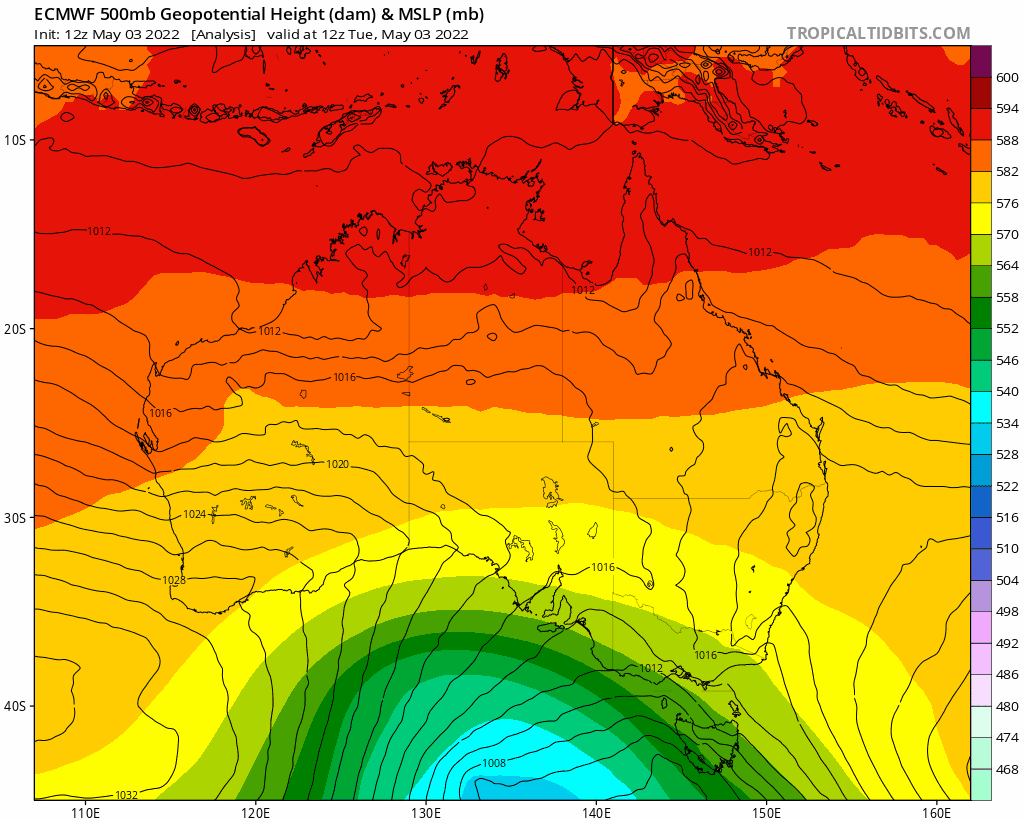 It's got that classic winter look to it – deep cold air moving up from down south and westerly winds moving across our region. The first decent snow of the season will be falling down on the mountains down south, but for us no snow, just a trough moving across and bringing that westerly change. The trough will move through tomorrow and, as is the case with most westerly changes, we'll be protected from the bigger rains by the mountains to our west – so expect to see a little rain and lots of cloud but no big totals. We will see some colder nights however – here's the minimum forecast for temperatures at ground level early on Sunday morning – check out the frost inland: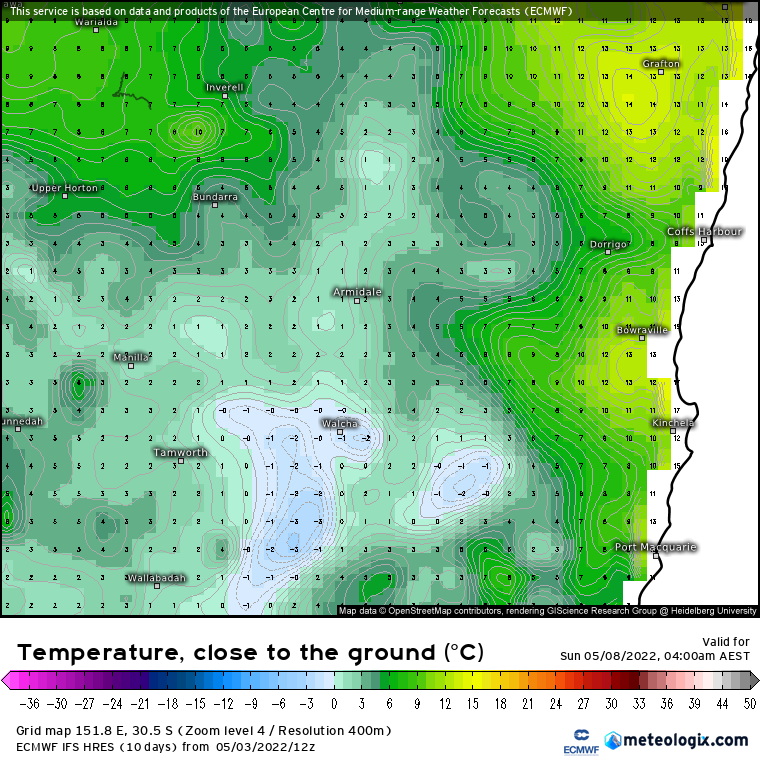 We then look further ahead and into next week, when it looks like we'll see another upper cold pool moving across Australia. This one however is currently forecast to move across a lot further north:
This second event is a lot further away – so expect to see some decent model changes over the coming days…however all models show the event happening…and with that cold pool a lot further north it will likely drag down a heap of tropical moisture to its east – here is what will happen up high: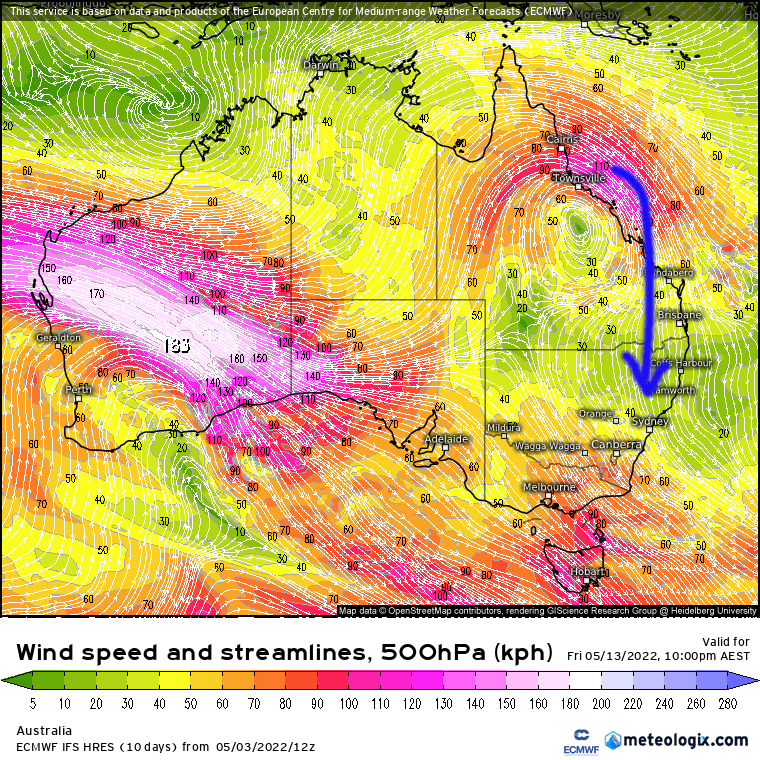 …and at the surface we'll have onshore winds from a warmer-than-average ocean: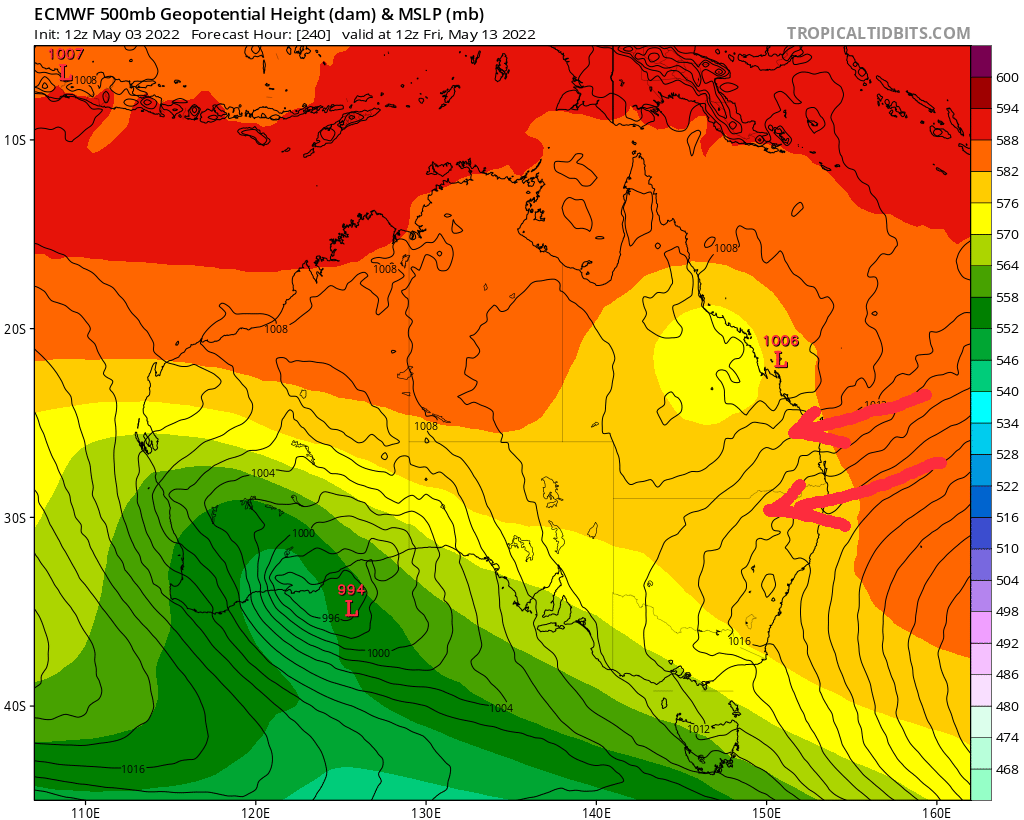 So what does that mean weatherwise? What we can say with some confidence is that some areas of eastern Australia should see some big rains from this upcoming event…but right now those areas look like being anywhere from Cairns down to Port Macquarie! It is simply too soon to know who will see the big rains. For us we should see showers increasing from early next week, with cloud replacing the blue skies…but exactly how much rain we'll see is not yet clear. It's definitely one to keep an eye on however, and once models settle down (likely late this week or over the weekend) I'll post again with an update.
The current La Nina event is currently still running remarkably strongly for this time of year (when it would usually be weakening). There have only been two other times since modern record keeping began when it was running this strongly in May – and for both of those times we ended up with strong La Ninas the following summer. Not something we really need to be seeing, and two is not a big enough number to draw decent conclusions from…however right now the signal is certainly still sitting on the wet side. Expect more rain over the coming months…
Thanks to: Kombu Wholefoods and Snapfrozen for sponsorship
Thanks to: Tropical Tidbits / Meteologix for the images