it's been a drier-than-usual summer across our region so far…but with La Nina still in place and the Antarctic circulation favouring wetter weather, there's a good chance we'll still wetter weather this season before a (likely) drier trend kicks in. Here's the weekly rainfall forecast for the next 6 weeks – you can see the strong dry forecast for the coming week before a wetter signal creep in: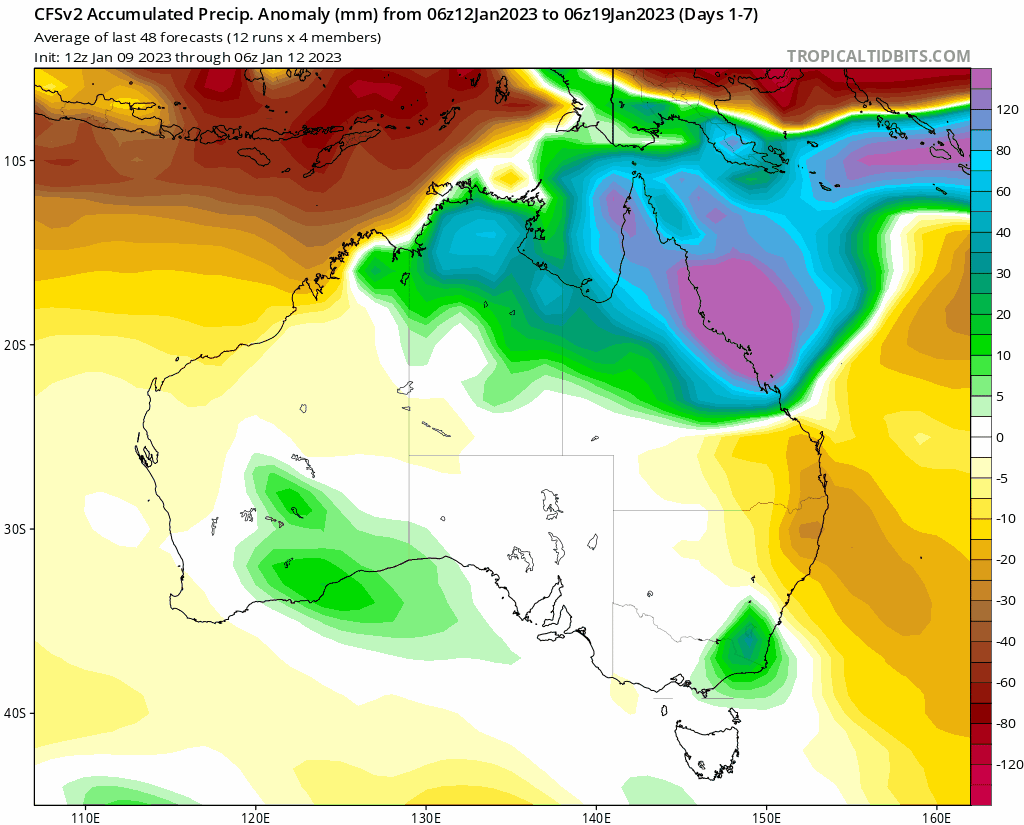 At this stage there are no signs of any really wet spells, but we're in our wet season and the bigger picture favours wetter weather…so it's a time to keep an eye on forecasts and models. I'll post updates if significantly wetter weather looks likely…but even without a bigger wet spell we're still likely to see an increase in showers and storms over the next couple of weeks.
Looking further ahead and the latest model runs still favour a BIG change in the Pacific, moving from La Nina to either warm neutral or El Nino. Here's the latest forecast of sea temperature anomalies until July 2023. Watch the cooler weather in the east dissapear with warm water replacing it: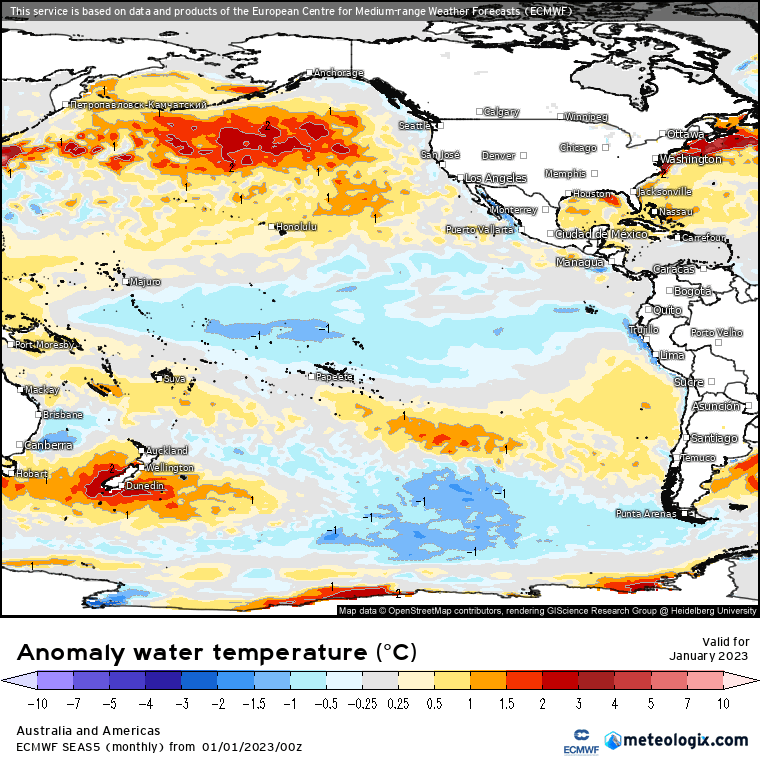 What this will do is weight the dice towards drier conditions…but whilst we have to be careful, it doesn't guarantee dry weather. Right now for example the broader indicators indicate wetter than average conditions – but you would not know that looking at local rivers! It's the same when the pattern changes – drier weather becomes much more likely, but wet spells can still happen. Warmer than average temperatures are still forecast around much of Australia as well – which increases the risk of wetter weather.
With that in mind, here's the current rainfall forecast for our region from now through July. You can watch the forecast anomalies change from neutral / wetter through to drier as the atmosphere reacts to the ocean temperature changes in the Pacific: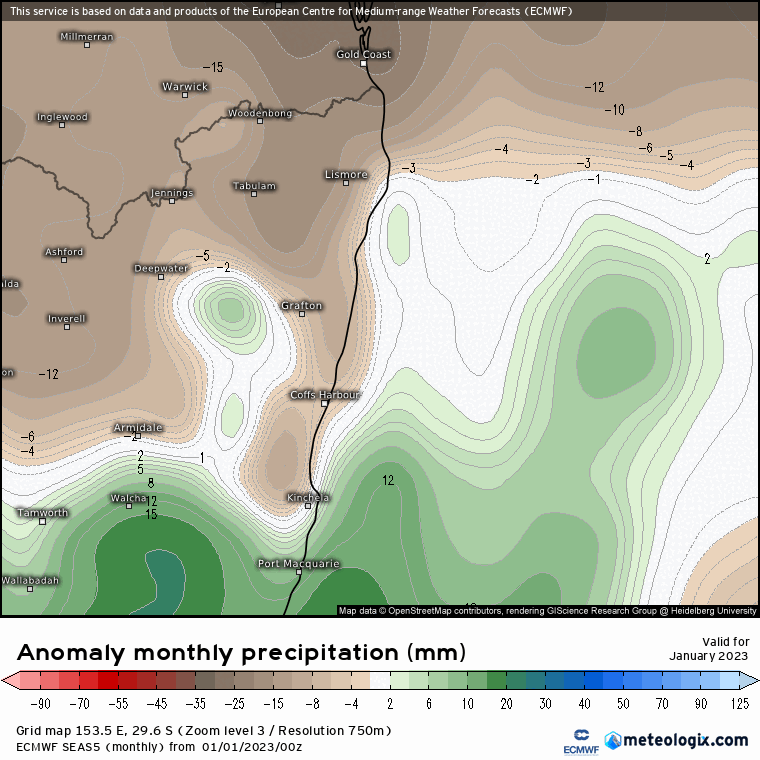 We'll also likely see an end to our cooler-than-average temperatures. Check out the difference between January and July – much cooler than average now but likely average-to-above by July: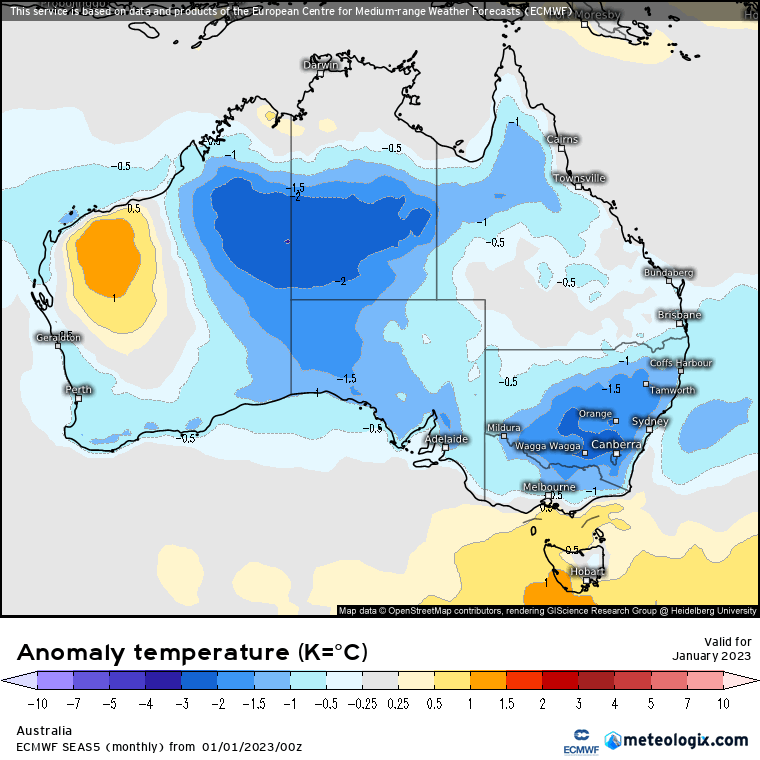 Global temperatures have been running above average through 2022 despite the La Nina. If the Pacific changes as forecast we'll likely see a more significant bump up in global averages through 2023.
Thanks as always to Kombu Wholefoods and Snapfrozen
Images thanks to Meteologix / Tropical Tidbits / Animations Tropical Tidbits and Bellingen Weather