A quick post with a scattering of updates and information…kicking off with the next week or so. We've got a big pool of cold air about to break off from an upper trough and move across NSW – and that is going to combine with onshore winds to bring big rain to many. You can see it happening in this animation: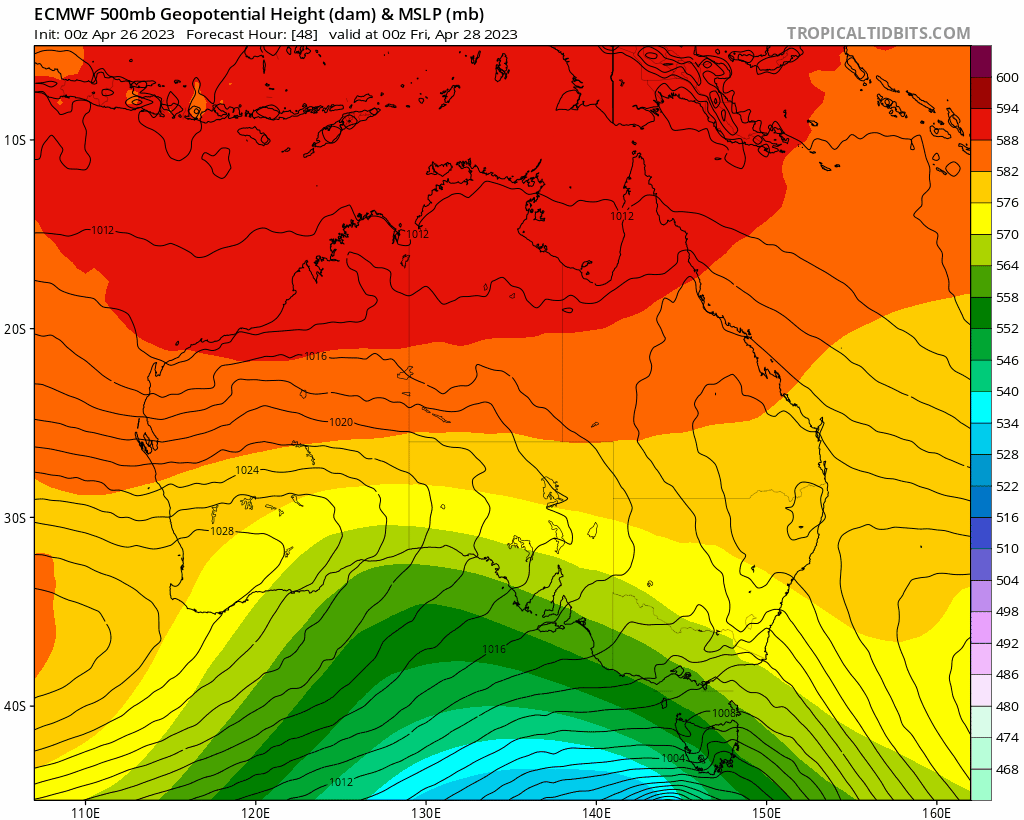 Looking at the 7 day rain forecast for our area and you wouldn't know though…as it looks like the cold air will move to our south and generate westerly winds up here which will pull drier air across from inland NSW. Here's the 7 day forecast for this region: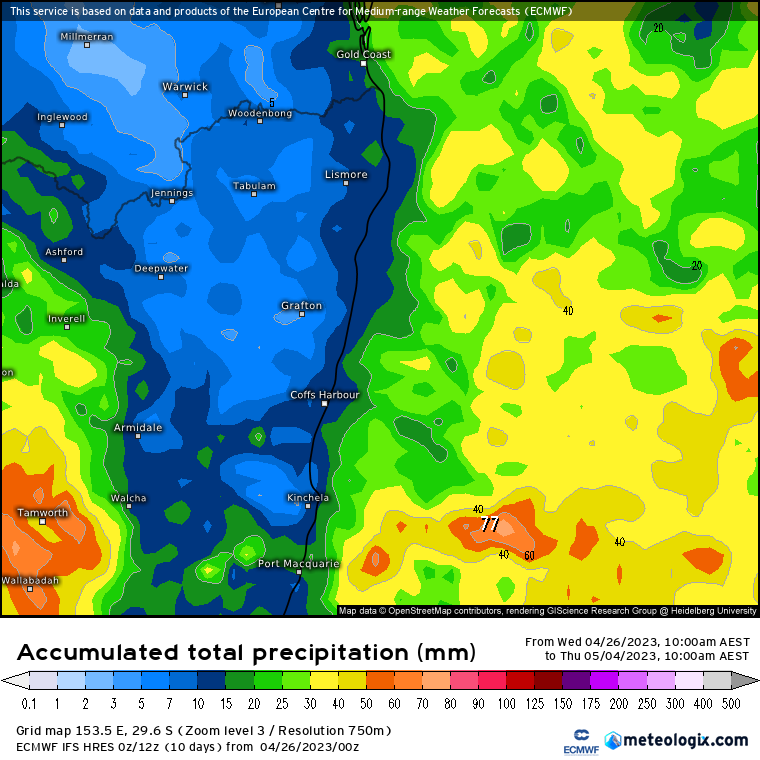 Looks pretty dry for us, with only up to 10mm (and likely less) over the coming week…but open up to NSW and you see some BIG falls likely to the south of the cold air as onshore winds develop: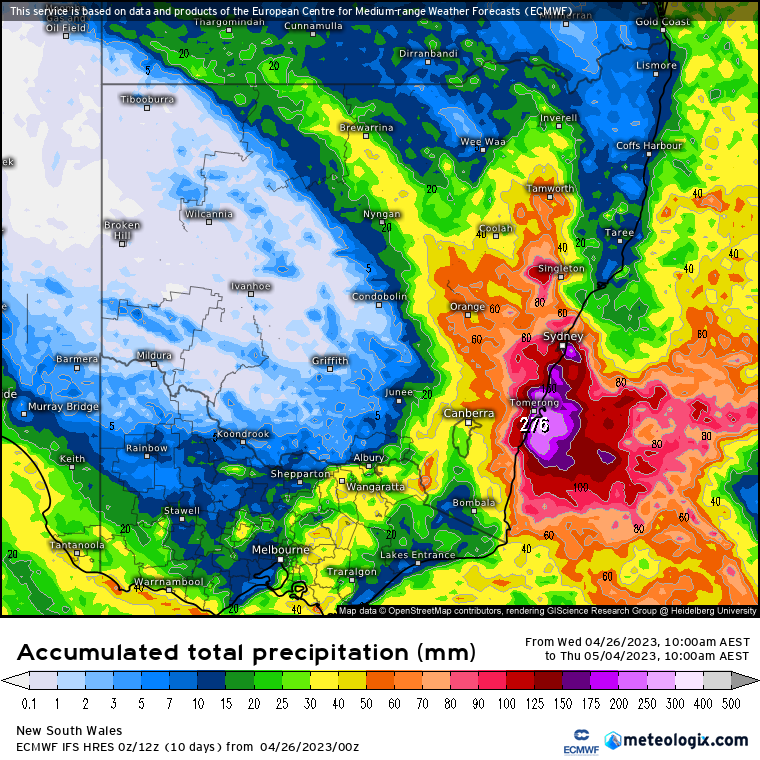 Expect to see some flooding down south over this coming weekend. There is still time for this event to change, and I'll keep an eye on it in case it looks like well see bigger totals…but looking unlikely for us for now.
Looking at the much bigger picture and the El Nino is gradually developing. This event will give climate temperatures another nudge up…and that is on top of current global ocean temperatures which are in (absolute) record territory: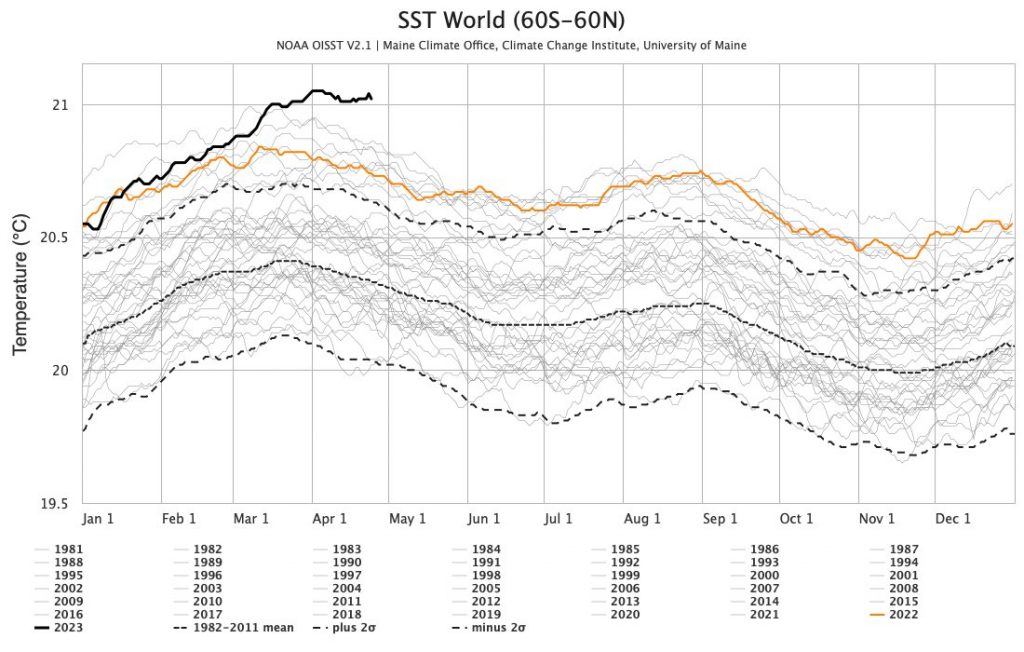 No missing 2023 at the top there…record breaking by a long way…and something we'll see more of when the El Nino really kicks in through this year. Talking of El Nino, here's the current ocean temperatures:

You can see the warm water across the Eastern Pacific as the El Nino develops. What you can also see is a big pool of colder water off the Western USA coast. This pattern is very unusual with a developing El Nino and there is a lot of chatter amongst climate scientists on how it will play out…But right now it looks like the developing El Nino could have unusual outcomes with drier / wetter weather in different locations to normal. Something to watch over the winter – and I'll post more as opinion and events settle down.
That's it for now…back in a few days with a monthly update…and back sooner if the wetter weather looks like making it to our region.
Thanks to Kombu / Snapfrozen for sponsoring and hosting.
Thanks to NOAA / Meteologix for images.