We've got showers running across our Shire today…but going to kick off this post with the latest longer term forecasts for Australia. Whilst still crucial that we work towards reducing emmissions and taking other action to limit climate change it's also useful to be aware of what's already happening. The information below comes from the latest BoM / CSIRO report that has just been released. If you want to skip this section you can head to the current weather here.
The number of dangerous fire days is increasing rapidly. We're in one of the areas (and there are lots of them) that are seeing significant increases in dangerous fire weather: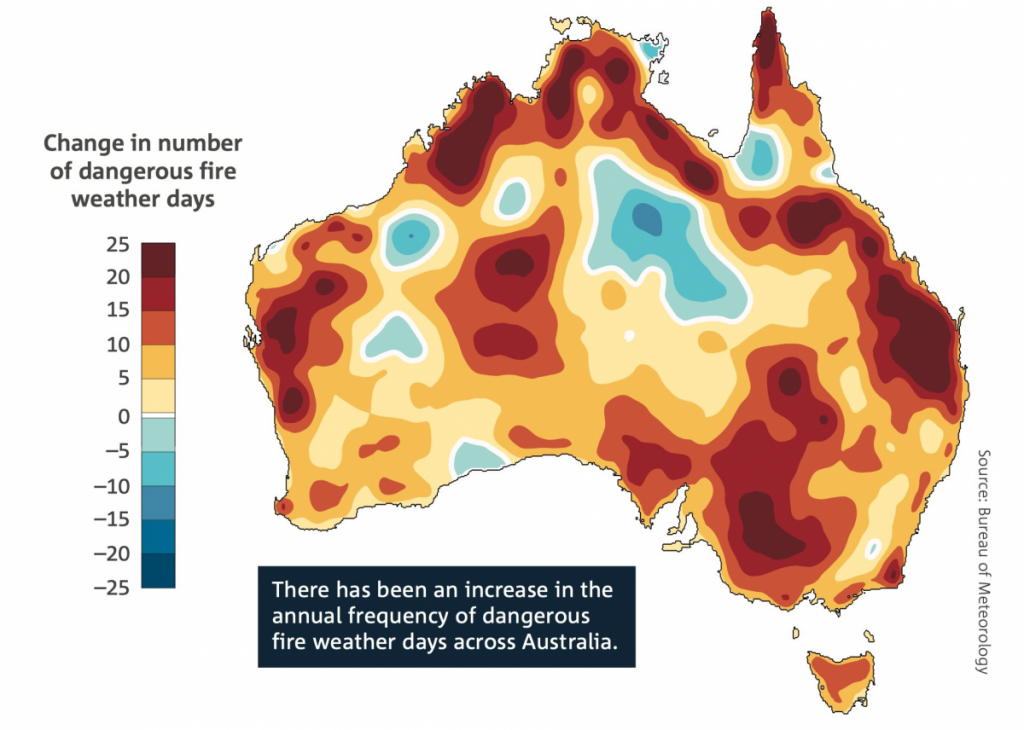 Part of the reason for this is the signficant reduction in Winter and Spring rainfall over recent decades: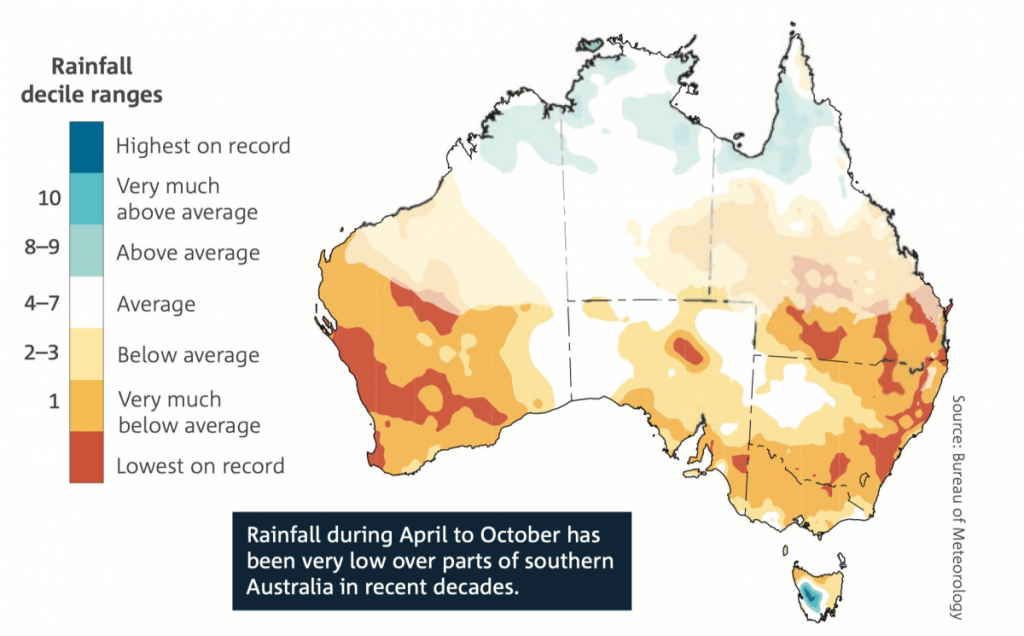 However the opposite is true in Summer across our region with an increase in Summer rainfall. Increased Summer rainfall means increased growth – which offers more fuel during the (now) drier Winter and particularly Spring periods. This follows the trend of climate change as a magnifier of events – the dry getting drier and the wet getting wetter: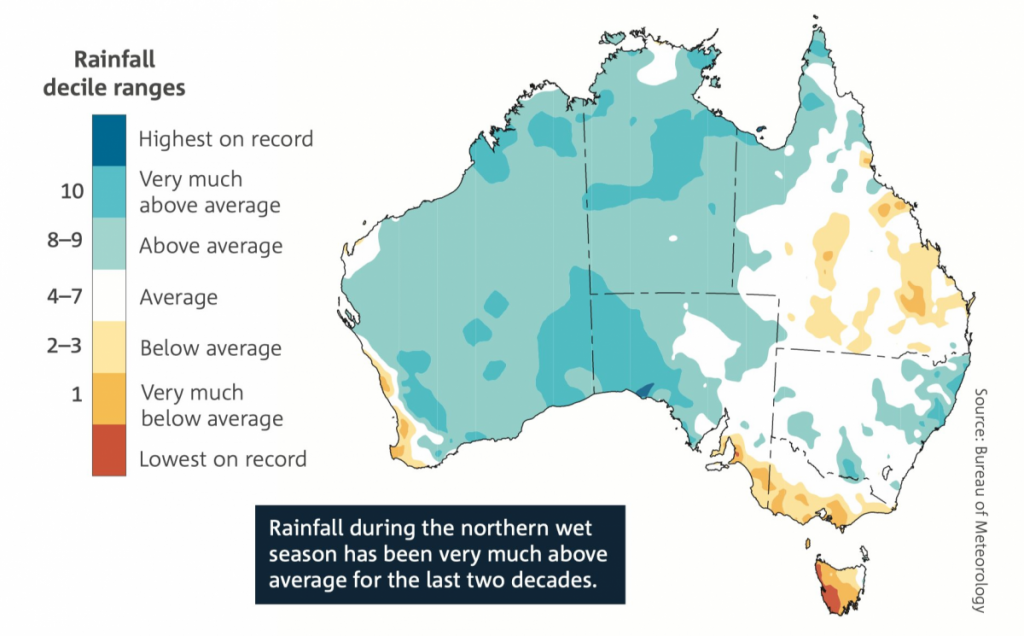 Worth noting that the central Queensland is getting drier in Summer as well as Winter. As well as getting wetter through our local Summer, our warmer seasons are also facing an increasing number of extreme heat events – and this will also be contributing towards the increase in dangerous fire weather days: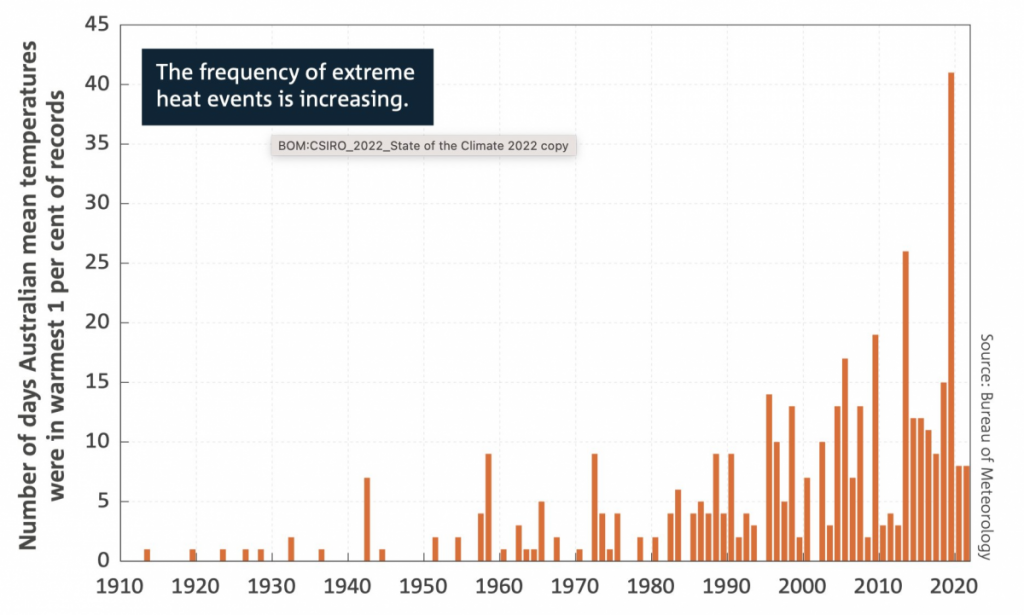 The number of extreme heat events sits within a background of quickly increasing average temperatures: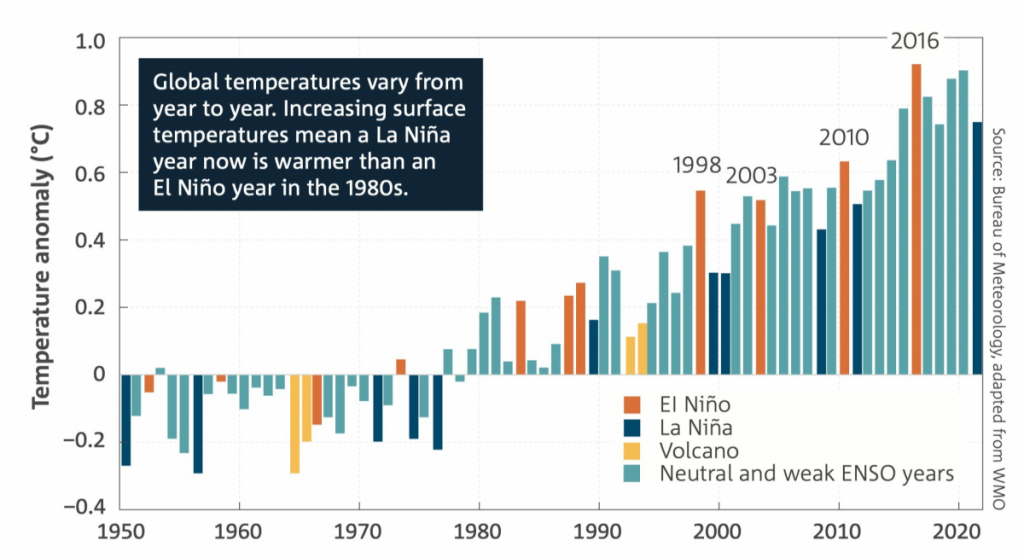 La Nina tends to slow down the increase, however it looks like we are heading into a potential El Nino through 2023, which has the potential to once again spike global temperatures.
The end result? Get ready for an ongoing increase in extreme events, with flood, fire and heat all more likely than in previous decades. The sooner we can reduce CO2 emmissions the better – and as well as doing so we need to make sure we are ready as a community to face the challenges already happening.
Looking in the much shorter term, we are currently in a short showery spell. Models actually show some decent totals possible across our region over the next couple of days as an onshore wind combines with cooler upper temperatures. Here's the forecast rain totals for today through tomorrow:

Nothing huge, but could be enough in some locations to wet the deeper soil once again – it's been getting fairly dry over the last couple of months. These showers should die away later in the weekend as a low develops in the Tasman turns our winds more southerly again.
We're coming into our wet season now, and the monsoon is in full swing across Northern Australia. There is a tropical low across WA at the moment giving some monster totals out that way – here's the 6 day forecast total rainfall across that region, using the same scale as the chart above: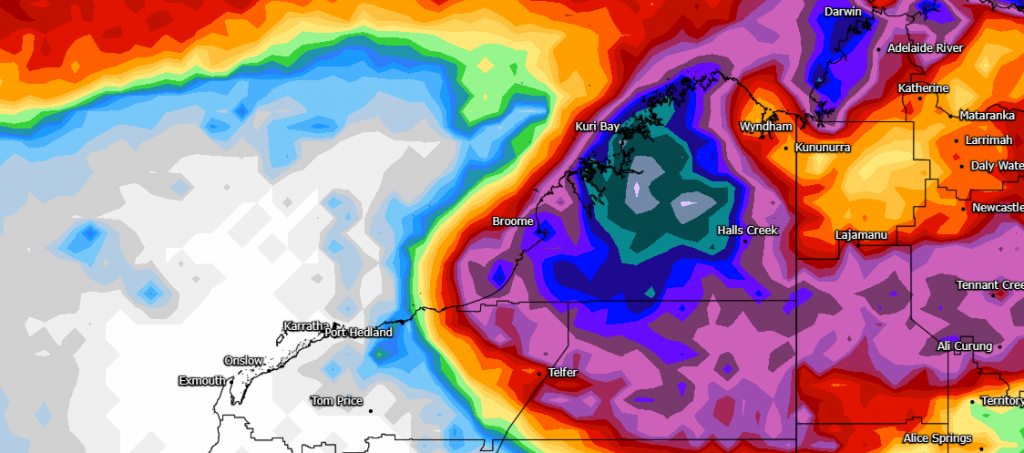 That low is expect to remain over WA for some time before moving away to the south. We're also watching the potential for a tropical low to form across northern Queensland in the coming days. Most models show that one scooting off to the east….however it's always worth watching where they head in case they decide to move in a different direction, which is always possible at this time of year.
We'll likely see showers develop again once the Tasman low moves away, so more damper days to come. No sign of significant rain events across our region at this time, despite the ongoing (and fading) La Nina. We'll post again if / when that changes.
Thanks as always to our sponsors Kombu Wholefoods and Snapfrozen.
Images thanks to CSIRO / BoM / WeatherWatch