We've had some drier weather, some sprinkles of rain, and temperatures hovering within a few degrees of 20C for the last week or so…and we have more to come. Not much rain over the next week – just the occasional shower or damper spell, with temperatures sitting close to average. Here's the total forecast rain for the coming 10 days: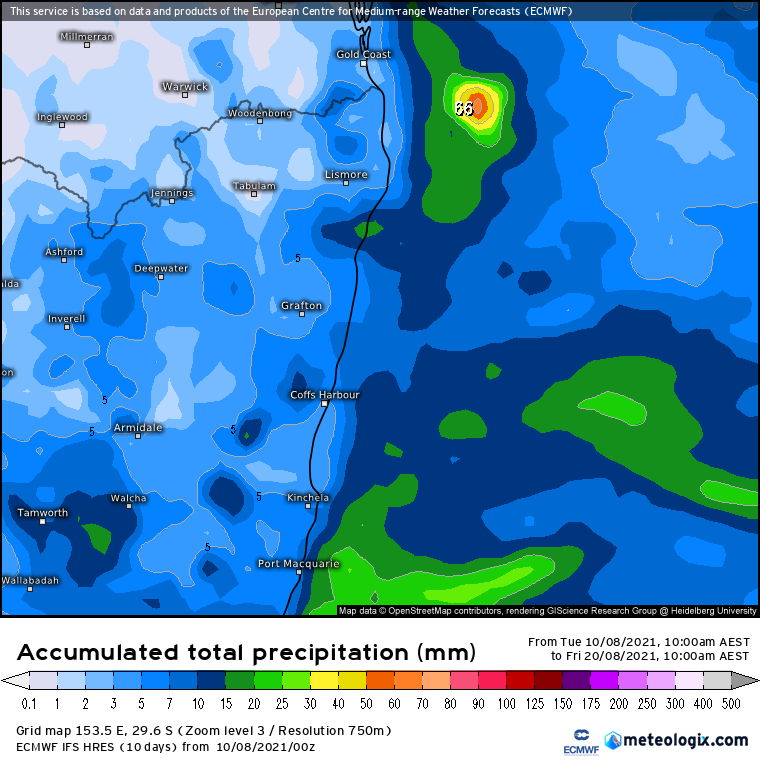 As we head towards fire season that's looking pretty good – all a result of a combination of the developing La Nina in the Pacific / Indian Ocean event / neutral Southern Ocean. It is our drier season so don't be too surprised to see more dry spells over the coming weeks – but at the same time it could be worth making the most of them. Here's the forecast for August from the usually-excellent ECMWF model – and you can see drier than average is likely for us over the next few weeks: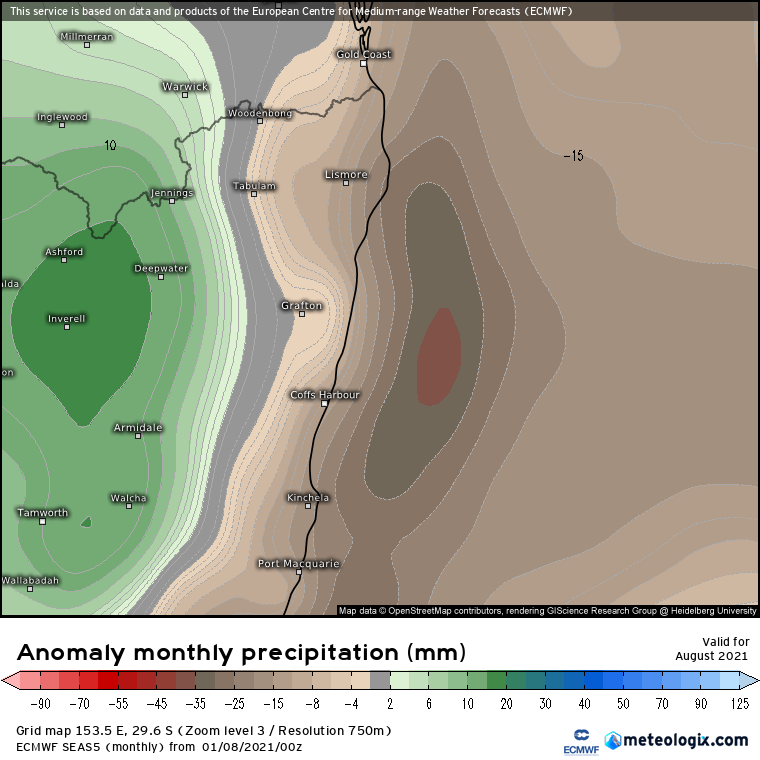 …but give it a couple of months and we see a combination come together that signals wetter weather is likely – by the time we hit October we would usually start seeing an increase in rain totals with showers and storms becoming more common…and then add on top a forecast for wetter than usual conditions: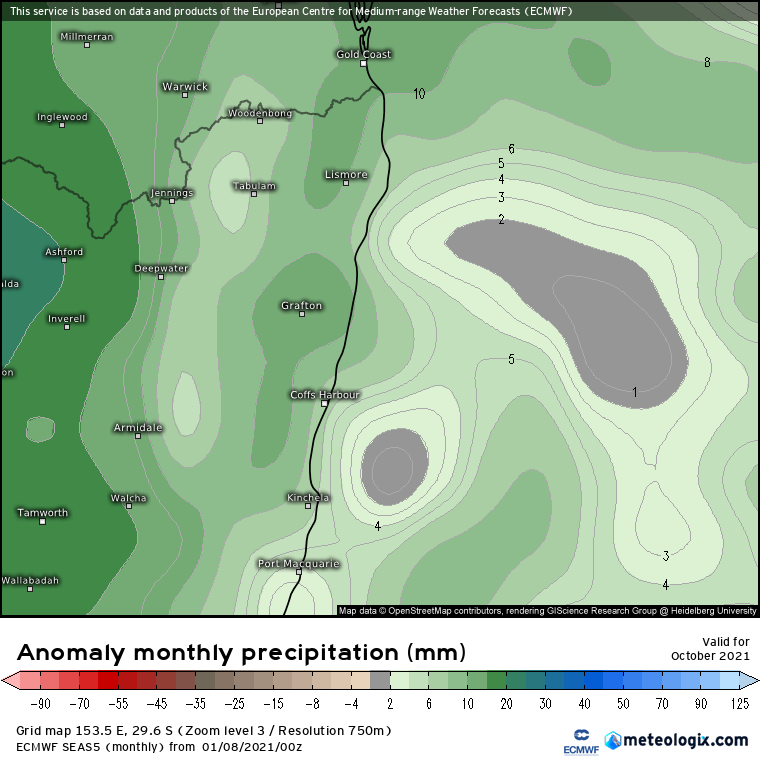 …then as we head further into summer we would again usually see a further increase in rainfall…and on top you can see the forecast for conditions to sit wetter than usual as well: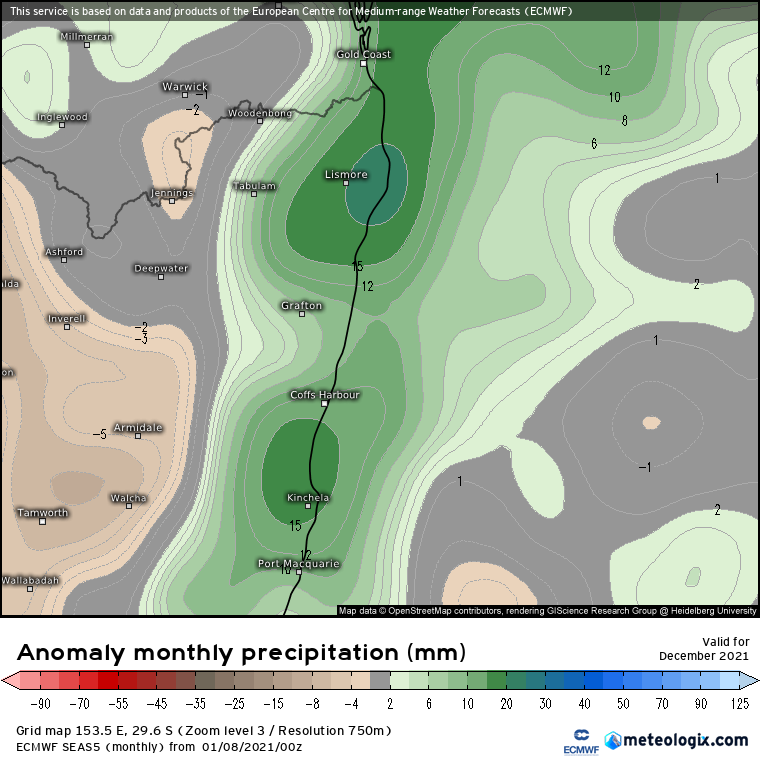 We then head right into our wet season, which usually peaks around February. At that time of year we would expect average conditions to bring some decent wet weather…so if the following forecast comes together we could well see some very wet weather – it's worth emphasising that this forecast is showing it likely to be significantly wetter than average at an already wet time of year: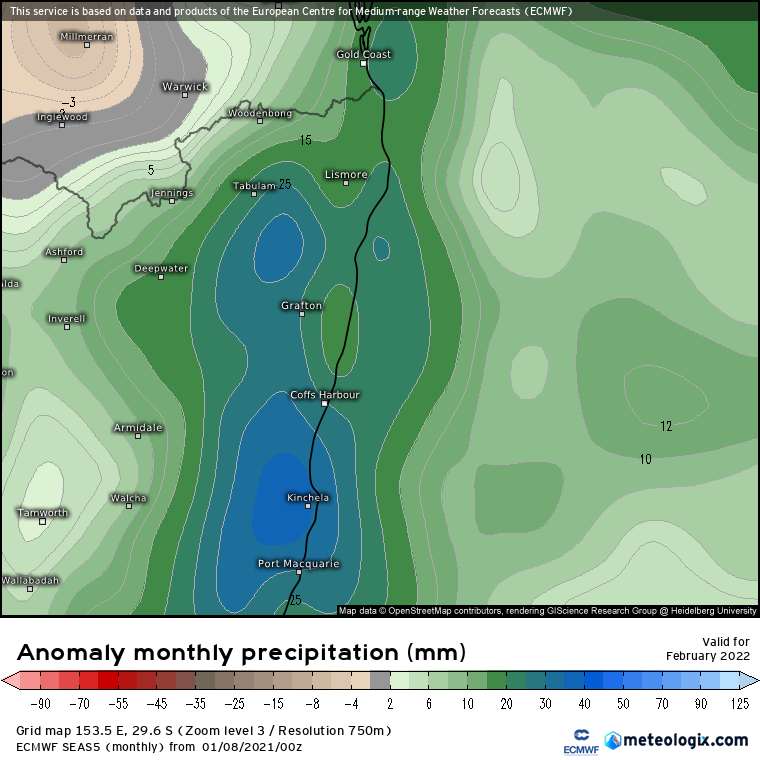 Long term forecasts can only give a guide as to what is likely – but the consistency of the forecasts across a number of runs and across a range of models gives us a strong signal that we will likely see wetter conditions through this coming summer. Again, that doesn't mean rain all the time, simply that the weather dice are going to be strongly loaded towards wetter conditions. Summer is also cyclone and tropical disturbance season – and I wouln't be surprised to see some impacts for us this coming season.
February will likely to close to the peak of this La Nina event. You can see the forecast La Nina cold pool in the central Pacific in this chart (that shows how much warmer or cooler than average sea temperatures will likely be):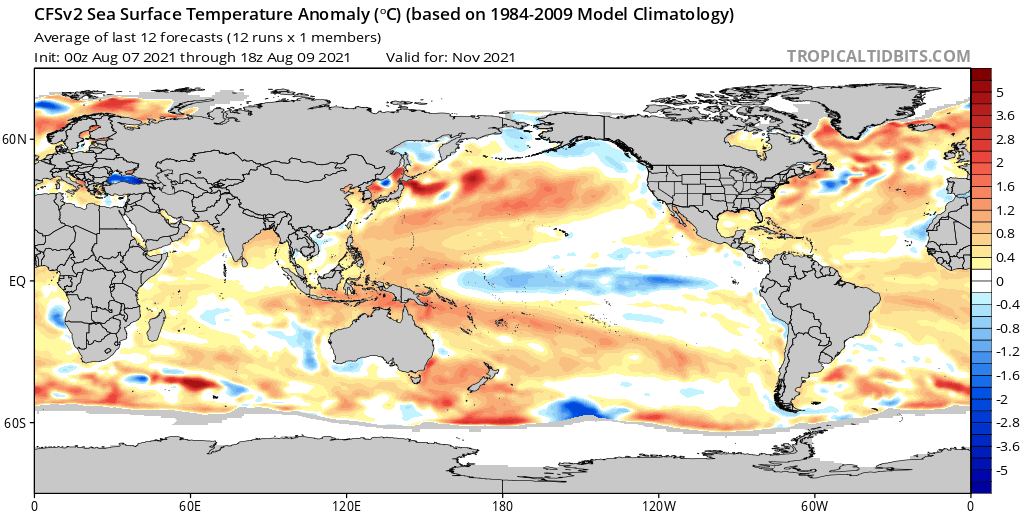 By the time we move through summer and into autumn we should see the La Nina fade away with neutral conditions developing. Here's the forecast sea temperature anomaly chart for next May by way of example: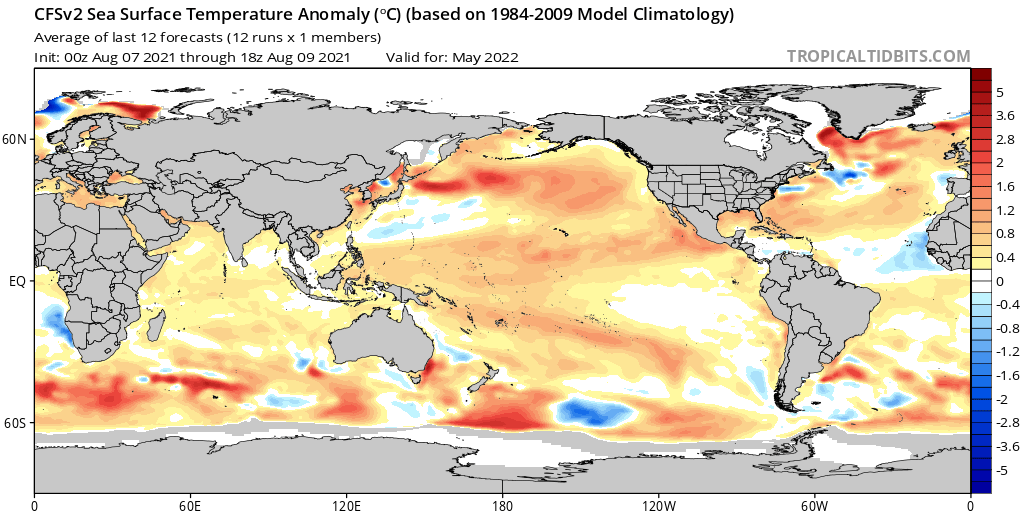 …You can see the cold pool completely gone. Neutral conditons will likely mean a return to warmer and drier conditions for the following winter and spring for our region close to the coast, though warmer temperatures in the Indian Ocean should mean a return once again of northwest cloud bands and wetter conditions through the inland and to the west of the divide.
Looking further afield the heat and fires will likely continue in the short term through southern Europe and the western USA. Tropical threats will also likely increase through the Atlantic basin over the coming weeks – expect to see news coverage of those events over coming weeks. Hopefully the end to the La Nina (which cannot come soon enough for the western USA) will see a return to slightly wetter conditions there.
I'll post again when we start to see local events start to ramp up, but until then wishing you all the best, and hope you get to enjoy this great local weather.
Thanks once again to: Kombu Wholefoods | Snapfrozen | Meteologix | Tropical Tidbits