We're just about to move into Spring. Fire Permits come into play from this Thursday and we would usually be heading into our peak bushfire season. Fires are still likely…but so far this year is looking like it is likely to end up much wetter than average. This is reflected in the Bushfire Outlook: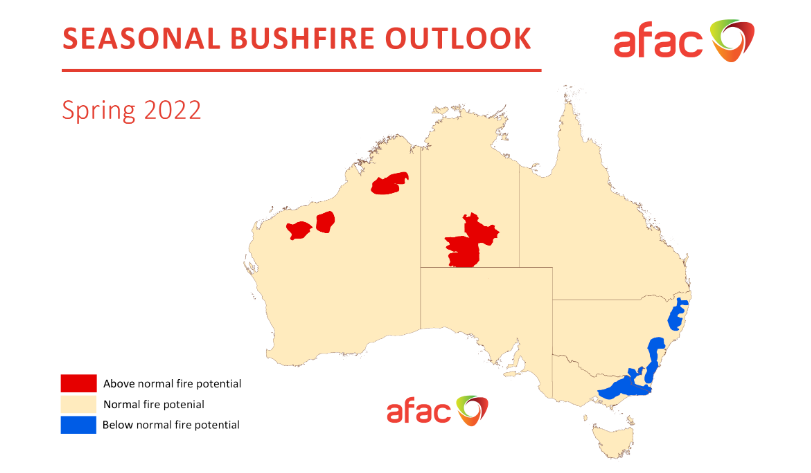 And here's the latest BoM rainfall outlook, covering September through November: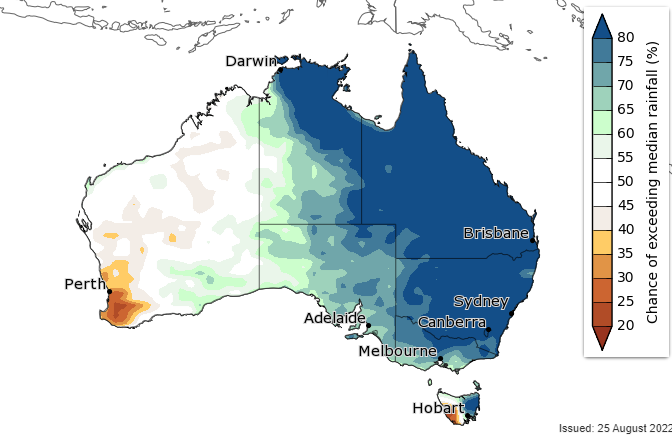 That is as wet an outlook for Eastern Aus as you are ever likely to see. Luckily Spring is a drier time of year for us – so whilst flooding is still possible the risks of an early repeat of the Summer floods are lower…for now…Storms will certainly be likely however…and I'll certainly be keeping an eye on models as it only takes one event to bring a return of flood conditions across our region.
The reasons for this wet outlook – a combination of the Southern Oscillation (AAO), a re-emerging La Nina, strong trade surges and the Indian Ocean Dipole. Looking at each in turn:
AAO – positive means a tighter circulation around the South Pole, which keeps the westerly winds further south that normal and allows easterly winds to develop across Eastern Aus. Here's how it is looking right now:

La Nina – developing quickly across the Pacific once again, with forecasts that it will further strengthen over the coming few months:

Trade Surges – these have two roles…if close to Aus they push wet easterly winds onto the coast…and if strong and widespread across the Pacific can also pull more colder water to the surface in the central and eastern Pacific, further strengthening the La Nina. Here's how they are looking at the moment: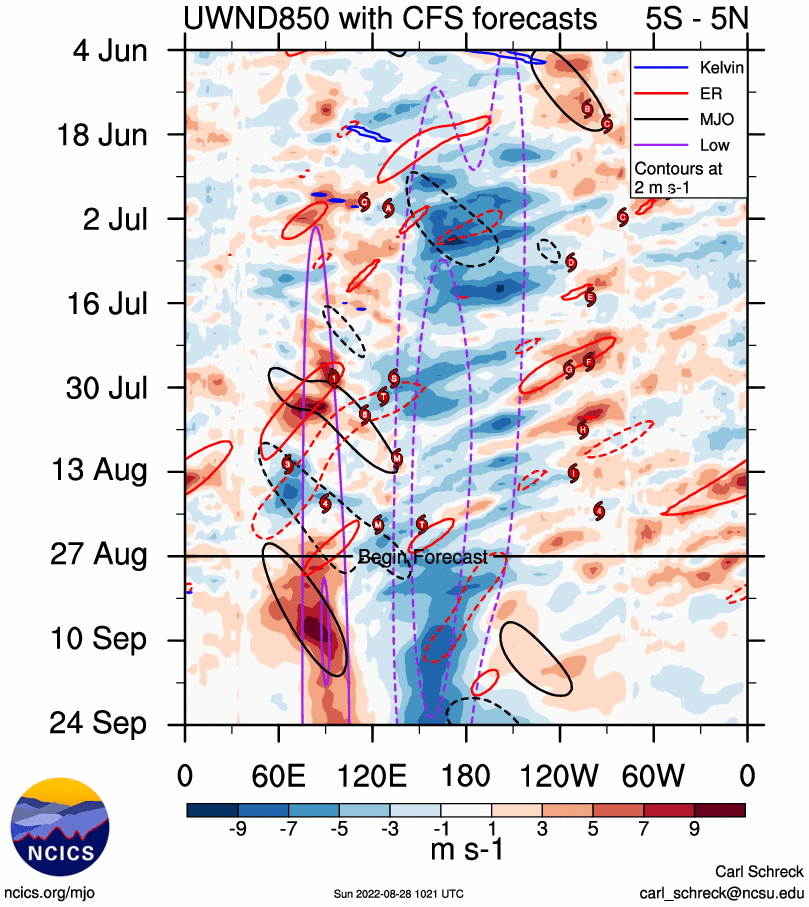 With blue indicating trade surges you can see the pattern over the last couple of months (which has helped re-develop the La Nina) continuing and perhaps even strengthening further over the coming months! This will help push wet winds onto the coast and further strengthen the event.
The Indian Ocean Dipole is also pushing much wetter winds across Australia – this time from the west, further amplifying the rain across the east. This is why the westerly changes we are seeing come across are bringing much more cloud and rain than we would normally expect (with today being a prime example). Here is how it has developed so far: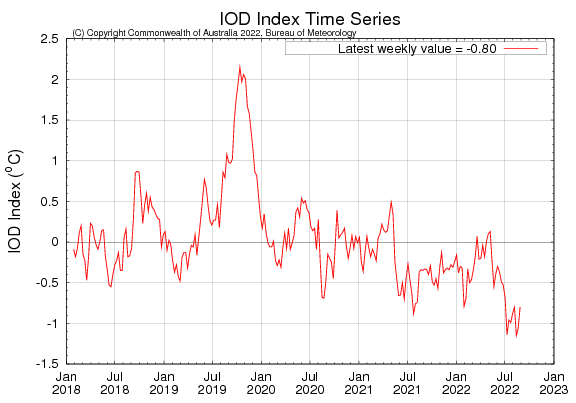 Worth noting the difference between the bushfire year of 2019 and now. Models show the current negative event to continue to strengthen through September: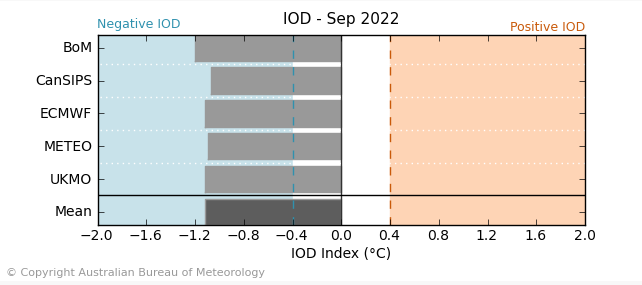 So everything pointing wet at this time – however it is worth emphasising that whilst the dice are strongly loaded towards wetter than average it does not guarantee a wet outcome.
Something else that we need to consider is the impact of the Tonga volcanic eruption in January. It has led to a belt of record-low temperatures way up at the top of the stratosphere: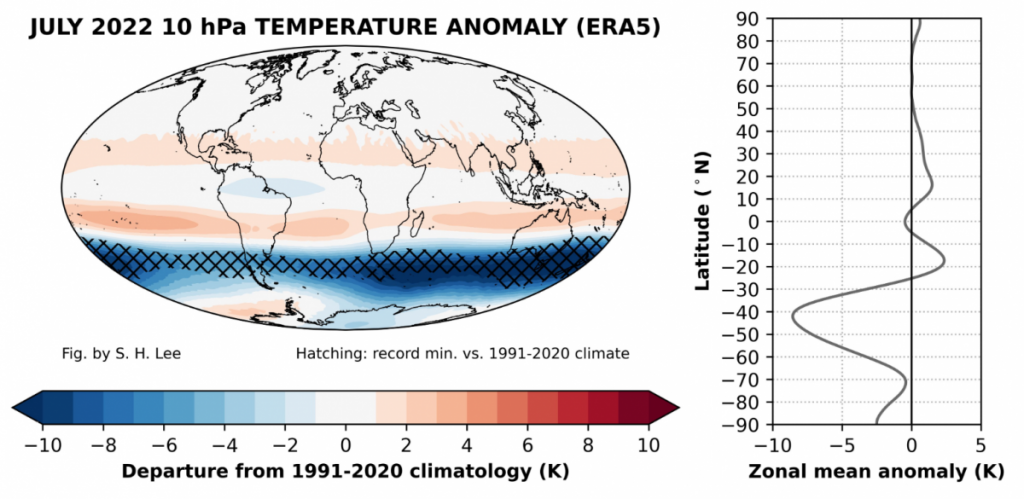 At this stage nobody is quite sure what the impact will be. Previous volcanic events have appeared to push the world towards stronger El Nino events – however because of the massive water injection up high this eruption has had the opposite impact…so could mean a further La Nina push (could we see 4 in a row?) – but this is unchartered waters so we'll have to wait and see. Climatogically speaking we should see a push towards El Nino / neutral after this summer…and that is the way models are looking…but worth being aware that this volcanic fly-in-the-ointment will likely have a role to play over the next couple of years. Let's hope it doesn't magnify the current La Nina – we're already looking wet enough.
Whilst it is wetter and cooler than average right now we know that drier and hotter conditions will return in the future. This is the ideal time to prepare your property, develop a bushfire plan and get your head around the new Fire Danger Rating system. Local RFS brigades are hosting Get Ready events through September. North Bellingen RFS will be in the centre of Bellingen alongside other agencies on Saturday 17th September, answering questions and giving away a range of information. Come and find them on Church Street, and use this season to Get Ready for future seasons to come.
That's it for now. I'll be back when the longer term pattern changes / individual events are incoming.
Thanks as always to Kombu Wholefoods and Snapfrozen for sponsorship
Images thanks to Dr Simon Lee / NOAA / BoM / NCEP