We've got some interesting weather coming up across Eastern Aus this week. Today we have a beautiful start to the week, but likely to see some showers and storms form through the afternoon, particularly inland. As we head futher into the week however a pool of cold upper air will seperate from a southern trough and move north to north east across Eastern Australia. Combine that with onshore winds over a warm ocean and you'll have a fairly dynamic (and likely wet) pattern develop. Some areas could see some big totals – though where that will happen is still too far off to be sure – especially with wandering upper systems which can be hard to forecast in detail.
Here's an explainer of what we're looking at overlaid on a forecast chart for this Thursday: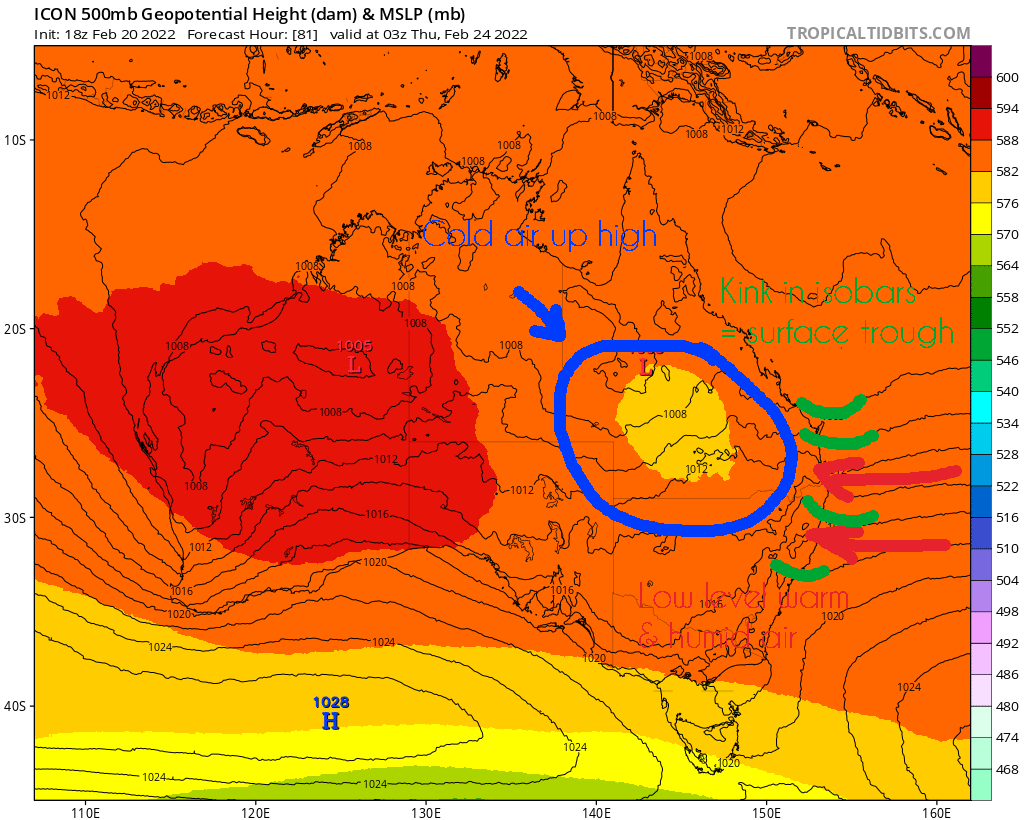 You can see the pool of cold air, forecast to be over central Qld this Thursday. You can also see onshore winds at the surface, and a kink in the isobars near the coast as a trough likely forms as a result. Here's the animation showing the features develop over the coming 5 days: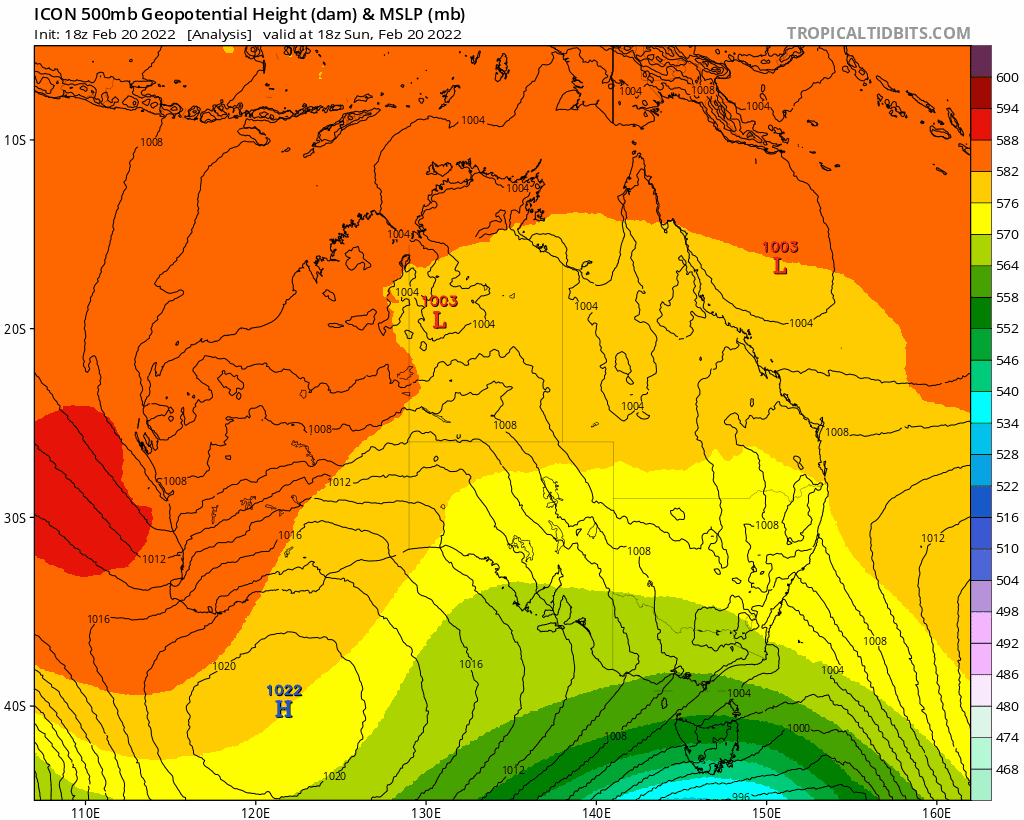 You can see the upper cold pool cut off from the trough, move across Eastern Aus and then eventually get re-absorbed into another southern trough. Here's how the rainfall looks for the same time on Thursday as the first image: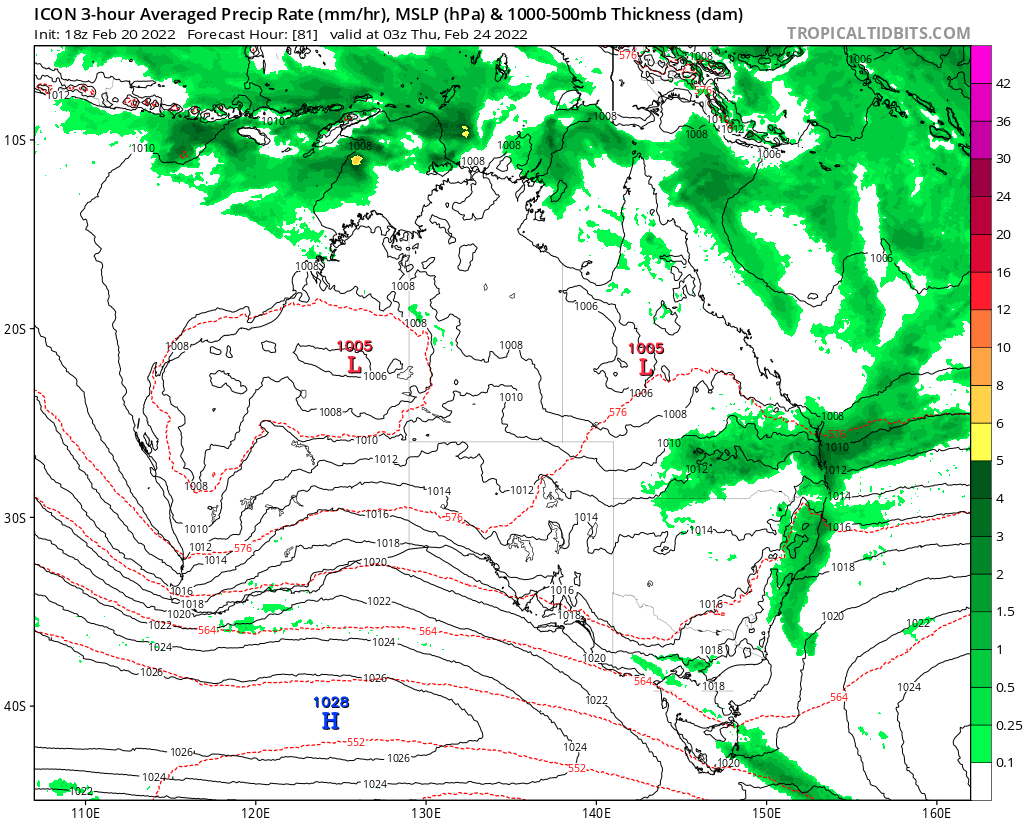 In the image above you can see the showers clattering in along the coast, with rain moving further inland to our north around the south of the upper system. We'll likely see showers and rain periods across SE QLD and NE NSW for a number of days as a result of the system moving across. Models show a range of rain total outcomes – not surprising at this time frame. Here's a range of them out to seven days from six global models: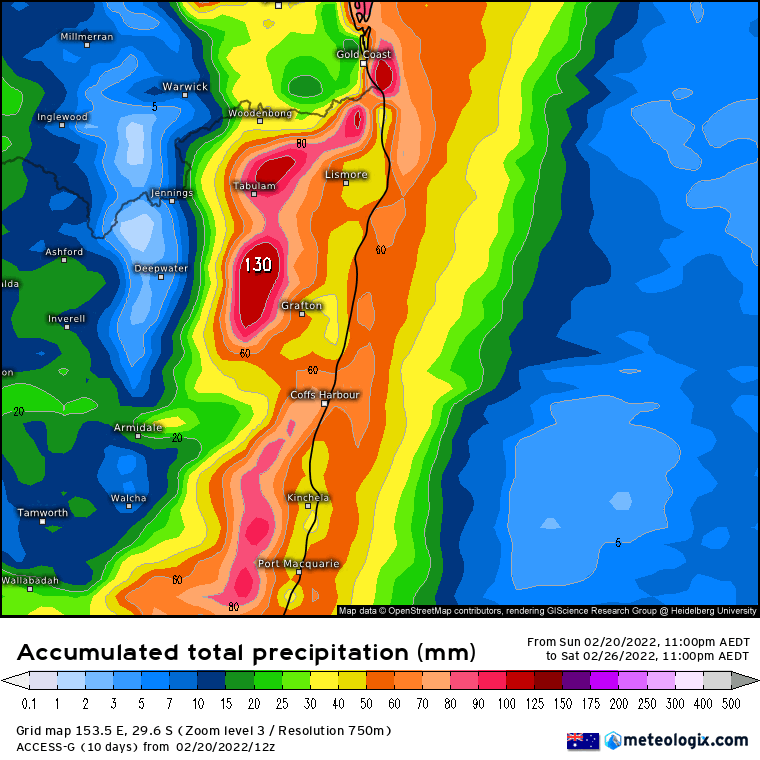 They all show some good totals across NE NSW with one model (the European model) going for some higher totals to our north – which is absolutely possible given the set up. At this stage for our region it's worth being aware of the dynamic weather coming up this week, but at this stage no models are showing flooding rains for us…however our local topography can really magnify rain totals so it's definitely something to keep an eye on and I wouldn't be too surprised to see that change. I'll post again as we head further into the week with an update on what is to come. I should add that the weather continues to look fairly dynamic and potentially wet through the following week – but that is a long way off so I'll post more on those chances once we get through this first event.
Thanks to local sponsors Kombu Wholefoods and Snapfrozen
Images thanks to Meteologix | Tropical Tidbits. Animations and explainers Bellingen Weather 🙂