Sound like a familiar story? Yep, another week and another upper cold pool is moving in, which will, once again, bring some decent rain across our region. Whilst totals don't look huge, the ground is still wet from the last event a couple of weeks ago so it won't take much for local rivers to rise.
Here's how it looks on the models: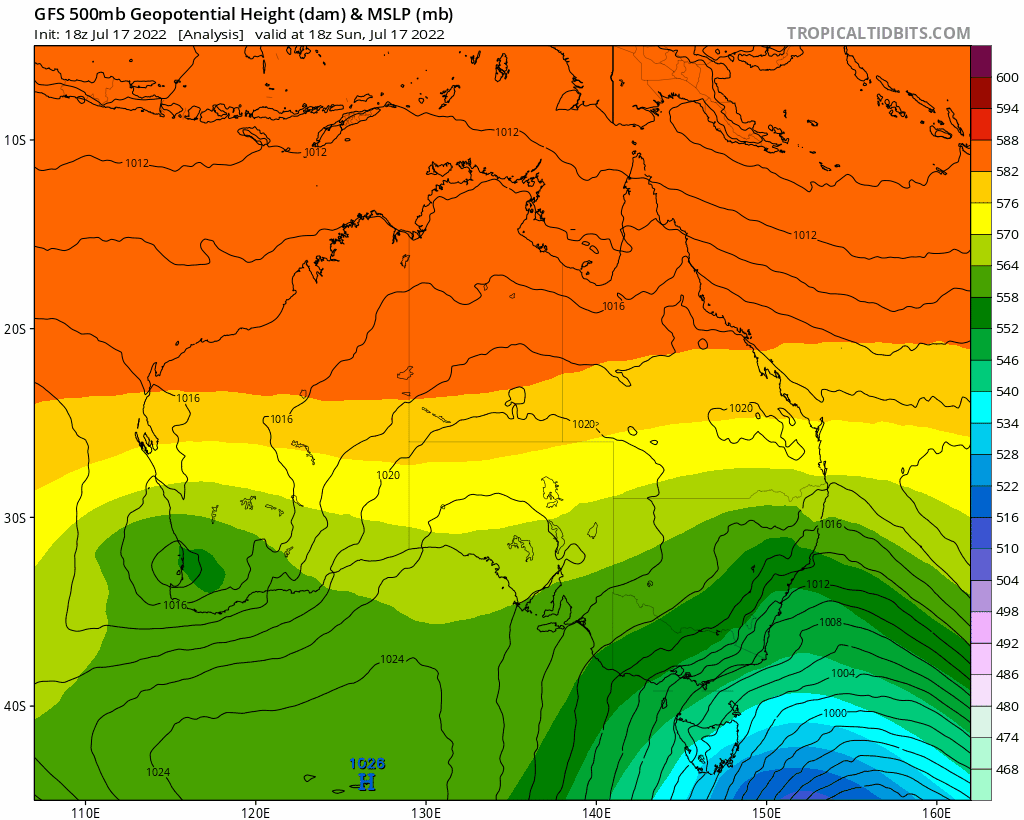 You can see the cold pool currently sitting close to Perth move across inland Australia and then aid in the development of a decent low in the Coral Sea – thus bringing onshore winds down to our region. At this time it looks like the low will remain out to sea, but it is always one that is worth watching as if it moves any closer to shore then areas directly to the south of the low will see much higher totals and stronger winds.
Here's the resultant forecast rain from this event: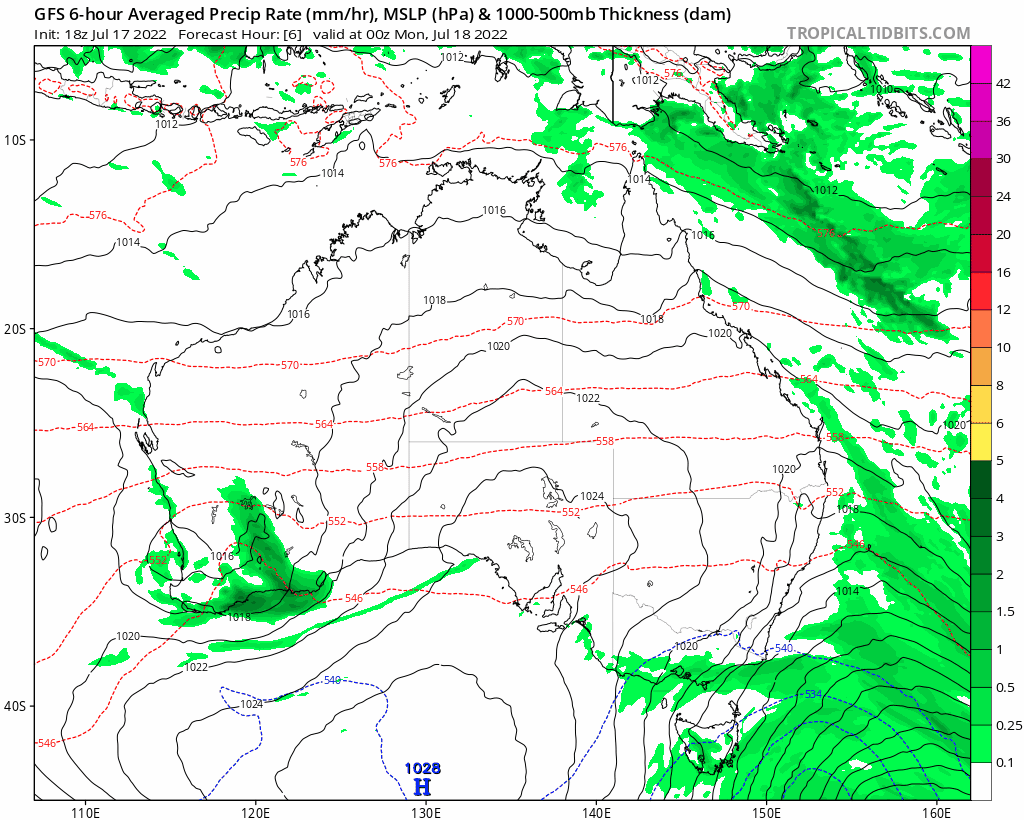 You can see the main focus remaining out to sea at this time – but also see that we'll likely have a good number of days with onshore winds bringing showers in from the still-warm ocean. They'll likely focus close to the coast and again the hills to the west and the range running from Dorrigo towards Coffs.
Forecast totals from this event looking like this right now: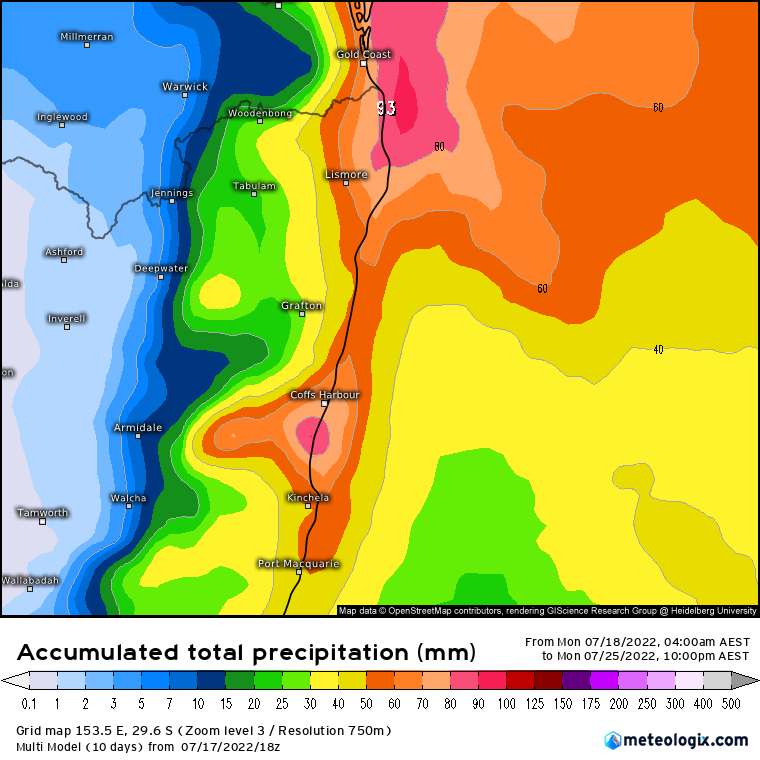 Showers will move in from tomorrow, intensify through mid-week and start to clear again late in the week / over the weekend. We'll post again if anything changes – but in the meantime make the most of the sunshine today! Floodcams and BoM warnings in the usual places if needed.
Looking further ahead we still have a strong and ongoing easterly burst in the Pacific: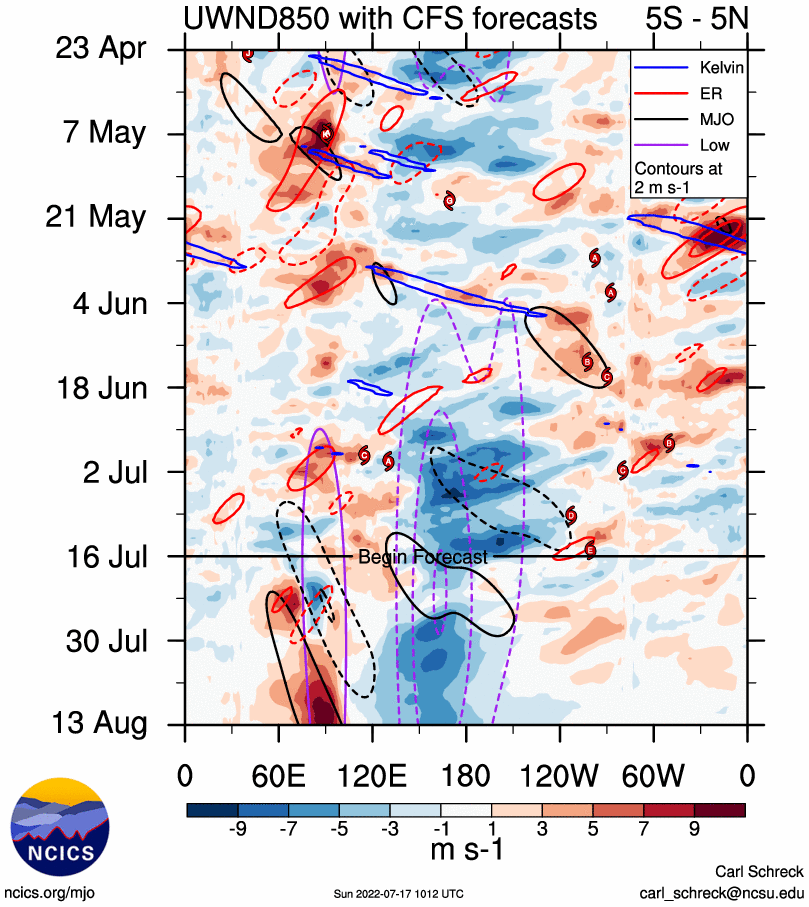 This should result in another La Nina response in the Pacific, so expect wetter than average conditions until at least the end of the year. Beyond that – and other times with patterns similar to this one have bounced back into a much drier spell with El Nino conditions. Right now as a rough guide I'd be looking at a wet 2022 into 2023, with a switch to much drier conditions from later in 2023. It's hard to think of fire threats when it is so wet, but now is the perfect time to be putting a bushfire plan together for your property, and perhaps considering joining your local brigade so you can be trained up before fires return.
Thanks as always to our sponsors, Kombu Wholefoods and Snapfrozen
Images thanks to Tropical Tidbits and Meteologix.