As forecast we're into a quick showery spell now – but it will only be with us a couple of days. Models are showing some reasonable totals for our region – here's the totals from one model through 10pm Wednesday: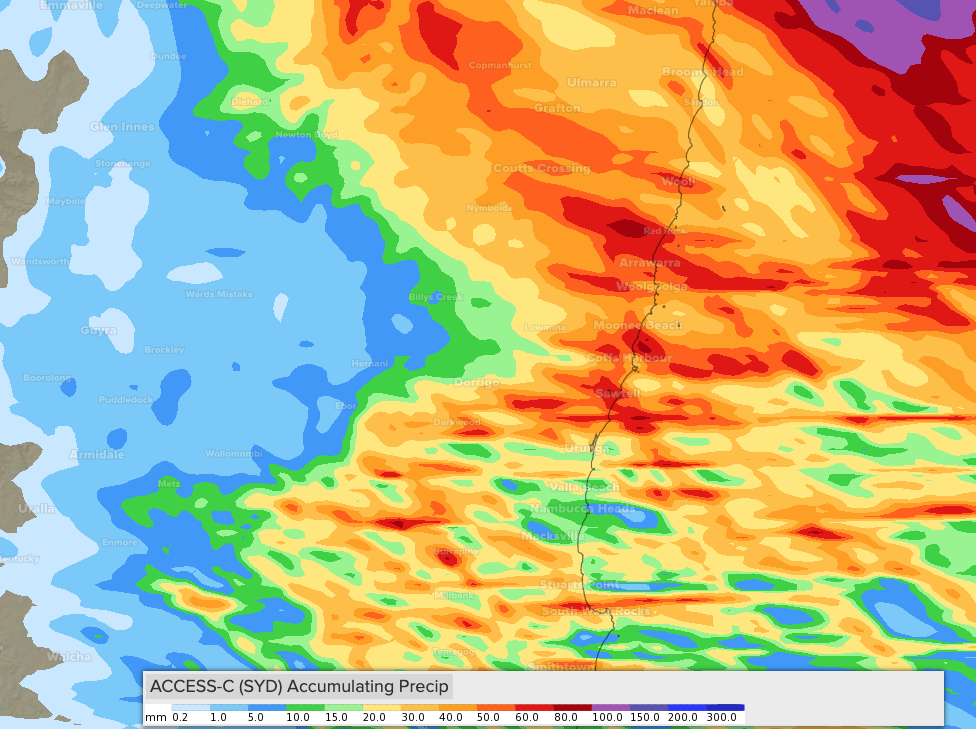 Despite the relatively low totals (compared to what we have seen, and what we can see at this time of year) the very wet catchments are going to react quickly to any heavier falls, and the BoM has a Flood Watch out for our region:
---
MINOR FLOODING POSSIBLE FOR THE ORARA AND BELLINGER RIVERS FROM TUESDAY
Heavy rainfall associated with a low pressure trough off the northern coast has the potential to cause minor flooding along the Orara and Bellinger Rivers from Tuesday
The catchments likely to be impacted are saturated from recent rainfall, which increases the risk of flooding.
River rises are expected in the flood watch catchments in response to the forecast rain and minor flooding may develop in the Orara and Bellinger Rivers from Tuesday. Flood Classes (minor, moderate, major) are only defined for catchments where the Bureau provides a flood warning service.
Localised flooding and disruption to some transport routes are possible.
Catchments likely to be affected include:
Orara River: minor flooding
Bellinger and Kalang Rivers: minor flooding
---
Once we hit Thursday we should be heading into the clear once again, and the forecast from that time forwards is for much drier weather over the following week. Looking even further ahead we're looking at the bigger patterns in the Pacific, and it looks like it could be heading for at least a neutral or perhaps even a warm episode – so at this time a repeat of our wet summer is looking less likely. More on that one as we head through the predicability barrier of April and head into May.