Going to start with this amazing image that shows the winds wrapping around a strong and cold upper cold pool that is currently moving quickly north across NSW, before heading back south east and weakening. The animation runs out to Tuesday – so you can see the system is fairly fast moving (unlike the one over SE QLD that lasted for days…):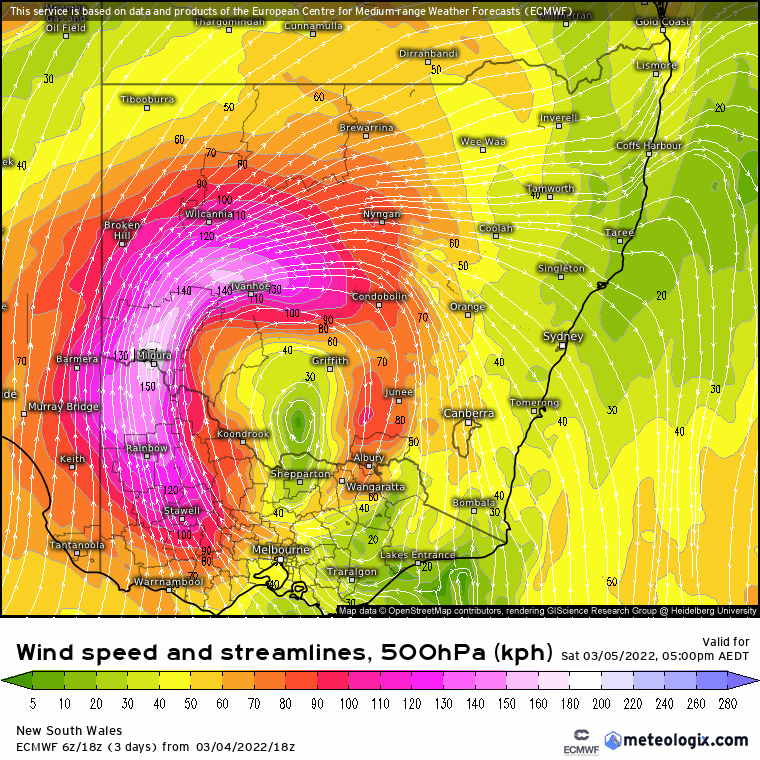 Whenever you see something like that you know that we'll see fireworks somewhere. Massive instability with this system – warm and humid at the surface and very cold and windy up high. You can see it heading north in this water vapour satellite image – and you can also see the moisture ahead of this system, coming in from an ex cyclone over WA: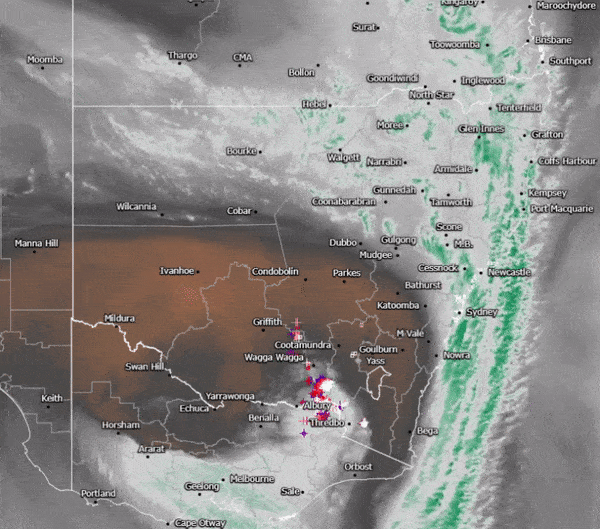 So what does that mean for us. Hard to be certain – these situations are really dynamic. I liken it to putting a pan of water on to boil – you know you'll see bubbles appearing on the bottom but cannot be certain where that will be. This is similar. We know there will be some intense rainfall likely across some regions of eastern NSW – and that there is a risk we'll see some across our region – but we cannot be certain where those bubbles will appear…however this is an event where it will be worth watching it play out in real time.
What we will likely see is storms moving in across our region from the west / north west through tomorrow afternoon. These storms could be intense for those who find themselves under them, with heavy rain, hail and strong winds all possible. Then, as the upper cold pool continues to move across and night falls we will likely see showers and storms form along the coast and then start moving inland from the north east. This is a time when we also need be aware of possibly significant totals with heavy falls from storms once again likely in some areas. We could find we miss out altogether, or we could see some intense falls under training storms. Worth keeping an eye on the radar again late tomorrow evening and being aware that we could see some quick rises in local rivers and creeks.
Models give a range of totals over the next few days. Here's the forecast from the EC model (which was great at capturing the big totals across SE QLD):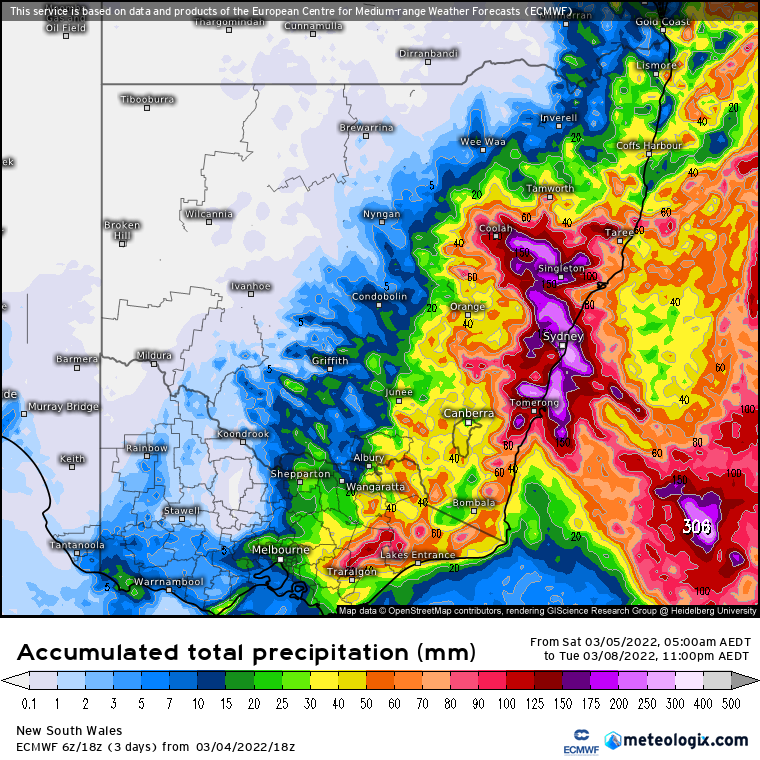 …you can see big totals to our south with less for us. The latest GFS run has higher totals across our region, with the highest totals again to our south:
…so once again it's another event to keep an eye on – and one that is actually more uncertain than many. We know we'll see flooding for some, but where that will actually happen will play out in real time over the next couple of days. Live river heights and river cams in the usual places. Take care community.
Thanks again to local supporters Kombu Wholefoods and Snapfrozen
Thanks to Meteologix / Weatherwatch for the images. Animations by Bellingen Weather