A longer post looking at this week, this weekend – and then right out into the middle of next year.
Today we've got cloud streaming across us from the Indian Ocean. It's being generated by warmer than usual sea temperatures off the northwest coast of Australia and then dragged right across our huge country as a result of a deep low in the Southern Ocean. You can see it here in this current water vapour image: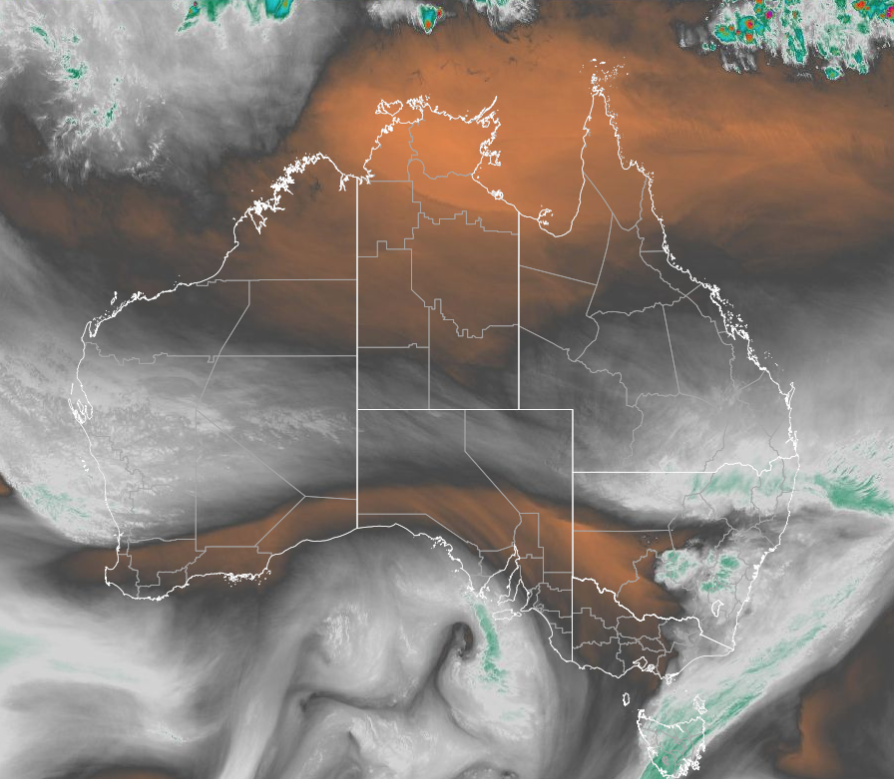 You can easily see the moisture moving across from west to east, as well as the multiple swirls showing the location of the low to the south of Aus (currently located in the Bight).
All that moisture is meeting increasingly cold upper temperatures and the western slopes of the Great Dividing Range – and that means more rain inland and on the hills, with less for us as the air warms up and dries off as it drops off the mountains. Here's the current forecast from the BoM hi-resolution model, showing totals to 10pm Friday night: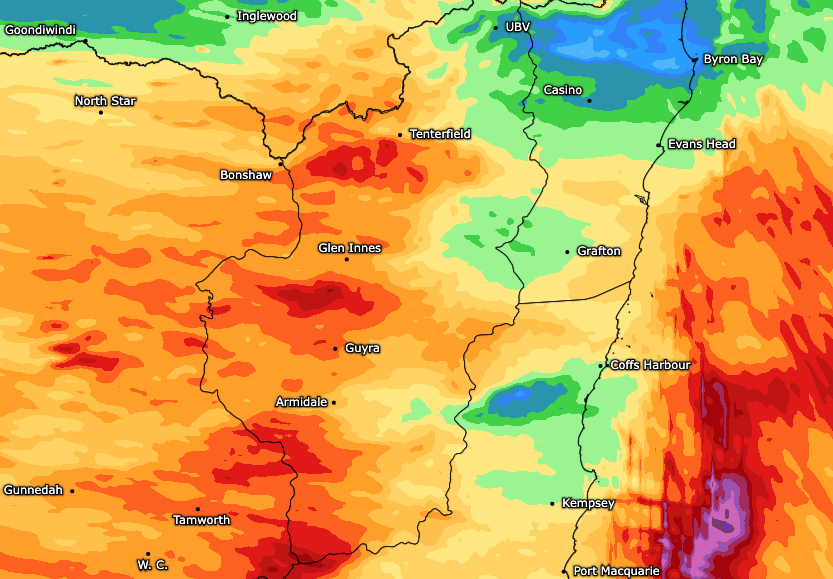 Needless to say there is another flood watch current for inland rivers. Looking slightly further ahead and the current pattern looks set to continue for at least the next few weeks, with more rain likely at times, particularly to the west.
Looking even further ahead and we are right in the middle of another just-declared La Nina. This one is likely to peak fairly soon and then weaken as we move into late summer. We all know the likely impacts from La Nina – no guarantees of big rains but a much higher chance of rain / flooding than usual as we move through summer. You can see the pattern play out on this just-released sea temperature anomaly forecast from the EC model, running from this October through to March next year: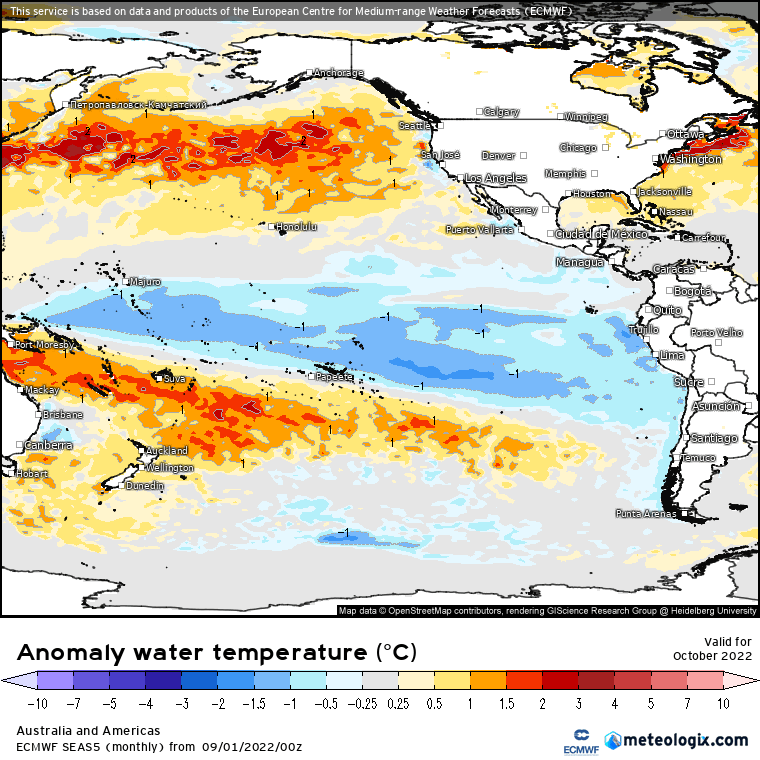 Key points to note: (1) the current strength of the cold pool (2) the cold pool weakening as we move into summer – and (3) the hints of a warmer pattern emerging off the west coast of Central America as we hit March. The CFS model goes out further – here is how that model currently runs from March through June 2023: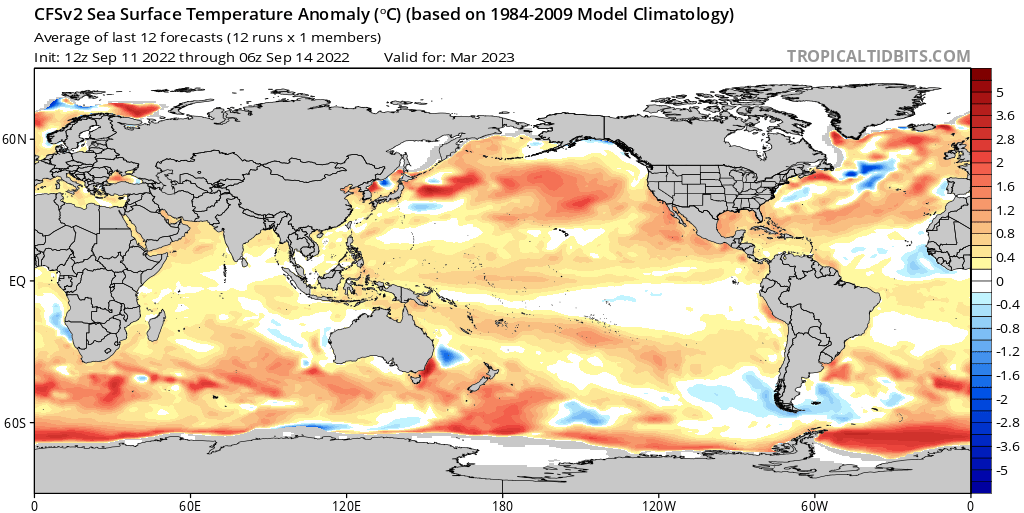 You can see from forecast (1) the cold pool completely disappears (2) a strong warm signal develops across the Pacific (3) warmer sea temperatures across much of the world – climate change in real time. What would this mean for Aus – likely much warmer temperatures and a gradual drying out. As an example here is the forecast temperature anomaly across Aus for next month: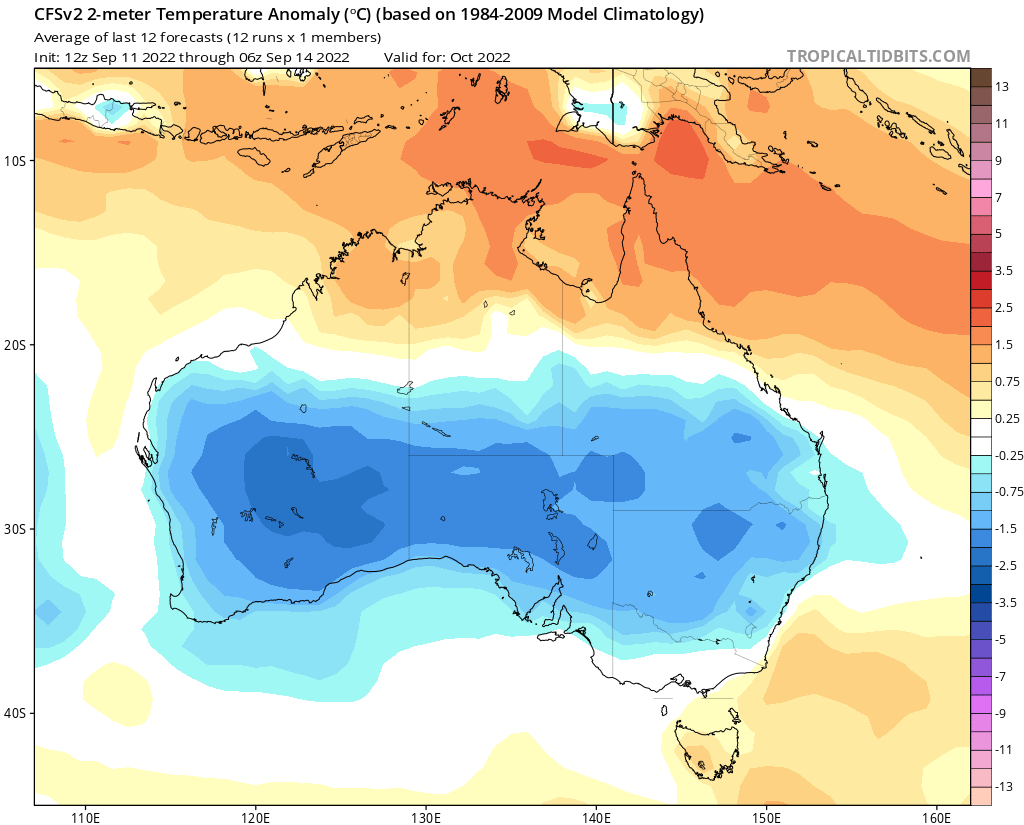 You can see colder than normal temperatures forecast across much of Australia. Compare that to initial forecasts for next June: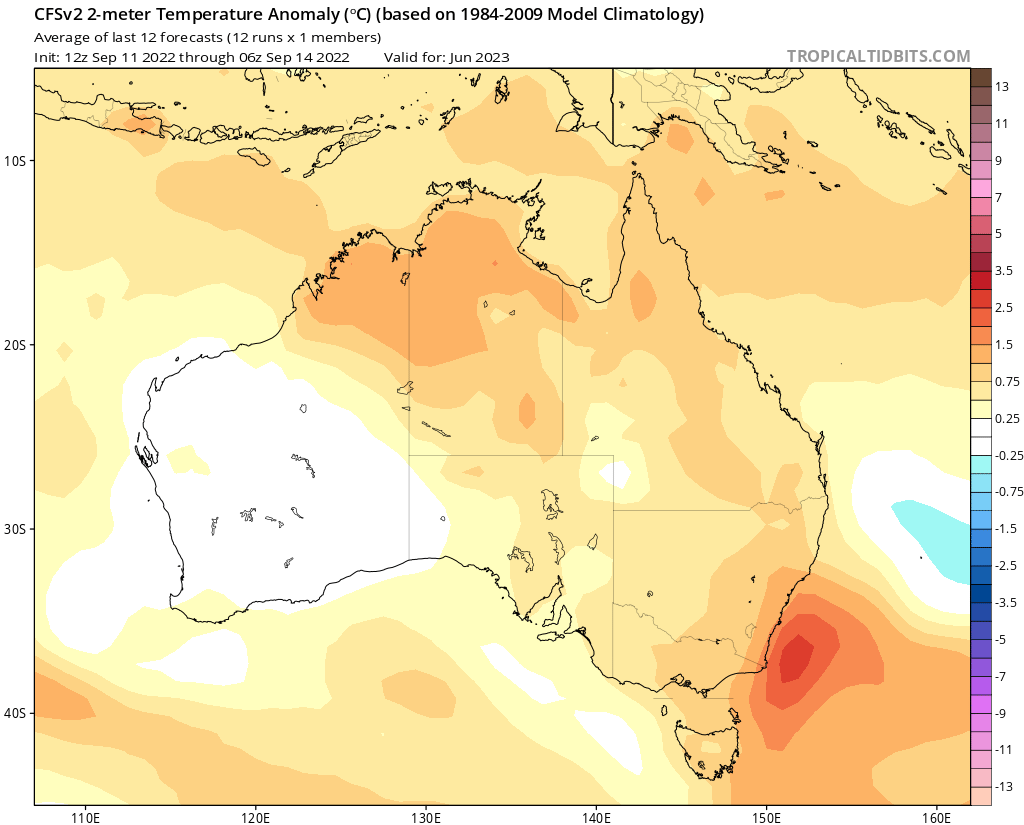 Very different! Warmer than average across much of Australia. Think three years of good growth and then a drying and warming trend – and that has the fingerprints of moving from flood to fire all over it.
It is worth noting that this is a *long* way off and much can (and likely will) change. In particular the longer term impacts of the Tongan volcano eruption are still not clear and could yet push us into a not-seen-before 4th year of La Nina…but right now all models are showing a transition out of La Nina, so until that changes in model runs (as they ingest the ongoing impacts of the eruption) we'll go with that as the most likely option.
This brings us neatly to this Saturday. The rain will have moved through, the monthly markets are happening in town and it is Get Ready weekend across NSW. This cooler pattern is *the* time to prepare for fire. It's the time to make a plan, and get some deeper clearing and cleaning up happening. Brigades across NSW will be open to the public this weekend. Close to us we have the Fernmount team at their station through the day, and you'll find North Bellingen Rural Brigade and Fire and Rescue Bellingen both located in Church Street, Bellingen (outside Number 5 / Charlies) from 9am through 3pm. Come and have a chat, find out more about the new Fire Danger Rating system, pick up a planning guide, grab some fun stuff for the kids, check out some videos, have a look over the trucks and more! Both brigades are also looking for new members. This is a great opportunity to come and have a chat and find out more about a rewarding pathway to supporting your community when it needs you the most. There are a range of opportunities available – and you get a great team to work alongside!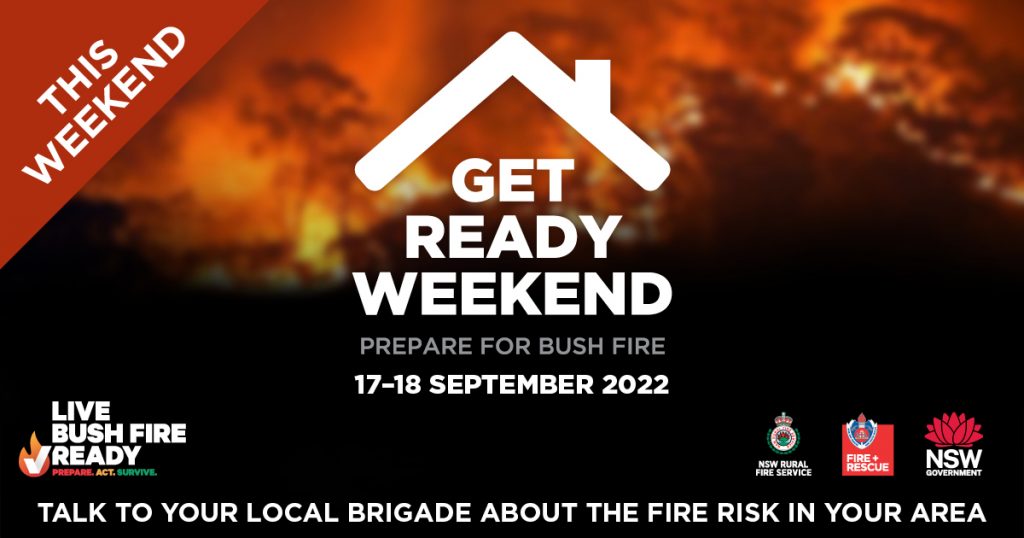 That's it for now. As usual thanks to our long-time sponsors, Kombu Wholefoods and Snapfrozen.
Image animations created by Bellingen Weather. Images thanks to WeatherWatch / Tropical Tidbits / Meteologix.