A quick post to update rain totals for this upcoming event. The good news is that there is strong agreement between the models as we move into the event. The bad news is that we're likely to get fairly wet and cold over the next few days. The latest GFS model run (just out) fits with most of the other models and shows the main peak just inland from Port Mac and Kempsey with decent totals running up into our region as the southerly flow developing later in the event pushes further rain against our hills: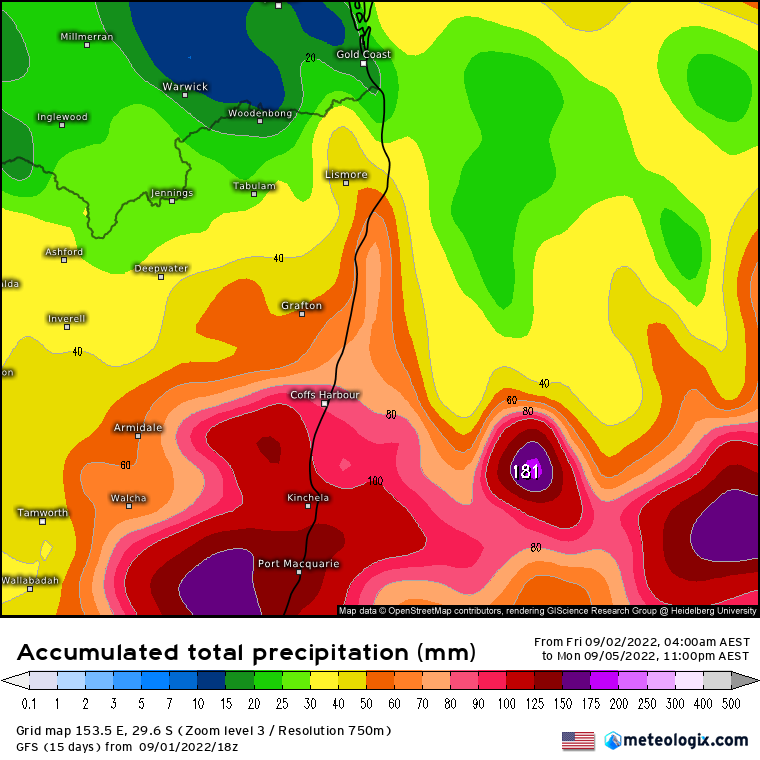 This looks very similar to the multi-model ensemble, giving us decent confidence: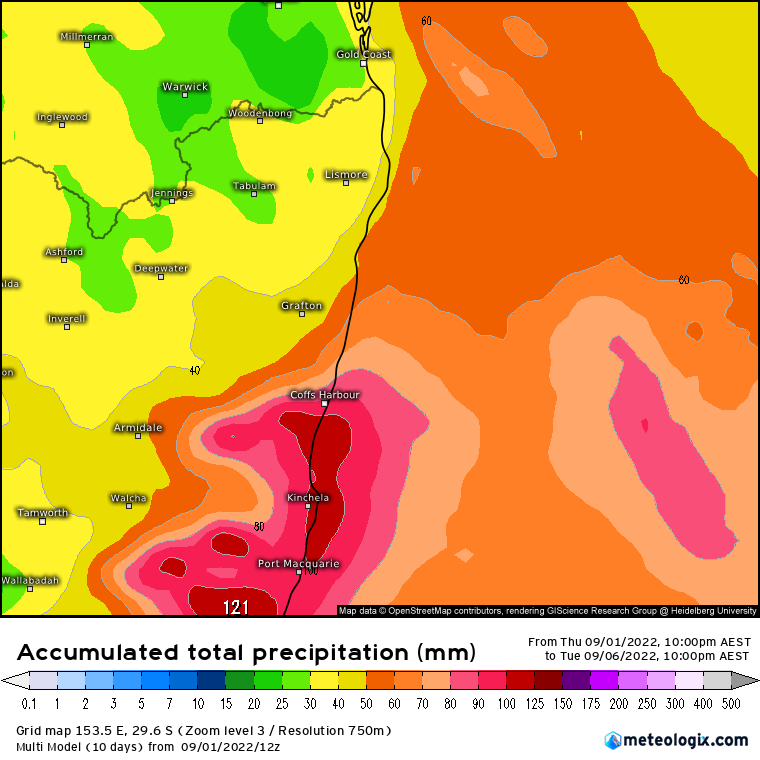 No massive totals on those models, but enough to bring about some river rises. As per the post yesterday there is no Flood Watch for this event at this point – however there could be enough rain on still-wet ground to bring rivers up over the weekend.
EDIT: A Flood Watch has now been issued by the BoM:
---
Initial Flood Watch for the Orara, Bellinger and Hastings Rivers
Issued at 12:46 pm EST on Friday 2 September 2022
Flood Watch Number: 1
FLOODING POSSIBLE ALONG THE ORARA, BELLINGER AND HASTINGS RIVERS
A trough with an associated rain band extends across central Australia into northern New South Wales, generating rain across the northeast quarter of the state. A low pressure system is expected to develop within this trough during Saturday. Depending on the position of the low, increased rainfall may develop along the northern half of the coast during Saturday, with heaviest rainfall expected in the Mid North Coast. This rainfall may cause minor flooding along the Orara, Bellinger and Hastings Rivers from Saturday.
The weather system may cause flooding for the following catchments listed from Saturday. Flood classifications (minor, moderate, major) are only defined for catchments where the Bureau provides a flood warning service.
Catchments likely to be affected include:
Orara River
minor flooding
Bellinger and Kalang Rivers
minor flooding
Hastings River
minor flooding
---
The event will also help prime the ground for future rain events. Worth also noting the forecast from the BoM high resolution ACCESS C model. These totals run until 11pm Saturday and rain is likely to continue into Sunday morning so you can add some more to the totals below to get the event total: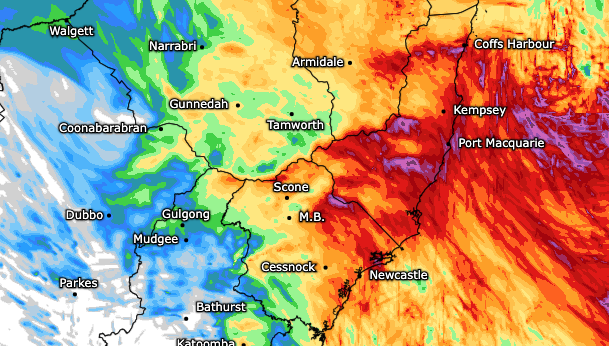 Purple totals are 100mm+, so some good totals likely, particularly on the hills – so looking in particular at the Dorrigo to Coffs range for highest totals this event as southerly winds sweep in as an East Coast Low develops offshore.
Good news is that this event should clear through fairly quickly, and we'll be back to drier weather by late weekend. Time to wrap up warm, keep the firewood dry and keep aware of river levels.
Thanks to our sponsors Kombu Wholefoods and Snapfrozen
Thanks to MetCentre / Meteologix for images