We're in our wet season….it's La Nina…and we've got very high ocean temperatures off the coast. All we need is onshore winds and cooler upper temps to get some rain happening once again – and it looks like we'll be seeing that combo roll back in later this week. The Coral Sea is seeing some high ocean temperatures at the moment, and the East Australian Current is pulling that very warm water south, as seen in this current and SST chart from the BoM: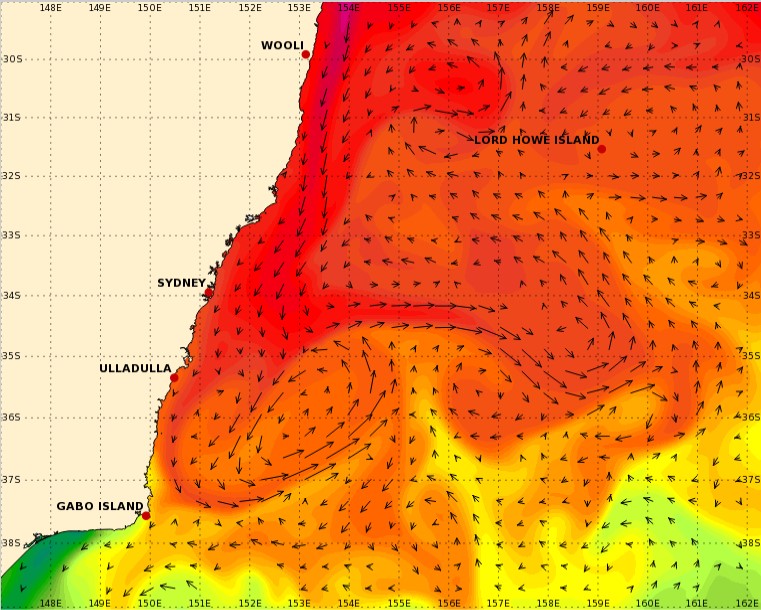 Onshore winds move across those warm waters and bring moisture onshore. Check out this animation showing surface pressure and upper temps from Thursday through the weekend and you can see high pressure moving in to our south, with an upper cold pool moving up from the south and across NE NSW at the same time: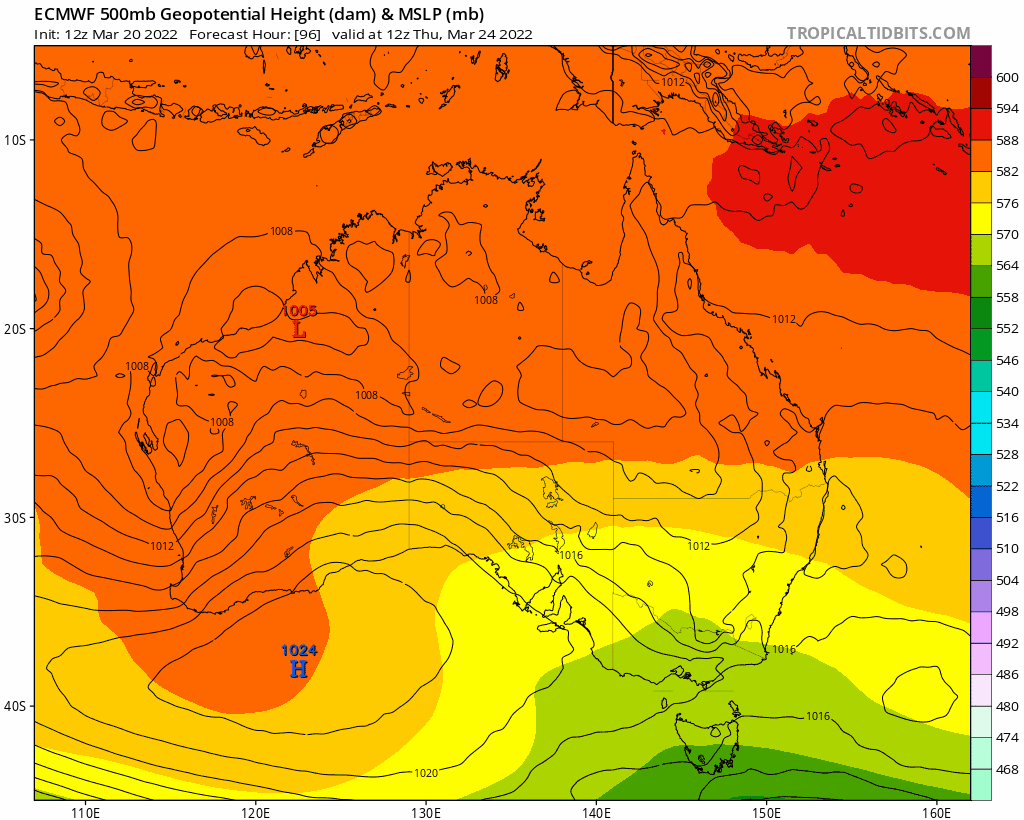 If we swap the upper temps for the rainfall you can see the incoming rain: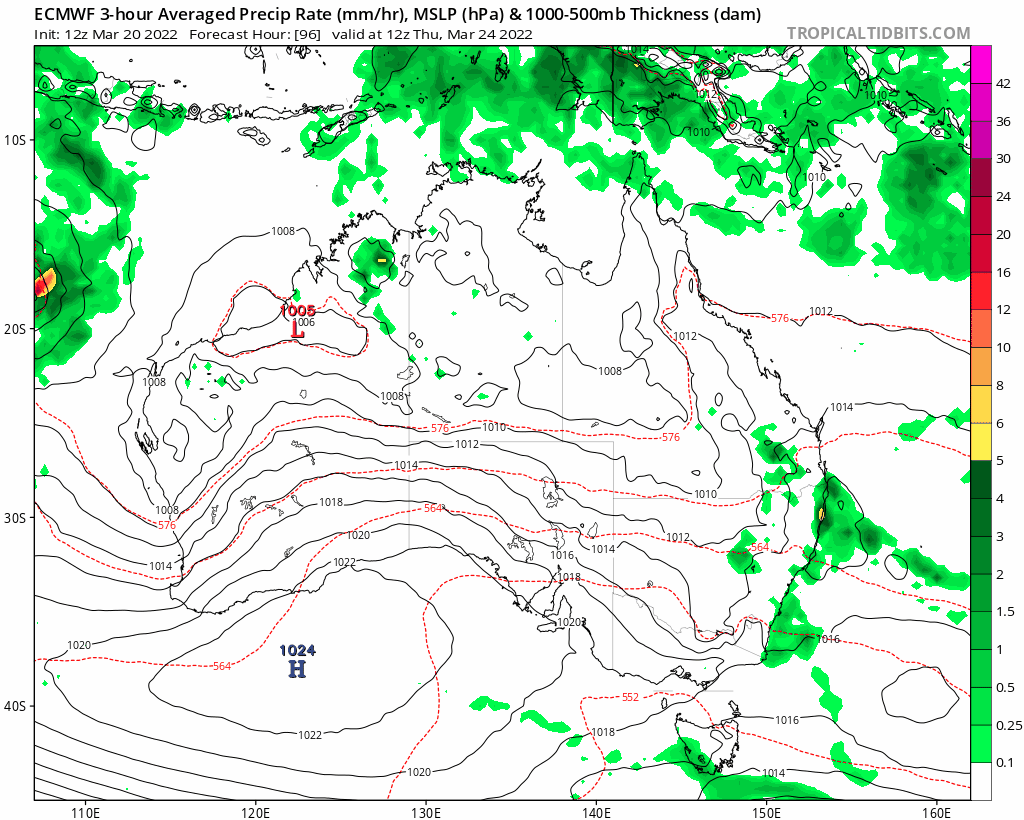 In terms of how much rain we'll see – well that one is (excuse the pun) up in the air right now….but all models are trending wetter for late week and over the weekend. Here's how a few of them see rainfall totals over the next 10 days: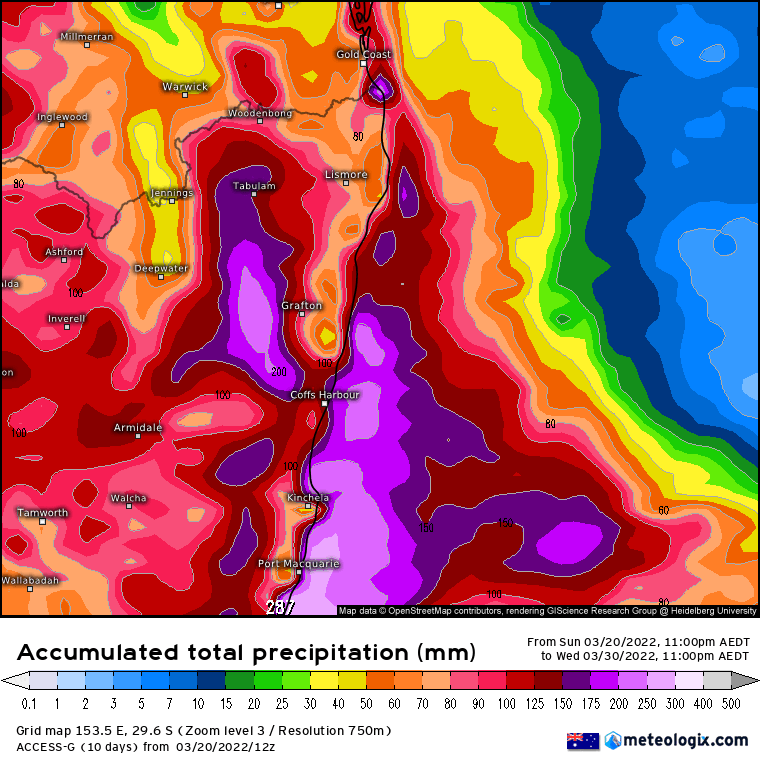 It is, once again, a fairly dynamic situation coming up and we are still a few days out – so right now the models are indicating that we'll likely see some wetter weather….that there is the chance we'll see some decent totals….but that the location of those higher totals is uncertain for now.
What we do know is that the ground is still saturated from recent rains and that it won't take that much to start bringing rivers back up again….as such it's worth being aware that we could see enough rain later this week to impact local waterways…but that right now we can't say for certain how much we'll see. I'll post again on Wednesday with another update when we'll have a much better idea of how much rain we'll likely be seeing from this event.
Looking further ahead there are signs that we could see more rain as another change moves up the coast early next week, with further wet spells through Autumn as La Nina digs in and refuses to fade away. As we head into winter there are signs that it will dry up a little – not before time.
Thanks to our local sponsors Kombu Wholefoods and Snapfrozen
Thanks to Meteologix and Tropical Tidbits for images. Totals animation generated by Bellingen Weather