We've received some decent totals over the last few days – enough to close roads, bring more landslides and break the Kombu Floodcam and Bellingen Weather server! Both are now fixed with much more bandwidth – and the important news is that it looks like there is more rain to come – and that we could see some big totals coming down into already saturated river valleys.
The surface low currently sitting over SE Qld is bringing dangerous flooding across their region and is likely to move south through tonight and tomorrow. It's worth being aware that this is a complicated scenario and we could still see the low move out to sea before it reaches our region – though at this time that does not look like the most likely outcome.
Before the low moves south we'll have some more showers at times, but as it moves south we'll see those showers merge together into some longer wet spells. The latest warning from the BoM highlights the risks through Sunday (and likely Monday):
HEAVY RAINFALL which may lead to flash flooding is forecast to develop over parts of northeast New South Wales during Sunday morning or afternoon. Six-hourly rainfall totals between 80 and 110 mm are likely, reaching up to 150 mm over coastal areas and ranges. Locally INTENSE RAINFALL leading to dangerous and life-threatening flash flooding is possible with thunderstorms near the low with six-hourly rainfall totals up to 250 mm possible.
A Flood Watch and multiple Flood Warnings are current for parts of northeast New South Wales.
Locations which may be affected include Lismore, Grafton, Coffs Harbour, Byron Bay, Ballina, Casino, Kyogle, Yamba, Maclean, Woolgoolga, Sawtell and Dorrigo.
Here's an animation of the forecast 4 day totals (so through Tuesday) from three of the top models: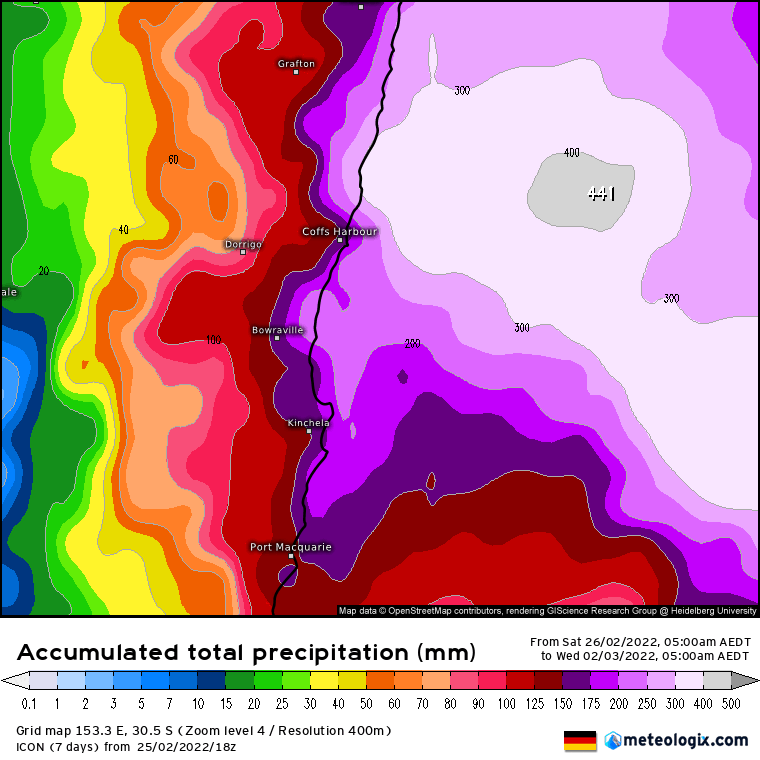 You can see that they all show some decent totals across our region. With the nature of this system some areas could see less, while others see more. The focus will be from the range eastwards, with totals dropping off quickly as you head towards Armidale. On dry soils we would likely see some river rises – but on the currently saturated soils the rivers will be very reactive and likely to rise quickly.
The forecast radar animation for the same time period shows the rain increase through the weekend before clearing south late Monday and into Tuesday. Some intense falls close to the centre of the low look possible:
This is all reflected in the hourly rain forecast from the EC models through to the end of Monday:

The good news is that the Bellingen Weather site is now fully operational once again and has much higher capacity than was previously the case. Thanks for the massive behind the scenes work from the local Snapfrozen team to get it running again in time for the next downpour.
These events are always dynamic and never pan out exactly as forecast. As such it's worth keeping an eye on the radar and warnings through this weekend.
Some useful links:
Bellingen River Heights – live data updated every 30 minutes
Kombu Floodcam – worth noting here that the council flood images can be out of date – particularly for remote cameras at Brierfield and Kalang. Click each image for the latest animation. The Moodys Bridge image is currently old, although the animation works – I'm working to fix this.
I'll post again should we see some significant changes. Thanks for all the feedback over the last few days – much appreciated.
Thanks to local sponsors Kombu Wholefoods and Snapfrozen. Please consider supporting Snapfrozen for your IT and hosting needs – they're local and a fantastic team.
Images thanks to Bellingen Weather / Meteologix / yr.no