We've had some drier weather…but it looks like we've got some more rain to come over the coming days. We've got a combination of moisture from an ex tropical cyclone moving in from the west, and an onshore flow developing over a very warm ocean. The combination will result in deep level moisture coming together over us – and that is likely to bring showers, storms and even rain periods over the coming days. In this satellite image you can see the moisture streaming down from the north west: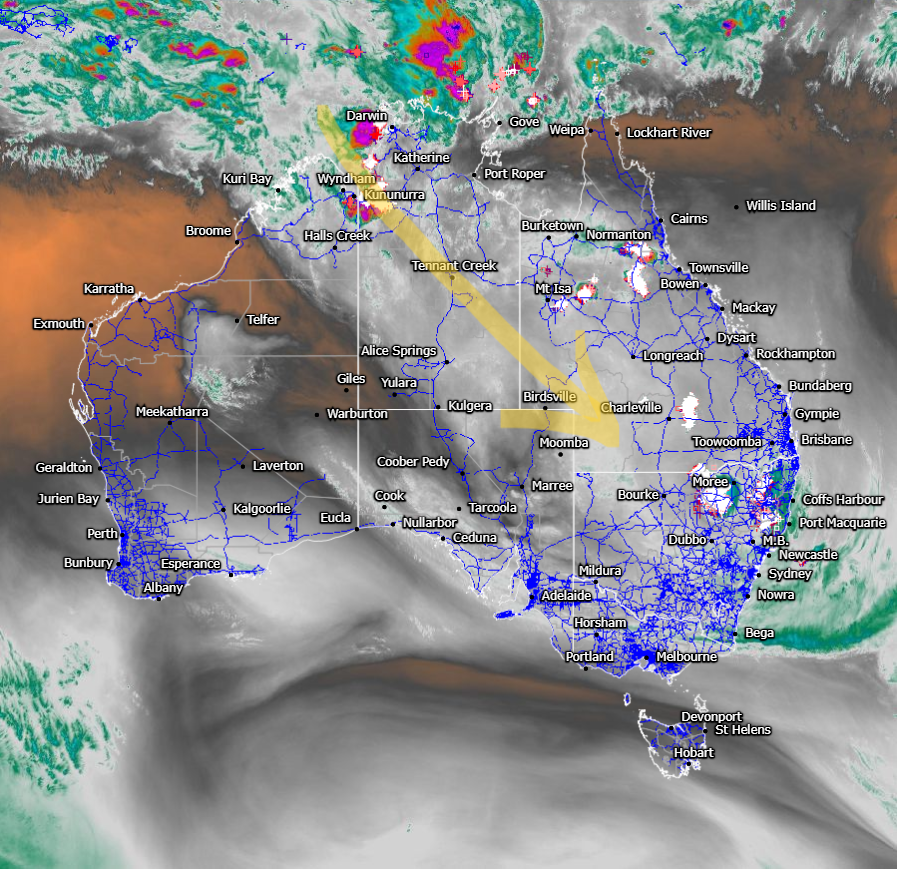 Here's how it looks from one of the models: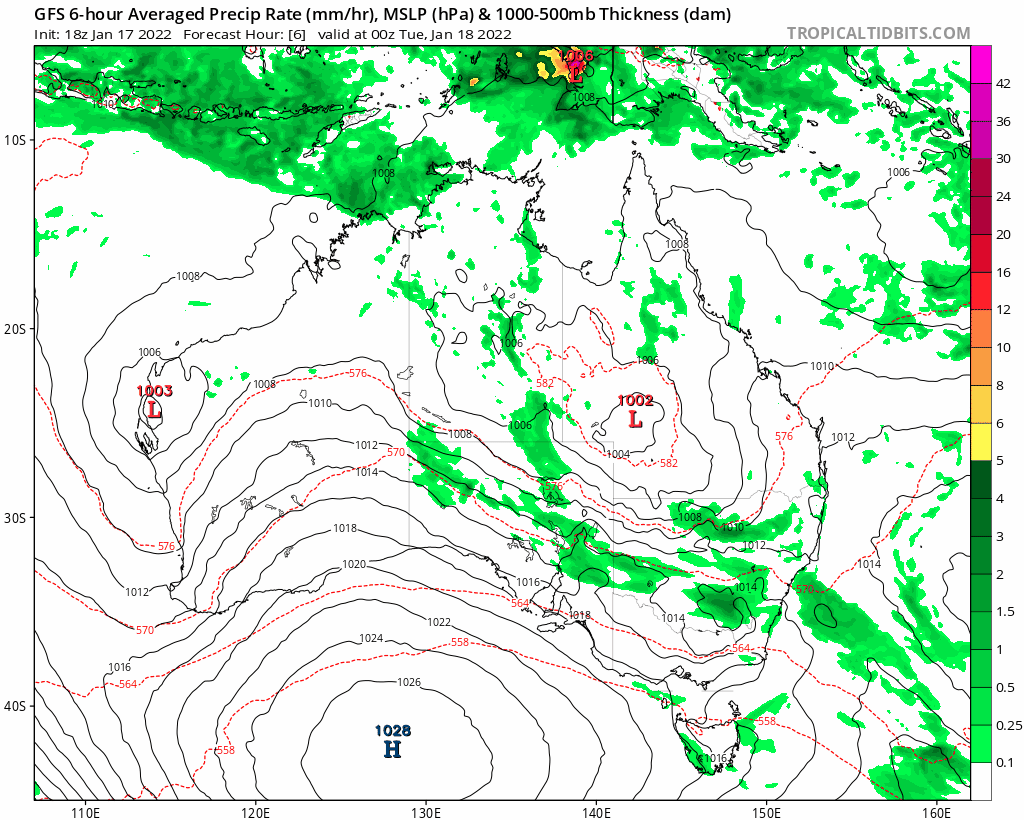 You can see the pattern last for a number of days. Right now models are showing some decent totals in the valleys but higher totals along the ranges as the onshore winds hit the hills and have to lift. Totals for the next 4 days are looking like: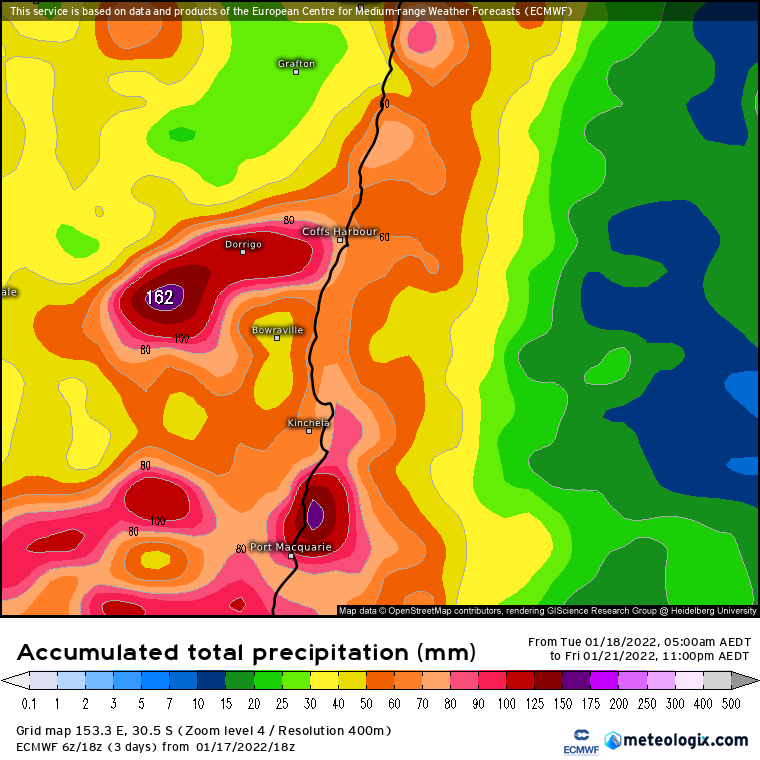 It's worth noting that the BoM detailed local model (ACCESS C) gives even higher totals in our headwaters over the coming days – here is the forecast total to 11pm Wednesday night: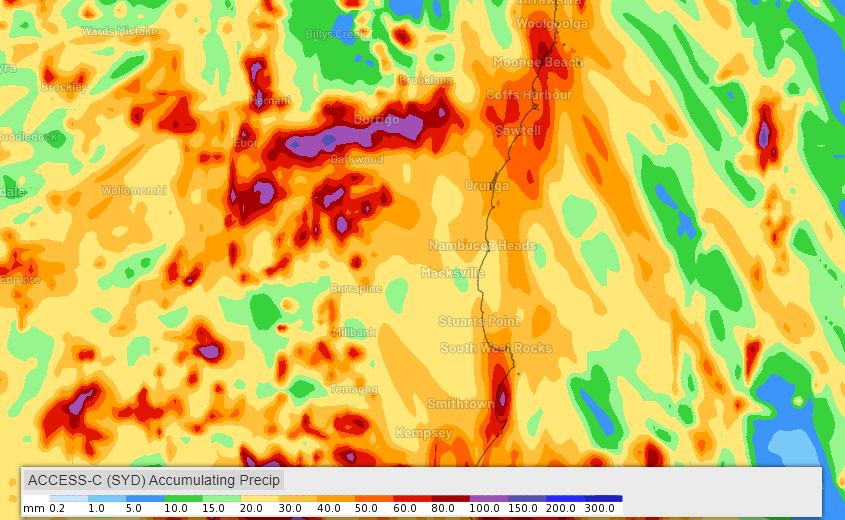 Looking further ahead it is likely to dry out a little over the weekend, but still with showers at times and with the risk of more showers and storms as we head through next week. Current models out to 10 days offer totals looking similar to the one from EC model below: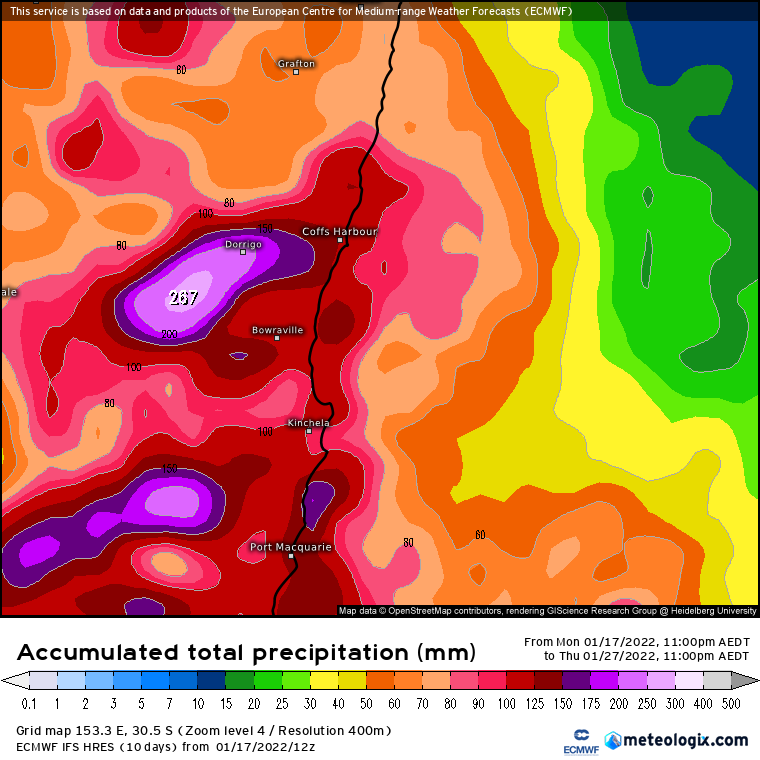 Worth noting that whilst there is more confidence over the shorter term, as is always the case longer term outlooks should be taken with more caution – we're likely to see more showers, but the details are little sketchy right now. What we do know is that with this upcoming wet weather, catchments will be primed so it won't take huge totals to bring rivers up once again. With the wet weather looking likely to last for some days we could see bridges under for longer periods, more particularly in the Thora valley.
EDIT: Flood Watch for our rivers now issued by the BoM:
---
Initial Flood Watch for The Bellinger, Upper Macintyre, Gwydir and Castlereagh Rivers
Issued at 11:18 am EDT on Tuesday 18 January 2022
Flood Watch Number: 1
FLOODING POSSIBLE IN THE BELLINGER, UPPER MACINTYRE, GWYDIR AND CASTLEREAGH RIVERS FROM WEDNESDAY
A trough will linger over the northern interior districts of New South Wales over the coming days, bringing widespread showers and storms. A secondary trough is set to linger near the far west of the state into the weekend, bringing renewed unsettled conditions.
Catchments conditions are average to wet following rainfall in recent weeks.
The weather system is expected to cause flooding for the catchments listed from Wednesday. Flood classes (minor, moderate, major) are only defined for catchments where the Bureau provides a flood warning service.
Catchments likely to be affected include:
Bellinger and Kalang Rivers minor flooding
Upper Macintyre River minor flooding
Gwydir River minor flooding
Castlereagh River minor flooding
---
Worth checking the usual places as the wetter weather arrives:
Kombu Floodcam (includes timelapses from other local bridges)
BoM Warnings
Bellingen Weather River Heights
Bellingen Weather Rain Totals
Thanks to the following for making this blog possible: Kombu Wholefoods | Snapfrozen | Meteologix | Weatherzone | Tropical Tidbits | WeatherWatch