Many apologies for the loss of this site over the last 24 hours. The server was overwhelmed by record demand, but thanks to fantastic behind the scenes work from the Snapfrozen team it's now slowly coming back up – and is now cloud based so can deal with any demands our community throws at it! As they work on the site today you could find it going up and down a few times – if it's down when you try it then wait 10 and try again.
This could be good news… Right now we're to the south of the upper low, with scattered but heavy streams of showers moving in. They'll likely help keep rivers steady or slow down their drop. At this stage it's not as heavy or widespread as yesterday: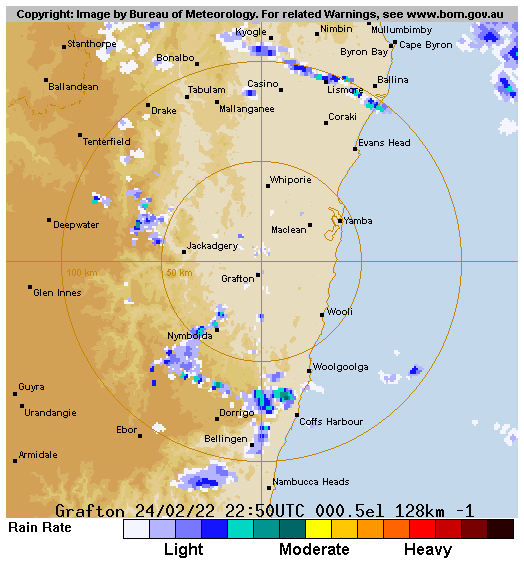 Look to our north however and its a different story with heavy rain wrapping around that upper feature as a trough deepens in response to the cold uppers. Some massive falls up there, including an incredible 389mm in three hours at one location. Significant and major flooding developing: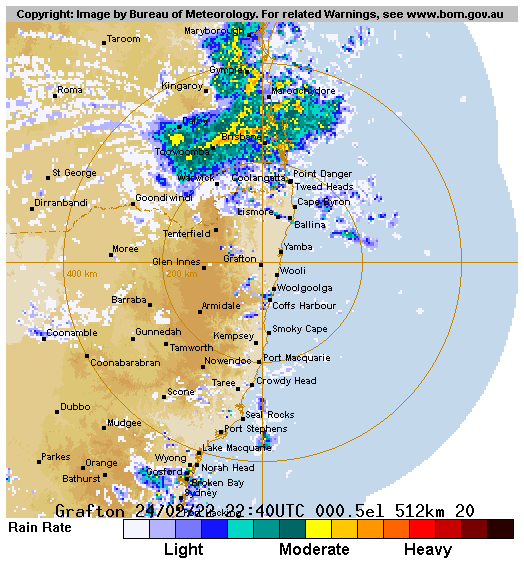 You can see this happening around the upper low in this satellite water vapour image. I've added arrows showing (red) the drier air wrapping around the top while the much wetter winds off the ocean (blue) wrap around the base: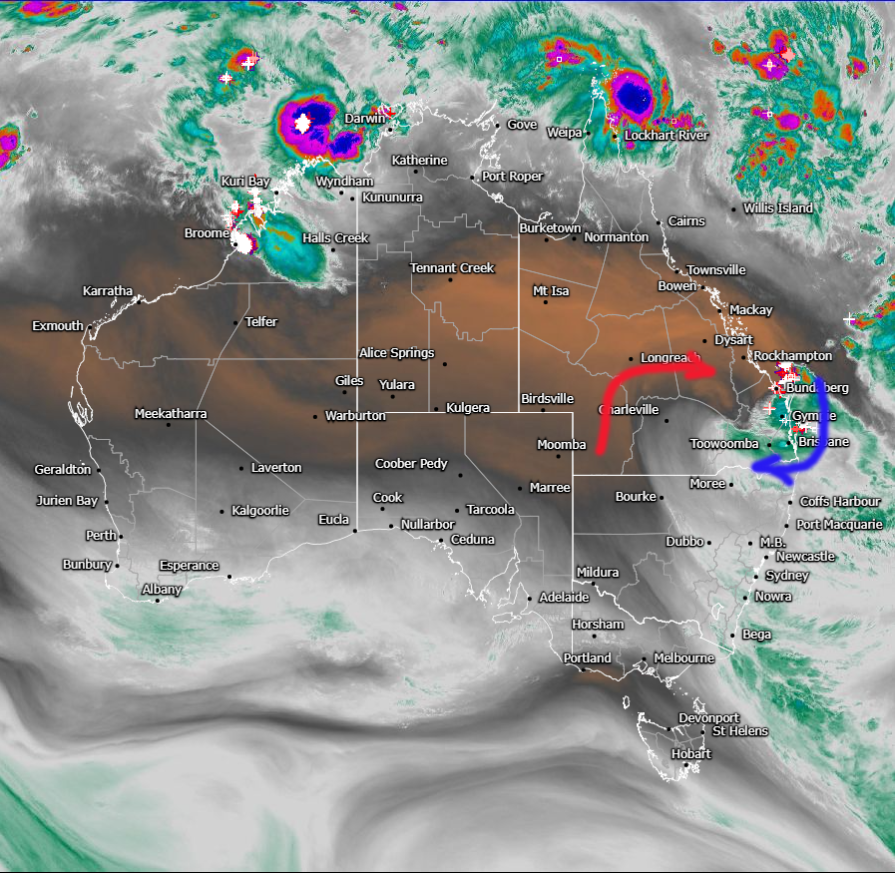 That upper feature is slow moving, so we're likely to see a continuation in our showery theme over the next few days. There is also a chance it will dig further south – and if it does we'll see another increase in rain totals. Here's a couple of models current outlooks covering the next few days: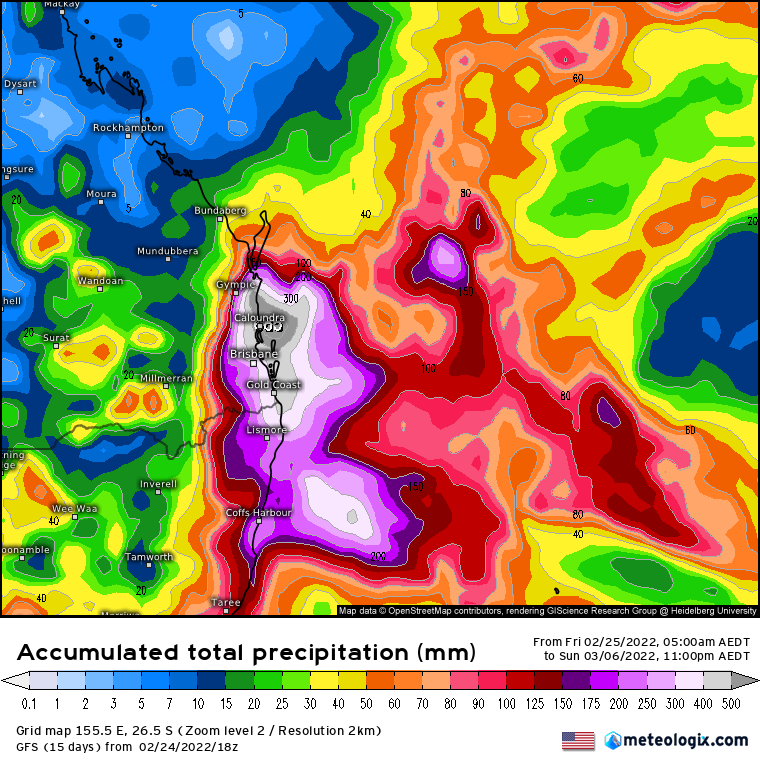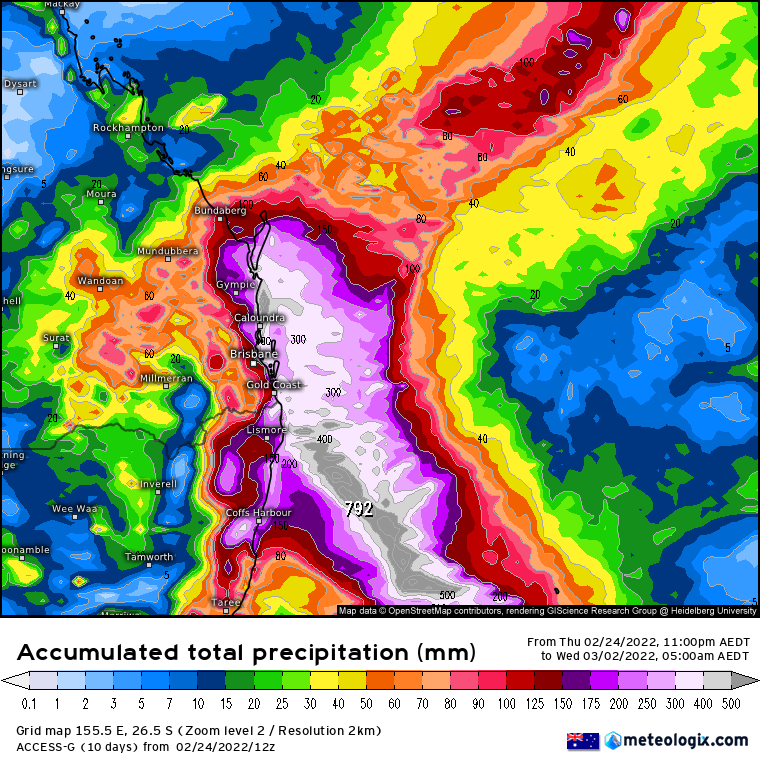 You can see the rain spreading south to south east over time, with more decent falls possible across our region as onshore winds hit the hills. Bigger totals likely closer to the coast, in the valleys and to the east of the divide – however with some models showing it all moving east we could get lucky and see the bigger totals head out to sea. I'll post more on those possible totals over the next couple of days. It's a dynamic situation so no certainty as to how much we'll see, but worth being aware there could be more rain on the way.
In the meantime the floodcam is back live, and the river heights page is once again working.
Thanks to Kombu for giving me the ongoing time to pull this all together, and Snapfrozen for their ongoing awesome work
Images: Meteologix / Weatherwatch / BoM