As promised we've got onshore winds and an inland trough / upper cold pool incoming over the next few days:
These events can be big rain producers and it looks like this event will be no exception – however it looks like the highest totals will be down on the south coast. You can see the forecast totals out to 4 days for our region, with decent falls likely – but no models giving us huge totals: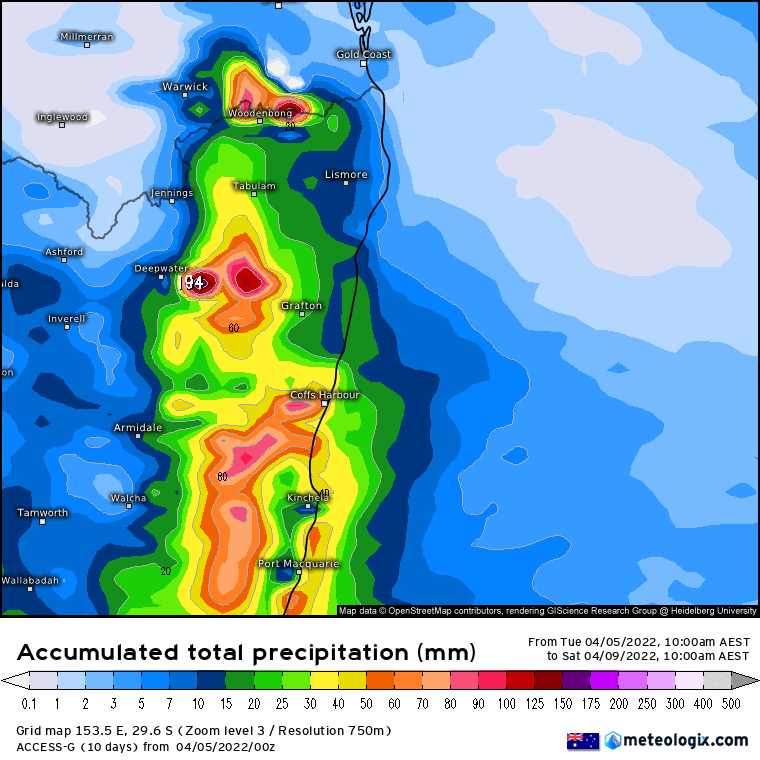 ….however when you change the mapping and show the whole of NSW you can see the bigger totals appear down south: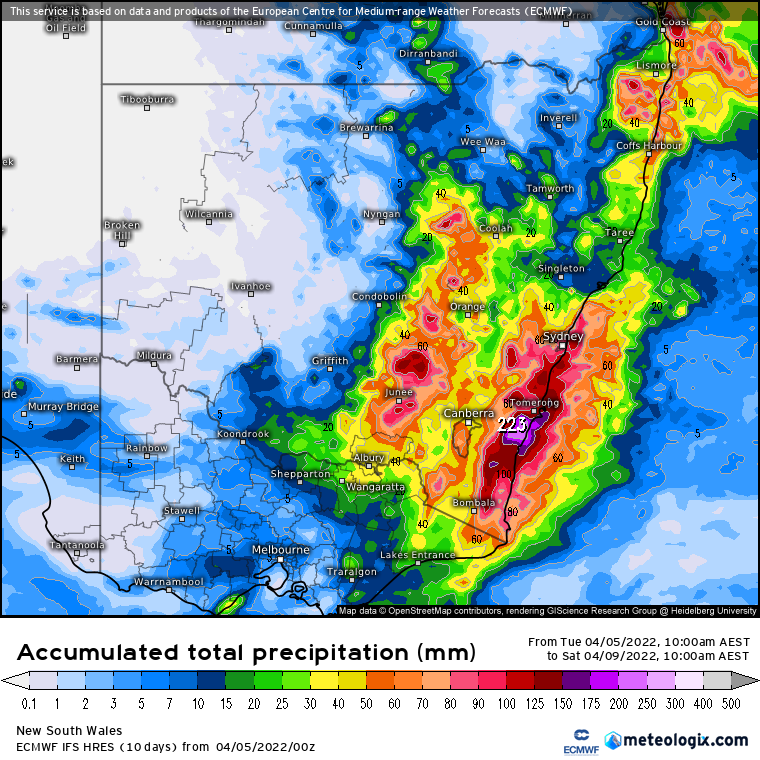 The reason for the more southerly location of the higher falls is the positioning of the inland upper low – it is going to hang further south than it did during the last couple of events. This leaves the N NSW coast with upper winds coming in from the west – giving us less saturated depth in the atmosphere and thus less mositure for the upper cold air to play with. Down south we'll see onshore winds through a greater depth of the atmosphere – hence the higher falls.
When this event first arrived on the scene it looked (from some models) that we would see much higher totals….however there was not much agreement between models / it changed from run to run / it was a long way out. This means that there was a much higher chance that totals will change – which they did. One of the websites we use has actually put together a great graphic that you can use to determine how likely an event is:
We're now at the point where (1) multiple models indicate similar totals, (2) it is due to happen in the next few days, (3) the models are becoming more consistent between runs and (4) it is definitely plausible with the current La Nina set up….and as a result the BoM have issued a Flood Watch for the central and south coast:
---
Initial Flood Watch for NSW Central and Southern Coastal Rivers, and Macquarie and Queanbeyan Rivers
Issued at 12:47 pm EST on Tuesday 5 April 2022
Flood Watch Number: 1
MINOR TO MODERATE FLOODING POSSIBLE FOR NSW CENTRAL AND SOUTHERN COASTAL RIVERS, INCLUDING GREATER SYDNEY FROM WEDNESDAY INTO THURSDAY
Heavy rain is expected to develop along the NSW South Coast during Wednesday due to the combination of a low pressure trough and an onshore airstream. Heavy rain is expected to increase and extend to the southeast of NSW during Thursday and Friday. Minor to moderate flooding is possible for Central and Southern Coastal Rivers from Wednesday into Thursday.
---
With our catchments still saturated from the last event and with more reasonable totals still likely across our region it is definitely worth keeping an eye on local creeks and rivers over the coming days. Forecast totals can change and I'll keep an eye on the models and radar over the coming days and will post again with updates if it looks like we'll see those higher totals.
Talking of rain totals it is worth emphasising that there is no scientific evidence that I have seen that indicates that chemtrails or other direct government interference had any role to play in the recent floods or the preceeding bushfires. There is significant scientific evidence however that climate change is continuing to magnify these events. They are playing out pretty much as forecast, and unless the government takes rapid action to reduce emissions and change environmental policies, we will see even more dramatic events as we head into the future.
Looking further ahead and the models are still indicating wetter-than-average conditions over the next couple of months. I'll post again when future events are looking likely.
Thanks as always to our local sponsors – Snapfrozen and Kombu Wholefoods
Images thanks to Tropical Tidbits / WeatherWatch / Meteologix / Bellingen Weather