We have received over 100mm across our area over the last 24 hours. The culprit is a pool of cold air up high moving north and developing into a cut off low. Mix in wet onshore winds down low and you have an unstable pattern that will usually bring a heap of rain with it. Here's a great animation that shows the cold air moving north and cutting off to our north:
Here's the radar animation for the last 22 hours – a heap of rain moving through:
You can see the rain moving in from the south before slowly clearing to the north as the cold air moves further north. That would usually be it, but we've got the complication of an area of low pressure moving in from the ocean to our north through the late weekend – and that will likely bring more rain moving south across our region through Monday and Tuesday. Here's a forecast animation of that low moving in:
the rain totals likely out to the end of Tuesday: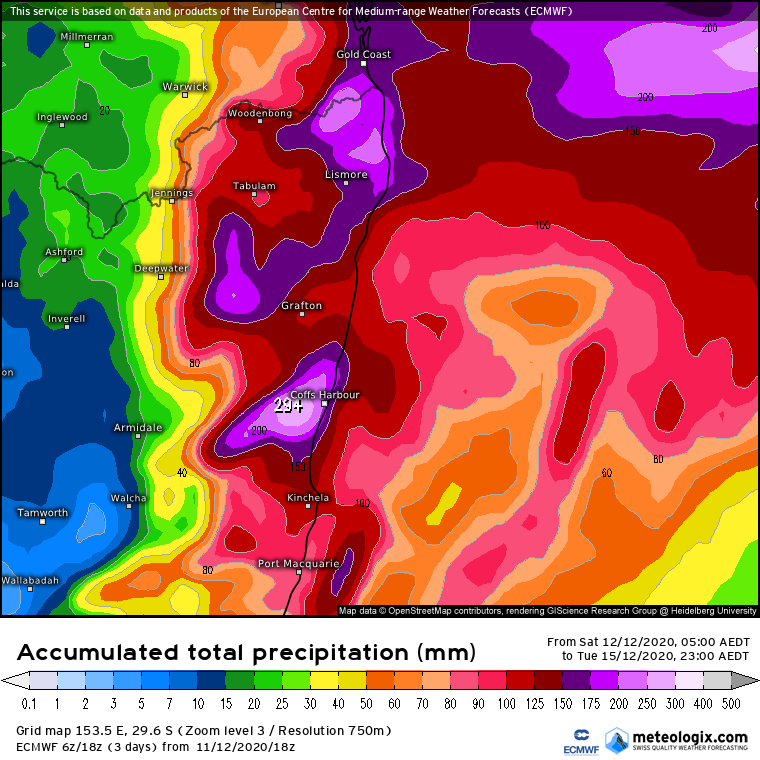 You can probably knock 100mm off that for rain that has fallen since the model came out, but you can also see that we have the chance of some more decent falls through early next week. We'll likely see the rain move back in overnight Sunday into Monday and then last through until Tuesday. With the ground now so wet we'll likely see the risk of some decent rises in local rivers – and a flood warning is already out.
Good pages to keep an eye on:
Kombu Floodcam – Lavenders Bridge and other local flood-prone bridges
Bellingen Weather – latest rain information
Local River Heights – compiled onto one page, updated hourly
BoM Warnings
Local SES Updates
Images: Metelogix, BSCH, Bellingen Weather