Good morning and welcome to another wet week. Anyone else forgotten what the sun looks like?
Right now we've got the upper low moving across to our north – and when they sit that far north then we sit under the onshore flow from the north east. Here's how it looks right now: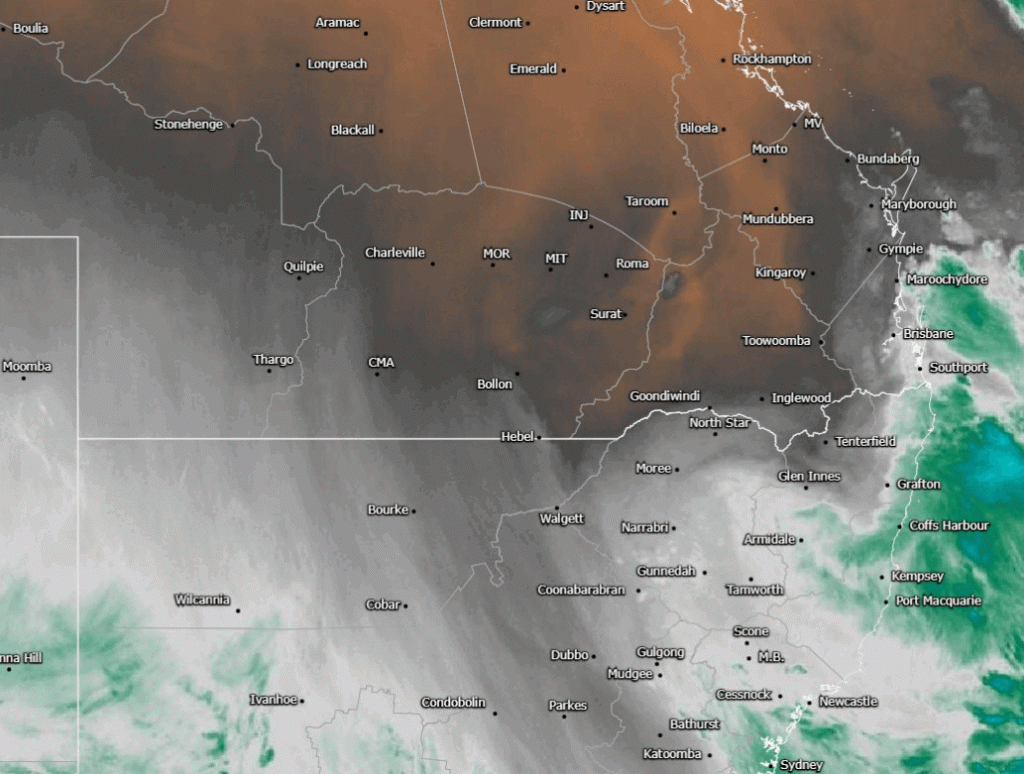 Right now we've got above average sea temperatures across the Coral Sea, and sitting above that soupy water is a low. The upper system is likely to drag that low south, and then south west…and models are coming together to show that low moving close to our region. Here's how one of the latest model runs shows it happening: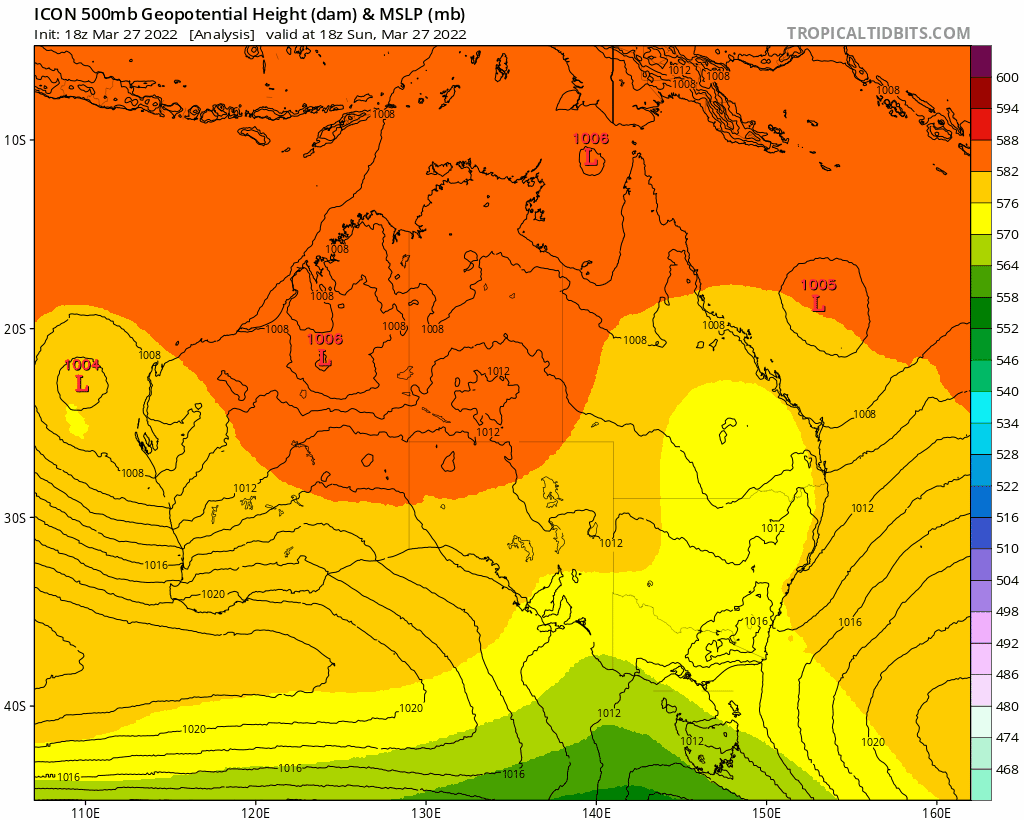 The fact that (1) most models now show something similar to this happening and (2) we are getting much closer to the event itself increases the confidence that we are risk of some higher falls over the next couple of days. Combine that with the wet ground (as wet as I've ever seen it) and it would not take much to give us a decent flood. Models are still not in full agreement as to how much we'll see, but totals are creeping up. It is possible (and there have been other examples of this) that the coastal trough will remain stubbornly in place and refuse to move inland – in which case we would see much lower totals. However that is looking less likely at this time – and as a result forecast rain totals currently look like this (out to 4 days from some of the top models):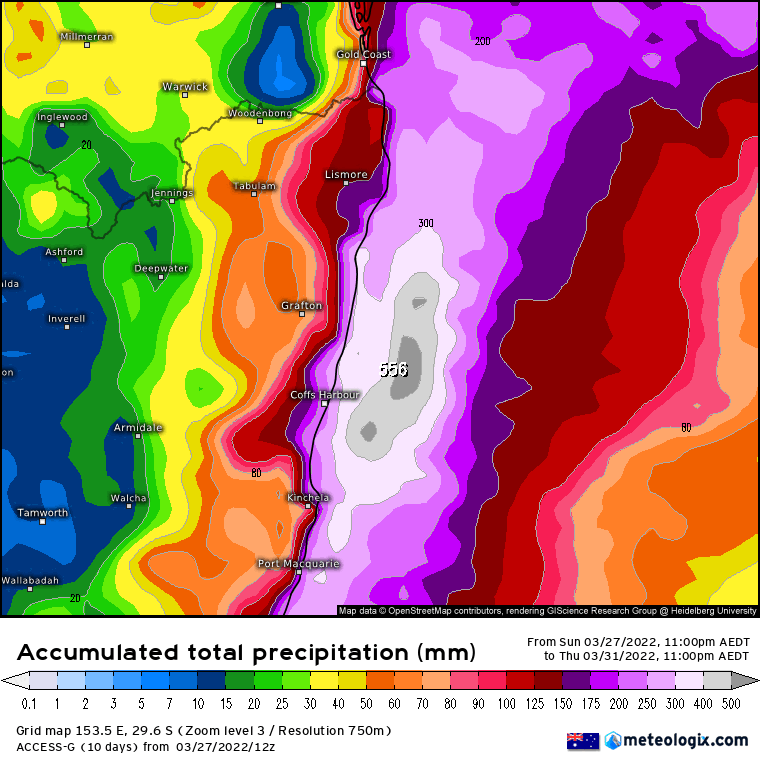 The BoM has a couple of warnings and watches in place:
---
Flood Watch for the Northern Rivers, Mid North Coast, Hunter and North Western New South Wales Rivers
Issued at 11:45 am EDT on Sunday 27 March 2022
Flood Watch Number: 7
INCREASING FLOOD RISK FOR THE NORTHERN RIVERS AND MID NORTH COAST
Rainfall is forecast on Sunday with an increasing trend during the first half of this week for parts of the Northern Rivers and Mid North Coast. Catchments in this region remain saturated following significant flooding in recent weeks and this rainfall has the potential to result in further flooding. Minor to moderate flood levels are a risk depending on how the weather system develops. There is potential for heavy rainfall associated with a trough system to impact the Hunter later in the week.
Inland thunderstorms may produce heavy rainfall from the Northern Tablelands through to parts of the Upper Western forecast Districts Sunday into Monday.
A Severe Weather Warnings is current for the Northern Rivers and parts of the Mid North Coast and Northern Tablelands. Severe thunderstorm warnings will be issued as required.
Flooding is possible in the catchments listed from Sunday. Flood classes (minor, moderate, major) are only defined for catchments where the Bureau provides a flood warning service. The situation is being actively monitored and updated flood watches and warnings will be issued where necessary over the coming days.
Catchments likely to be affected include:
Tweed and Rouse Rivers minor to moderate flooding
Brunswick River and Marshalls Creek minor flooding
Wilsons River minor to moderate flooding
Richmond River minor to moderate flooding
Clarence River minor flooding
Orara River minor to moderate flooding
Coffs Coast
Bellinger and Kalang Rivers minor flooding
Nambucca River minor flooding
---
Severe Weather Warning for HEAVY RAINFALL
For people in Northern Rivers and parts of Mid North Coast and Northern Tablelands Forecast Districts.
Issued at 4:11 am Monday, 28 March 2022.
HEAVY RAINFALL AND THUNDERSTORMS WITH LOCALLY INTENSE FALLS ARE EXPECTED OVER NORTHEASTERN NEW SOUTH WALES FROM LATER TODAY.
Weather Situation: A coastal trough is expected to deepen over northeastern NSW causing heavy rainfall with embedded thunderstorms.
HEAVY RAINFALL which may lead to FLASH FLOODING is forecast to develop over northern parts of northeast New South Wales later today and into early Tuesday. Six-hourly rainfall totals between 80 to 140 mm are possible, reaching up to 180 mm over coastal areas and ranges.
Locally INTENSE RAINFALL leading to dangerous and LIFE-THREATENING FLASH FLOODING is possible with thunderstorms with six-hourly rainfall totals in excess of 180 mm.
A separate Severe Thunderstorm Warning will be issued if very dangerous thunderstorms with intense rainfall are detected.
Heavy rainfall increases the potential for landslides and debris across roads.
---
As is always the case with the weather there are no guarantees that we'll see the totals forecast – however with models coming into more agreement that the risk is definitely up there – this is a good time to ensure you keep a close eye on the radar, warnings, flood cameras and social media updates:
Live River Data for local rivers – updated twice an hour
Live Rainfall Data – updated once an hour
Live Local River Cameras – the four council cameras update every half hour. The Kombu cam is a live stream
BoM Warning Page
Bellingen SES – Facebook
Dorrigo Mountain Weather – Facebook
Bellingen Shire Disaster Dashboard – local road closures and other info
Some good news? This should clear away by midweek with some sunshine to follow.
Thanks to local businesses Kombu Wholefoods and Snapfrozen, without which this site would not be possible
Images thanks to BoM / Bellingen Weather / Tropical Tidbits / Meteologix / WeatherWatch