The East Coast Low discussed in the previous post has now formed and will soon start moving south towards our region. You can see it clearly in the latest radar images: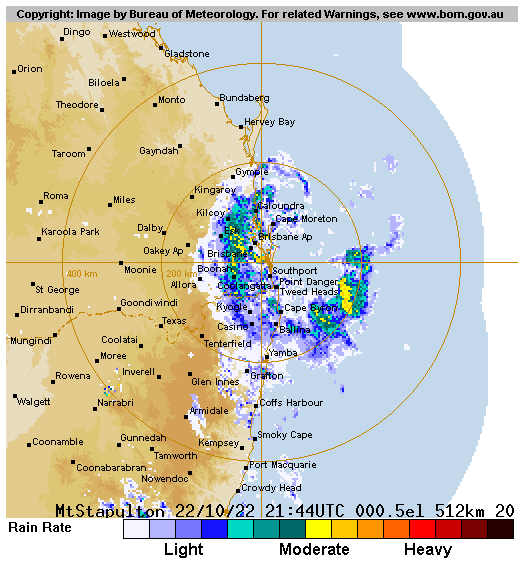 And it's look pretty spectacular on the satellite as well: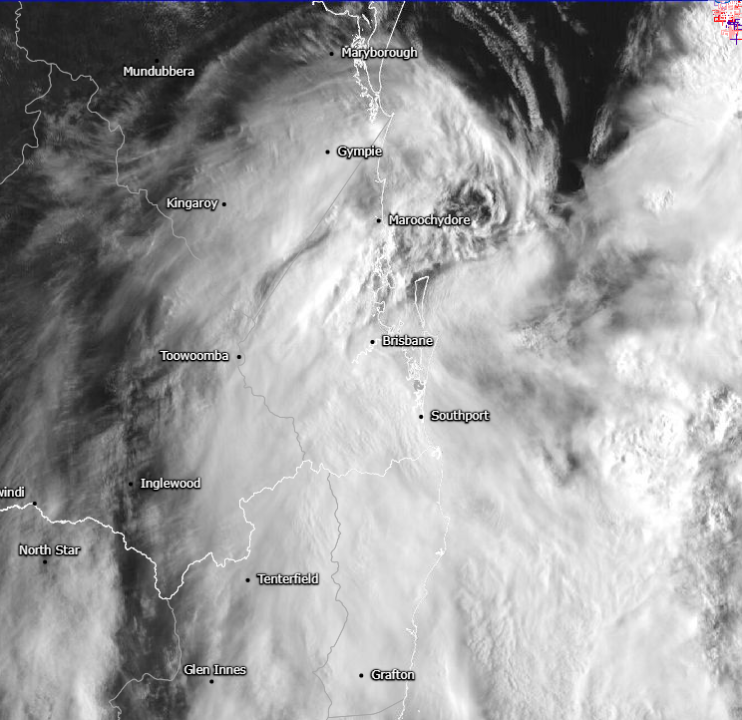 Models show a range of rain totals for our region. The multi-model ensemble from Meteologix gives us the following – most of which will fall over the next 48 hours: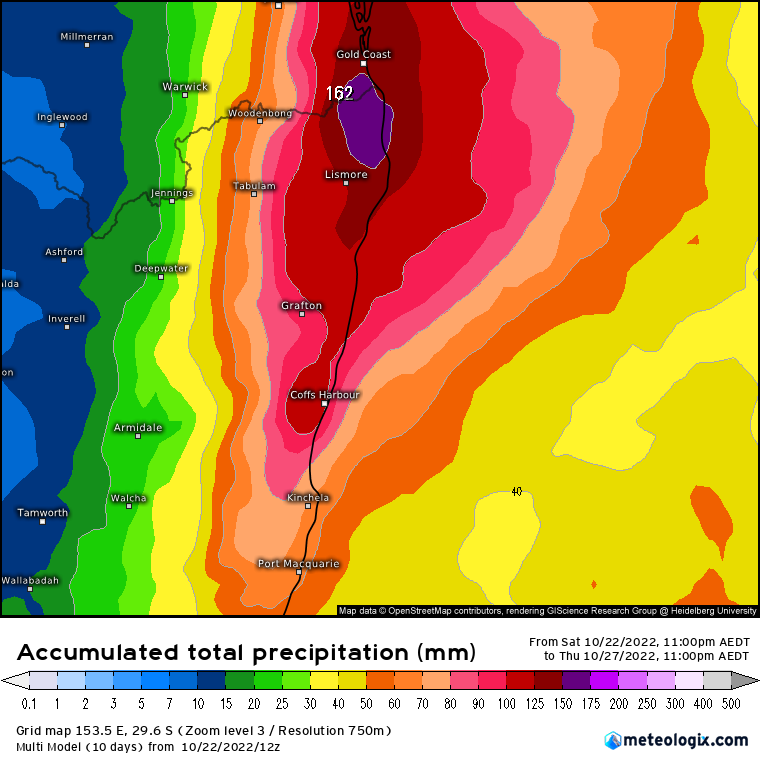 Ensembles can blur-out higher totals however – if you look at the BoM high resolution model you can see higher totals are possible across the hills and coast: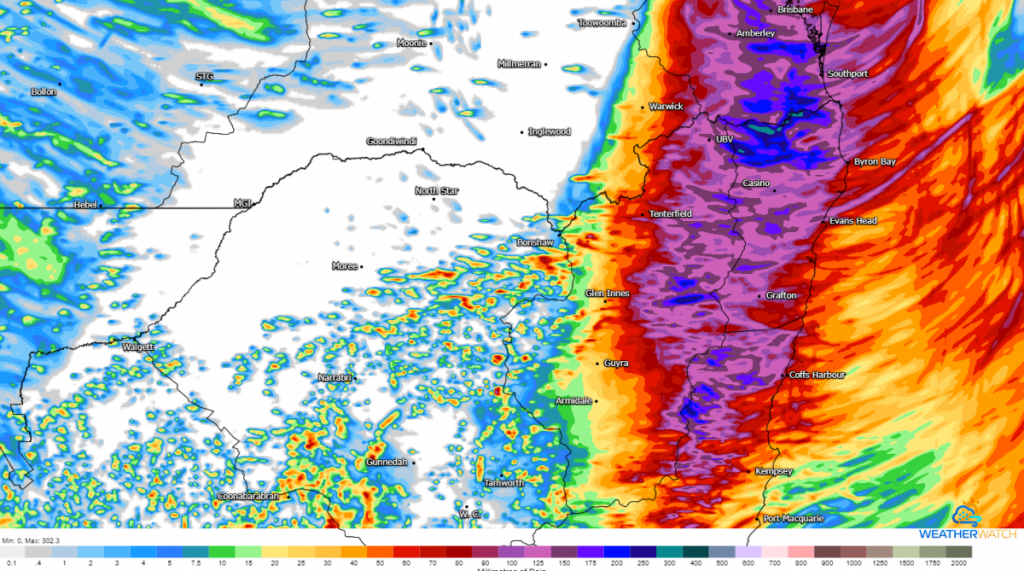 That model shows big totals likely to cause yet more problems across far NE NSW, but also shows totals over 200mm across our hills by the end of tomorrow. The latest model runs have also increased totals across our region. Here is the just-released outlook from the German ICON model: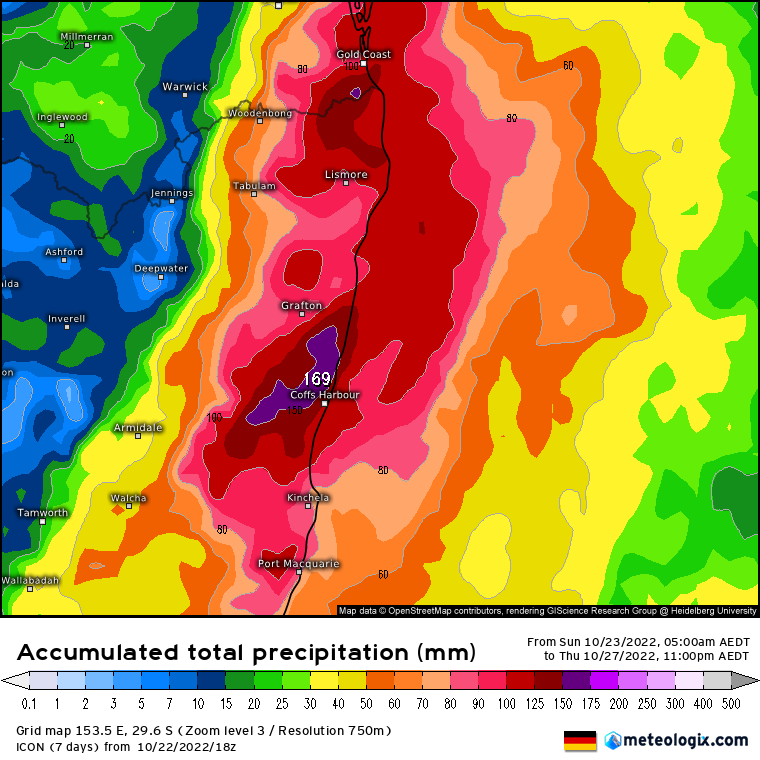 This is how the European model shows totals ramping up through the next couple of days:

No guarantees of floods for us and these events are always hard to pin down with some areas likely to see considerably more or less than others…but with the ground saturated following heavy storms on Friday it won't take much for our rivers to rise. There is a Flood Watch out for our area:
---
Flood Watch Number: 2
MINOR TO MAJOR FLOODING POSSIBLE IN THE NORTHERN RIVERS FROM SUNDAY
A low pressure system is forecast to develop near the northern New South Wales coast on Sunday and move south during Monday, bringing moderate to heavy rain to the northeast of the state, including the Northern Rivers and parts of the Mid North Coast. This rainfall may cause moderate to possible major flooding along the Wilsons River from Sunday, with minor to major flooding possible along the Tweed and Richmond Rivers. Minor to moderate flooding is also possible along the Brunswick, Clarence, Bellinger and Nambucca Rivers from Sunday.
---
EDIT: A Severe Weather Warning is also now out for our region:
---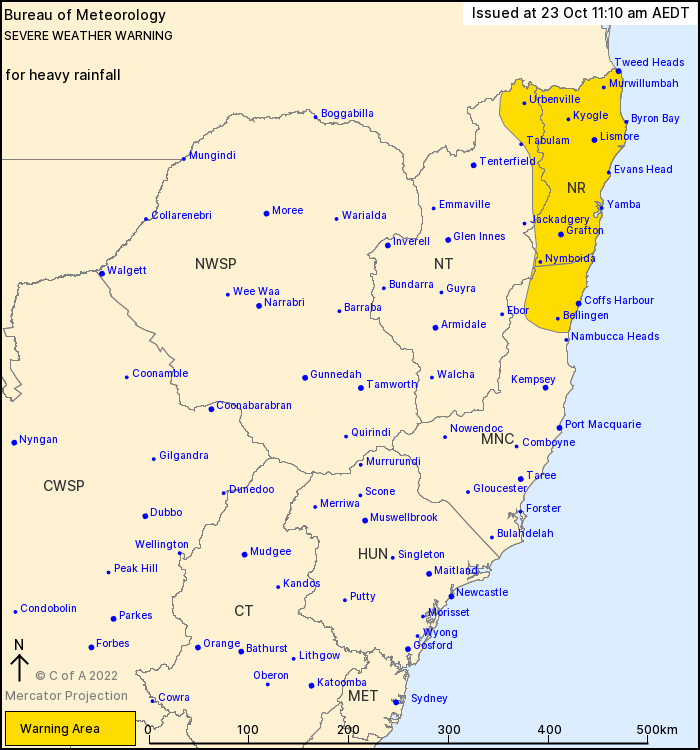 Issued at 11:10 am Sunday, 23 October 2022.
HEAVY, LOCALLY INTENSE RAINFALL POSSIBLE OVER NORTHEAST NEW SOUTH WALES TODAY AND MONDAY.
Weather Situation: A low pressure system off Queensland's Sunshine Coast is forecast to move slowly southwards through today, reaching the Gold Coast area Sunday evening. The system is very likely to remain close to the coast, and has some potential to be slightly inland as it moves south into NSW overnight into Monday morning. The low is expected to move more rapidly southwards on Monday.
HEAVY RAINFALL which may lead to FLASH FLOODING may affect the Northern Rivers and parts of the Mid North Coast and Northern Tablelands, commencing later this morning and continuing through the remainder of today and into Monday morning. Six-hourly rainfall totals between 90 to 150 mm are possible. 24-hourly rainfall totals between 100 to 150 mm are possible, reaching up to 300 mm along the coast and ranges.
Locally INTENSE RAINFALL which may lead to DANGEROUS AND LIFE-THREATENING FLASH FLOODING is also possible during this period with six-hourly rainfall totals up to 200 mm. The highest risk areas are over coastal areas and the ranges. A separate Severe Thunderstorm Warning will be issued if very dangerous thunderstorms with intense rainfall are detected.
---
Definitely time to watch the radar and warnings, particularly later on today and into tomorrow. Some useful pages:
Kombu & Bellingen Shire Community Web Cams – Kombu Wholefoods
Live River Data – Bellingen Weather
New South Wales Warnings Summary (bom.gov.au)

Worth noting that the static images on the Kombu webcam pages are not up to date – click on them for latest animations. I'll work to fix that issue. Also the Kalang river gauge appears to have had problems overnight – going to be hard to spot a 3 metre rise when the chart goes up to 1km. That will fix over time, but likely not in time for this event.
Thanks as always to Kombu and Snapfrozen for hosting and covering equipment costs for this page / site
Images thanks to WeatherWatch / Meteologix / BoM