We've got a BIG change on the way this weekend. It's the first of the winter-typer changes moving in, and as it does so it will come up against some summery humid air. That clash will bring about some storms today, with the chance of severe storms, particularly on the hills to our west. Here's the forecast for our region today from the BoM: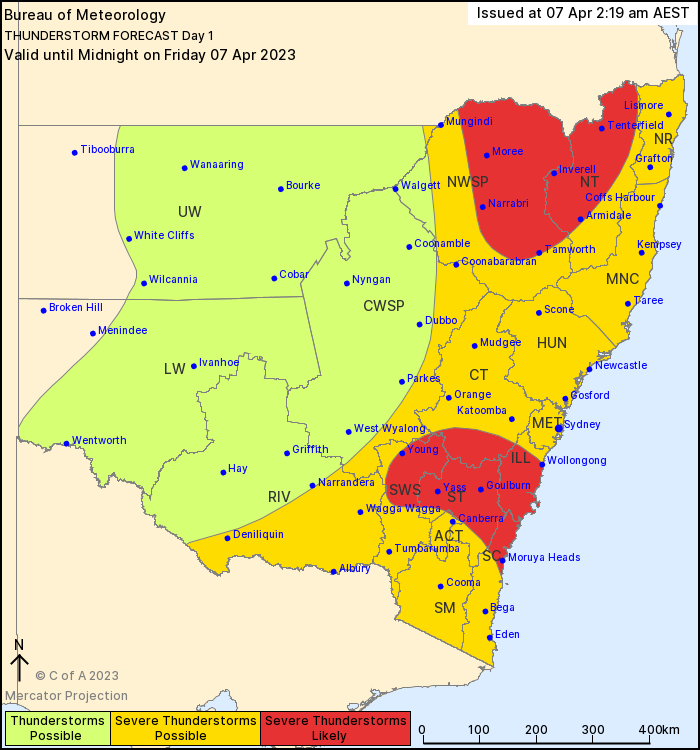 Severe thunderstorms are likely (if a thunderstorm occurs, the probability of it being severe is greater than 30%) across most parts of North West Slopes and Plains and Northern Tablelands, northern parts of South Coast, southern parts of Central Tablelands and most parts of Southern Tablelands, Illawarra and Southwest Slopes. Non severe thunderstorms are possible across remaining regions except for the far western parts of Upper and Lower West districts. There is the risk of very dangerous supercell thunderstorms in the northern red area (North West Slopes and Plains and Northern Tablelands), where storms may contain destructive winds (>125km/hr) and a chance of giant hail (>5cm). Thunderstorms will develop in the far west during early morning hours before pushing towards the coastal districts in the afternoon and evening.
Definitely an active weather day and one where it would be worth keeping an eye on the radar. You would think that the morning cloud cover would reduce storm intensity but the key today is just as much on the clash between warm surface air and much colder air up high…so while surface heating would add additional energy to storms, it isn't necessary for storm initiation.
Here's the lightning forecast for today – whilst we get some across our region the main focus is to our west: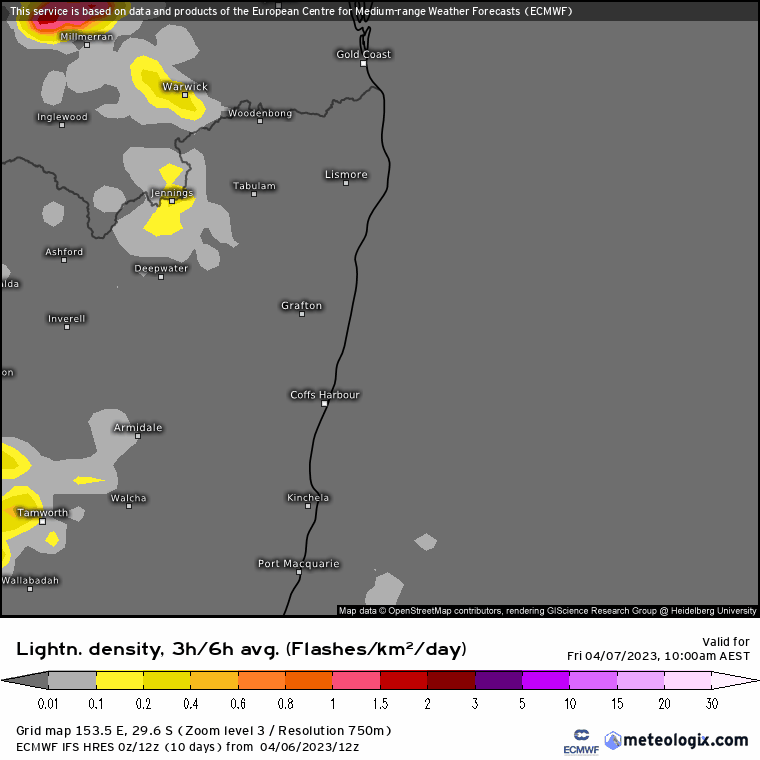 You can already see storms building to our west in the latest satellite image: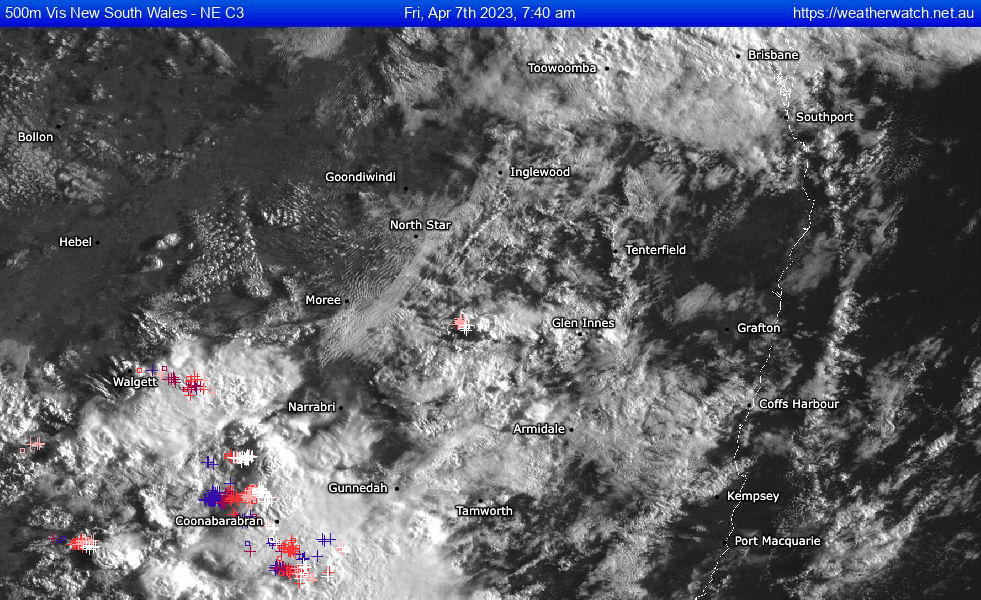 Looking further ahead and the monthly European outlook for summer has just been released…and has trended towards a stronger El Nino through spring and summer. Here's the forecast Pacific sea temperature anomalies through into the middle of next Spring – and you can certainly see the developing El Nino: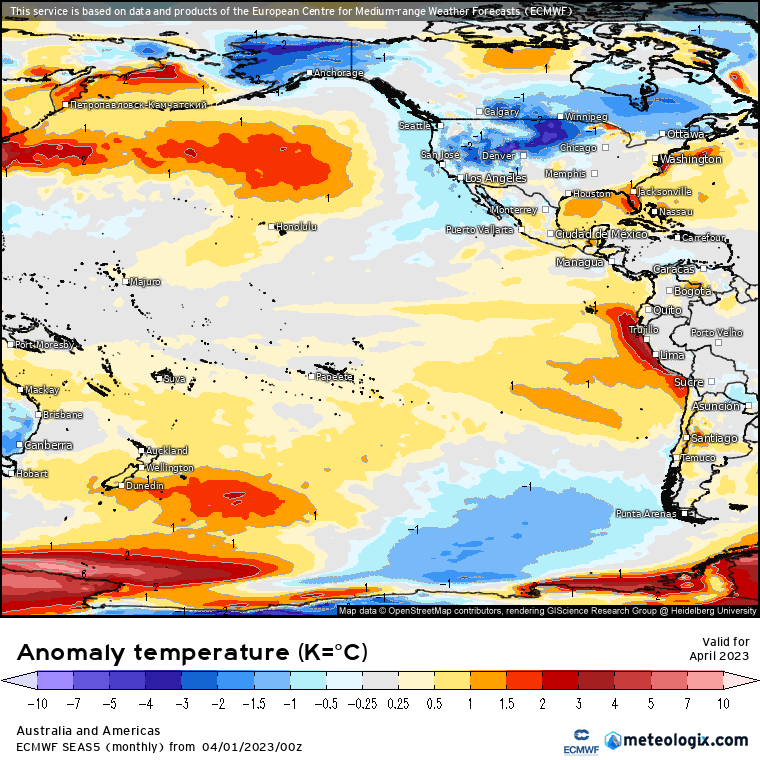 Likely impacts for NSW – warming up as we head into spring, with temperatures making the switch from below average to above average: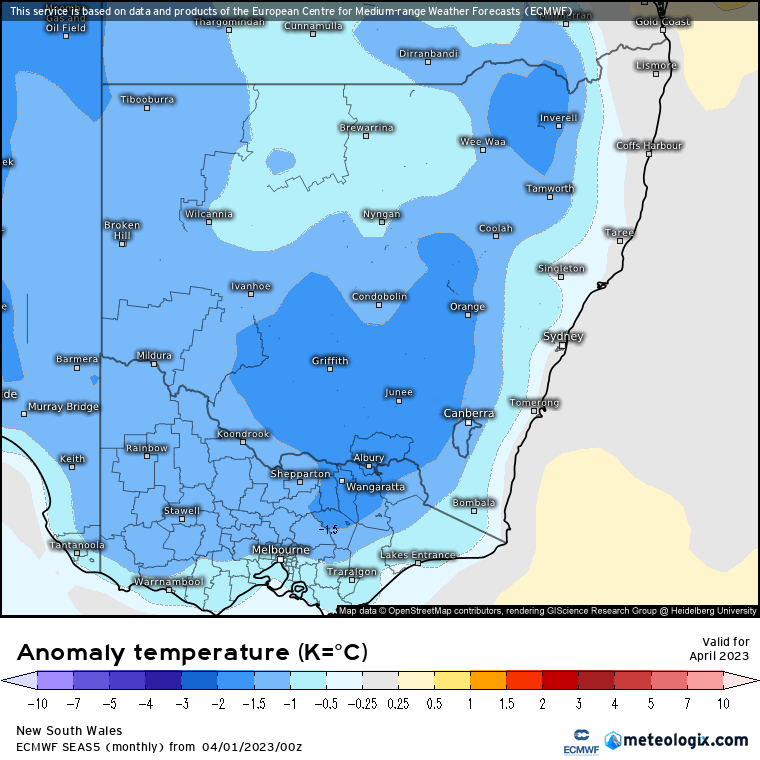 And the rainfall outlook is certainly trending below average as we head into late winter / spring – our traditional fire season: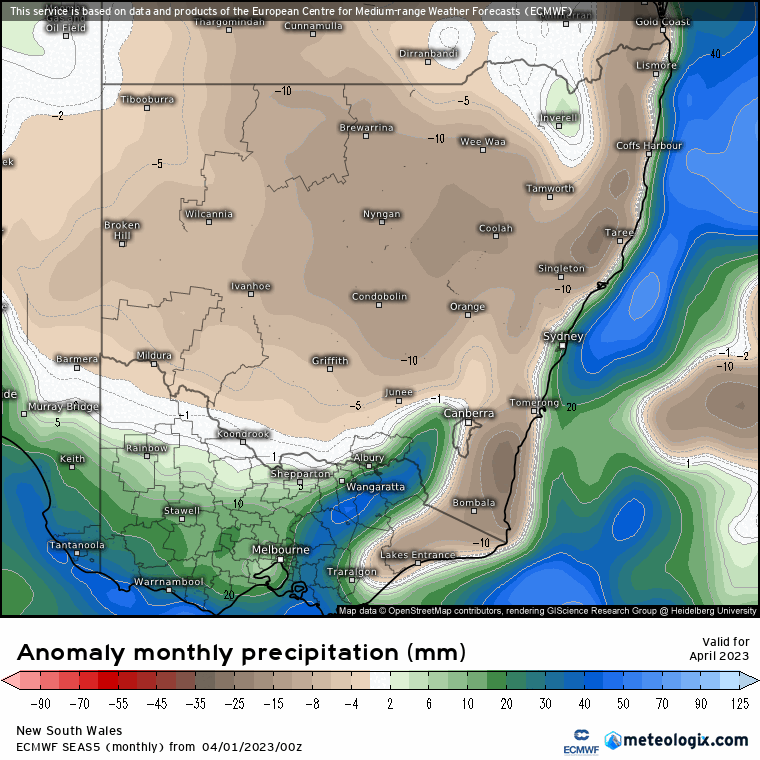 As per our last post a drier forecast does not guarantee dry conditions…no matter how much the atmosphere is weighted towards dry a combination of luck / other drivers can bring us wetter than expected conditions…however this forecast should be a heads up that now it a good time to get a fire plan together. You can put a fire plan together online, or come and chat with RFS crews at the upcoming Bellingen Show. They'll be on hand with fire plan kits, fun stuff for the kids and a heap of friendly advice.
Images thanks to Bellingen Weather / Meteologix / BoM / WeatherWatch
Thanks to Kombu Wholefoods and Snapfrozen for ongoing sponsorship of this site