The current bushfire crisis is, literally, off the scale. It takes a certain set of conditions before we can see such fires…and also worth seeing how they fit into the global picture. For me it doesn't make what is happening any easier, but it does help me understand just how things could get so bad. We certainly knew it was coming, with many posts on this page through August and September flagging the potential of this season. And, sadly, it all came together as forecast…in fact significantly worse than even looked possible at that time 🙁
Here's how the fires compare to other fires around the world: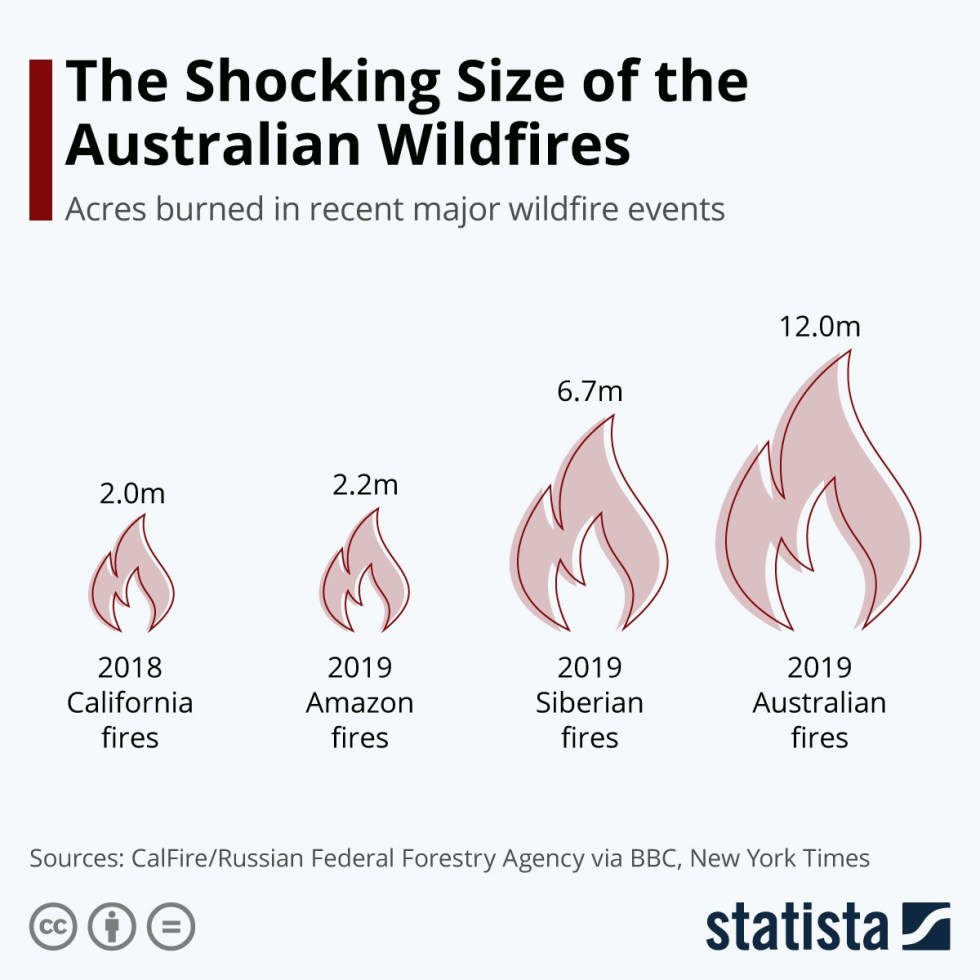 And here is why – such fires need a combination of hotter than average temperatures and drier than average conditions. 2019 looked looked like this…Temperatures were record breaking across much of Aus, including our region:
This fits with the significant increase in average temperatures seen across SE Aus over the last few decades. Here's how it looks for Canberra:
We've also seen drier conditions intensity over the last couple of decades…and increasing pressure across Aus definitely has a role to play. Here is how pressure has increased across much of Aus over the last 20 years (compared to the previous 20):
…and, not surprisingly, rainfall totals were also in the record-low territory across much of NSW (though we escaped record breaking territory on this one, with more regular rain along the coastal fringe):
And how does this compare to other years – again, literally at the edge of the scale:
Note the trend – the 2000s have been significantly drier and hotter than average. This last year comes on top of a longer term drought. Here's how the last three years looked:
Again, record breaking low rainfall totals across much of NSW. We should be heading into our wetter time of year, and global climate drivers are looking better for us than they have done for some time…but at this time, although some showers look possible, more significant drought (and fire) breaking rains are not appearing in the models. The only upside is that at this time we do not look like seeing a repeat of Saturday over the next few days. We still have fire burning in our region so still a time to be keeping an eye on RFS forecasts. May it rain soon, and may we soon have a government that takes real action on climate change.
Images: Bello Weather / Twitter