We've got two hot days coming up with a slightly cooler day sandwiched between them. Here's the forecast max temps for Thursday, Friday and Saturday: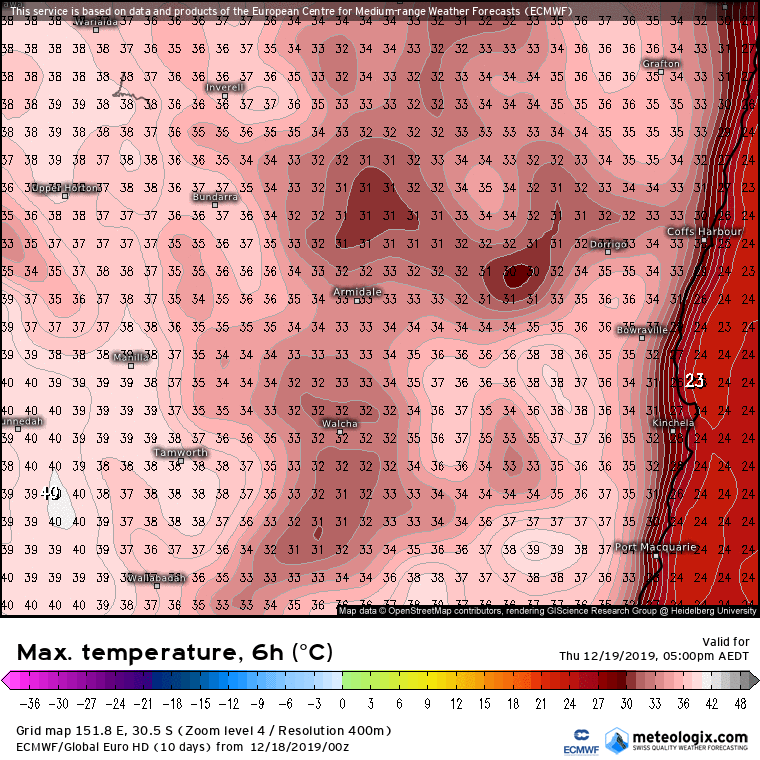 Going to be hot for us but not that unusual for us for this time of the year. What is unusual is the widespread nature of the heat – according to the BoM preliminary results suggest that the 17th December was Australia's hottest day on record at 40.9 ºC, with the average maximum across the country as a whole, exceeding the previous record of 40.3 ºC on the 7th January 2013.
Down south around Sydney and the Blue Mountains it's going to be even hotter than up here. Here's the forecast max temps for Sydney for this Saturday:
I'm sure everyone is aware of the bushfire risk over the next few days. As has been the case for months now the only thing that will put these fires out is some widespread rain….but none of that in the short term outlook. Here's our forecast rain through the end of the weekend:
Some good news – chances of storms increase again next week, at least across our region (not so lucky for those down south). No widespread rain looking likely at this time. The SAM is also forecast to rise, increasing the chance of wetter weather – though still to see that reflected in forecast rain. The latest SAM looks like this:
The bad news – models are starting for forecast an increased risk of El Nino kicking back in – and that is not good news for much of SE Aus. It's no certainty at the moment, but is not where we want the trend to be heading.