We've got a fairly hot day coming up today, with a peak in the heat tomorrow (Saturday). We'll then see a change come through that will cool it down a little, before the heat returns later next week. You can see the ups and downs in the temperatures in this animation of the next 9 days: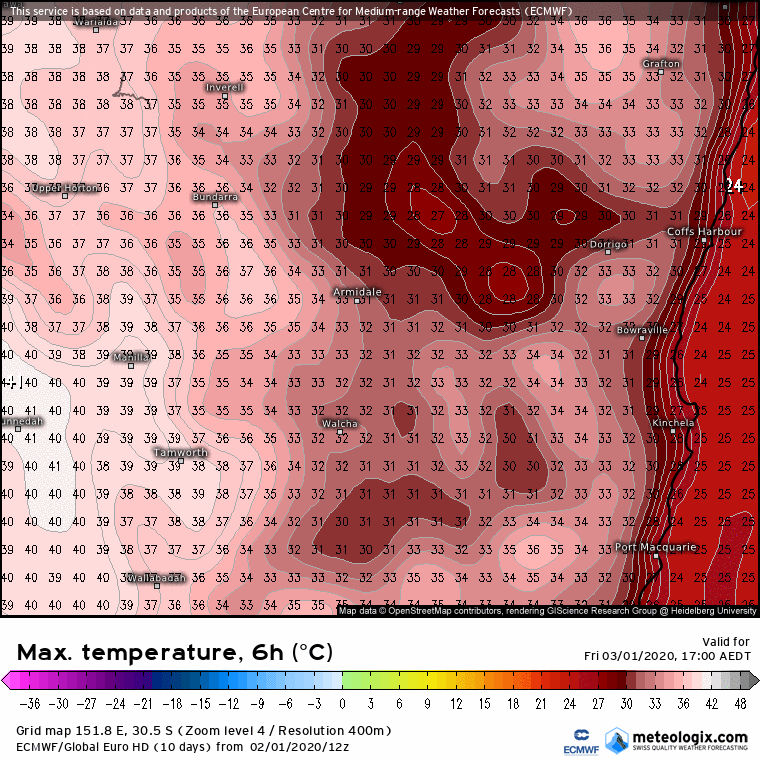 Could well crack 40C either Saturday or later next week, so certainly going to feel hot out there. Not a great deal of rain forecast, and the rain that does fall will be mainly in the form of storms on the hills later next week. Totals over the next 8 days looking like this:
Of course the main focus over the next couple of days will be the fires burning (mainly) to our south. They have a big day coming up Saturday with scorching temperatures combining with strong winds to bring more extreme fire weather. The three day temperature forecast for the south coast looks like this:
The winds are looking like this for Saturday into Sunday – another classic blow up day with strong westerly winds developing during the day and then a VERY strong southerly change blasting up the coast overnight. This combination will again send fires heading east to south east, before then heading north. Going to be horrible down there once again:
The only good news – once again repeating that the Indian Ocean Dipole and Southern Oscillation are both heading back towards neutral (although the SAM is taking another dip right now). The IOD is looking like this right now:
You can see the extreme event heading back quickly into neutral. Also a good chance that the MJO will strengthen as it moves across Australia over the next couple of weeks, likely generating at least one cyclone that could move into the country from the north west. One significant impact from this would be rain moving inland – and that in itself will likely disrupt the intense repeat-heat build ups that we have been seeing develop inland and move south east. Still no sign of any big rain events right now, but at least the dice are getting more loaded towards wet….but will it bring an end to the three year drought?