We have dangerous fire weather coming up on Tuesday. Here is the current forecast for Tuesday, showing us under a forecast of Extreme Fire Danger:
And here are how the current fires burning to the North of Dorrigo are looking – these fires (and the fires to our South) will likely not be controlled before Tuesday:
In the words of the RFS:
Based on the latest forecast, there is likely to be widespread Severe and Extreme fire danger. This is expected to stretch from the Queensland border to the south coast, and across the Central West.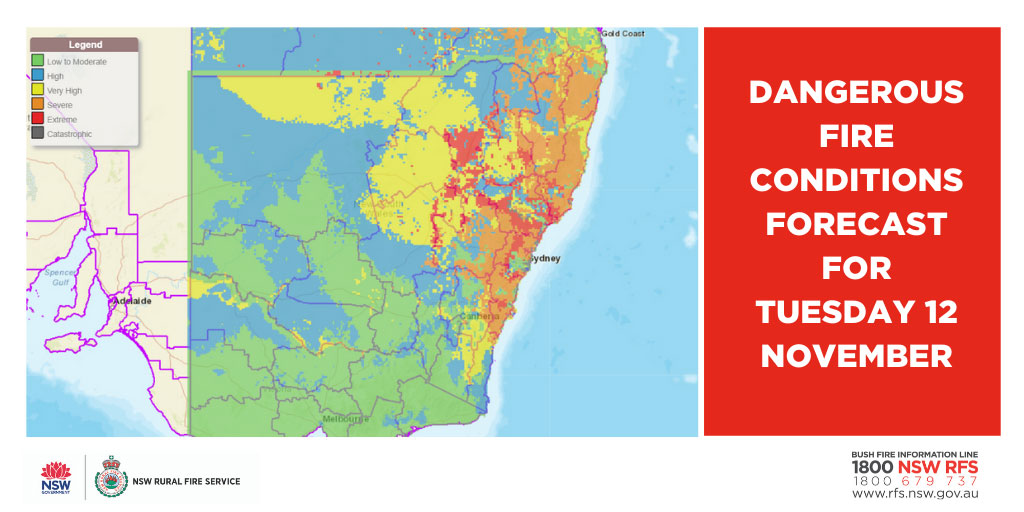 There is already extensive fire activity across the north coast and northern NSW areas. These fires won't be contained in time.
Under these conditions, these fires will spread quickly and will threaten homes and lives.
These conditions will be as bad, if not worse, than those experienced on Friday as they will be across a much broader area including large population centres like Sydney.
There are significant resources committed to fires and they are limited. If you are threatened by fire, you may not get help.
Monitor conditions over the next few days. Use the time now to get ready. Stay up to date on bush fires in your area and take responsibility for your own safety.
As such it is crucial that we keep all fire out of the valleys. At this time there are no fires in our valleys. Please do not undertake any activities that may lead to fire. If you do spot any smoke columns or fire in our valleys and there are no fire trucks in attendance please dial 000.
Once we get through Tuesday then fire danger levels will likely decrease a little before likely increasing again late in the week. At this stage there is no rain forecast.