Trigger warning – this post contains references to the destructive fires from 2 years ago.
We've just had another wet 24 hours, and have more rain to come this week. Here's how the 24 hour rainfall look to 9am Monday – check out those widespread decent totals: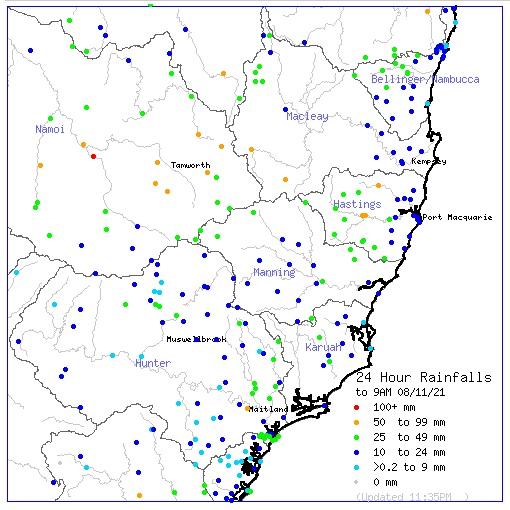 We had a lot of cloud yesterday, but today the sun is shining and the sky is blue. The atmosphere is not as unstable as yesterday, but the strong sun will raise temperatures quickly and should aid in the development of more showers and storms again this arvo, with the main focus on the hills. Here's the forecast rain for today from the BoM ACCESS C model via Weatherzone: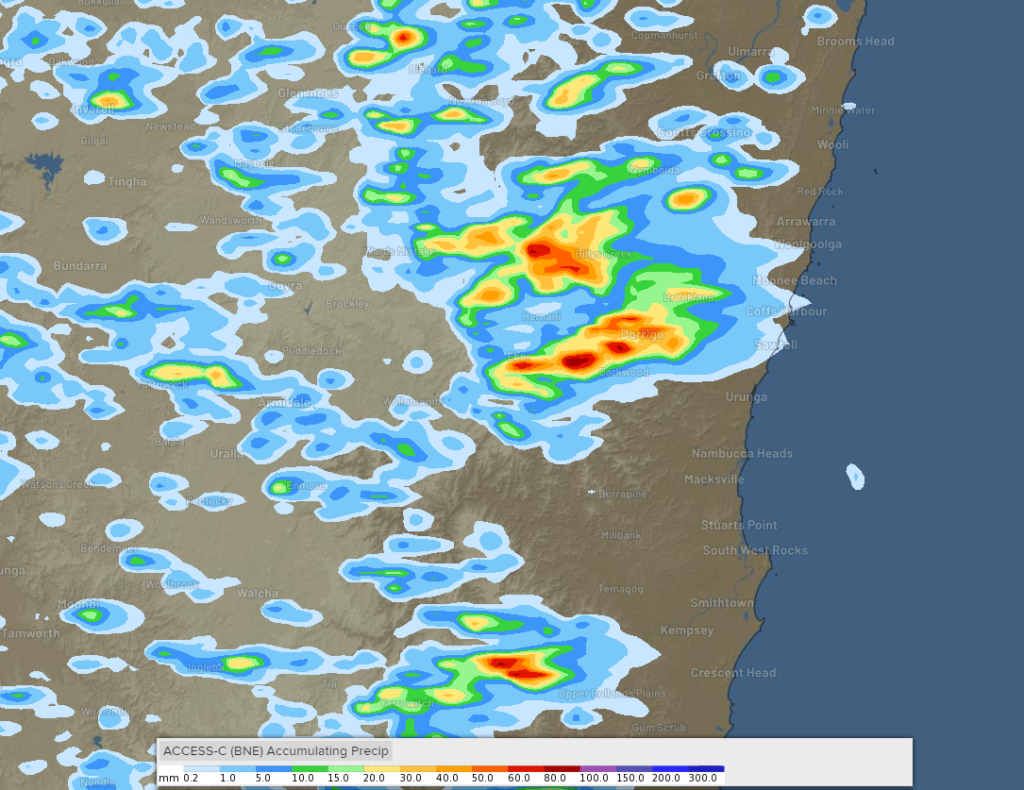 Looking further ahead we have more unsettled and potentially stormy weather likely through the remainder of the week. Tomorrow (Wednesday) is likely be the driest day of the week, with wet weather kicking back in on Thursday and lasting into Friday before clearing away to a stunning weekend with blue skies, temperatures in the 20s and lower humidity.
The current wetter weather is part of a longer term La Nina pattern, which is likely to last through our summer. The latest 6 week forecast shows more significant rain is likely: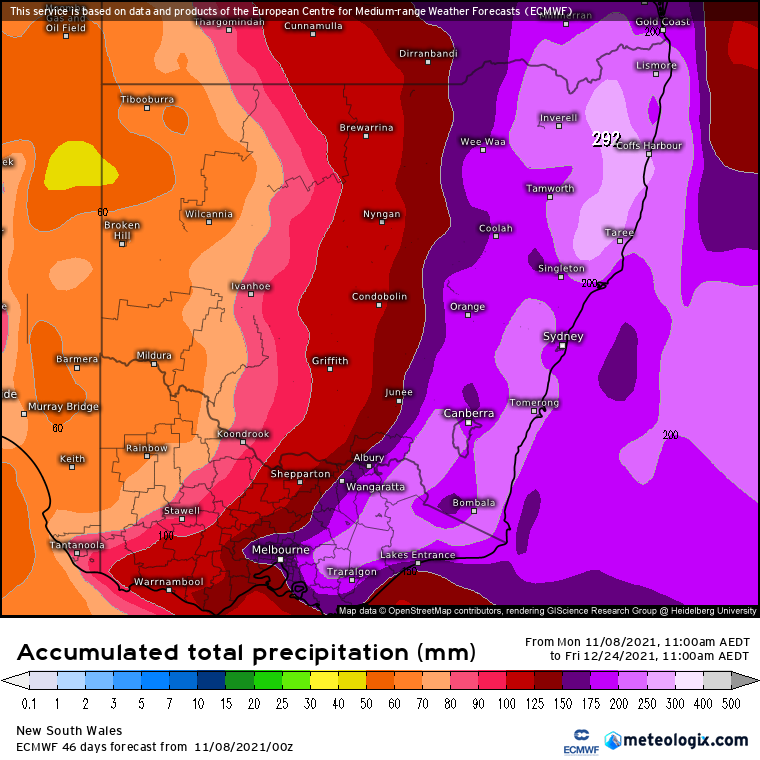 The rainfall through the last 12 months has also been significantly wetter than average – here are the 12 month totals to the end of October: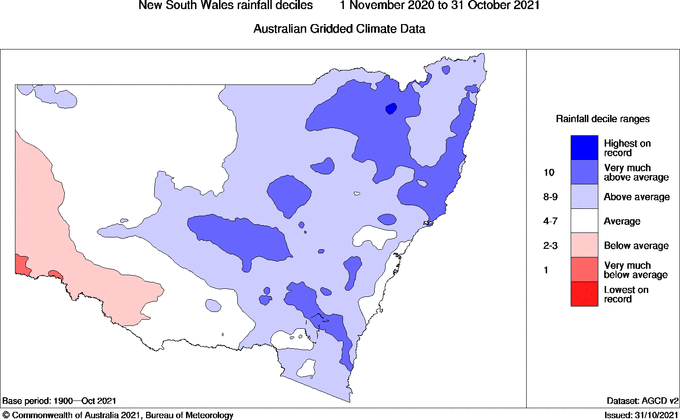 Compare that to two years ago…here are the rain totals for the 12 months to the end of October 2019: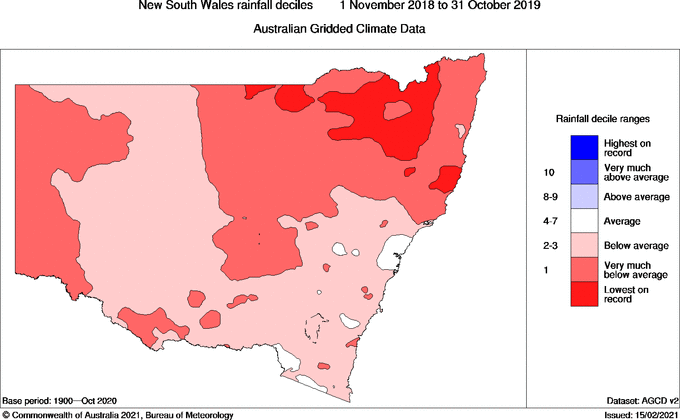 By this date in 2019 we were already facing numerous destructive fires burning across NE NSW. Here is the radar animation for 2 years ago on 8th November – what you can see are smoke plumes from the massive fires burning across our region: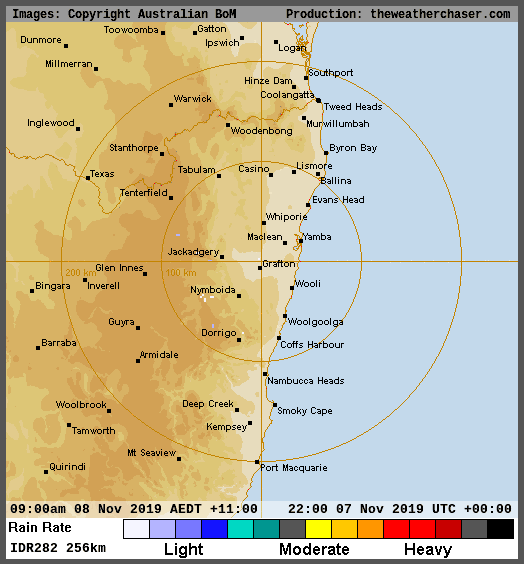 The fires on that day brought significant destruction to numerous properties and lives across our region – as you can see in this image posted yesterday by North Macksville Rural Fire Brigade: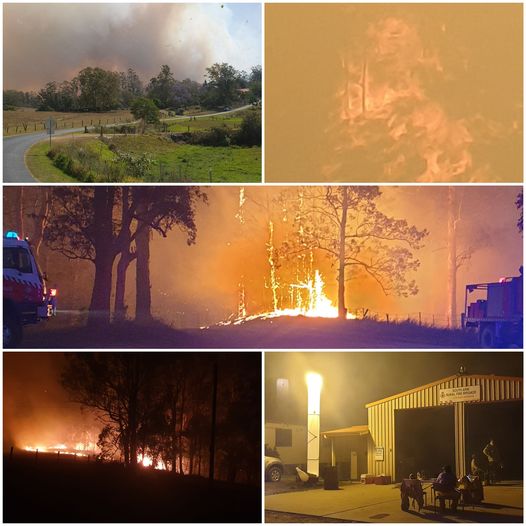 We are vibrant and green this year, but will face similar conditions again going forward – so a timely reminder to use these cooler and wetter years to prepare your property for fire as well as flood. There is a range of information available on the Rural Fire Service website.
It's also a good time to consider volunteering – you get to work with a great crew and learn a lot of useful information and skills that you can put to good use on your own property as well as to support your community. The time to join is now – when the fires are here many crews are too busy to train up new members. Again there is a heap of information on the RFS site – and with forecast rain volunteering with the SES is also another way to offer invaluable support to your community.
That's enough for today, will post again soon. Thanks for reading and for all the feedback.
Thanks to: Kombu Wholefoods | Snapfrozen | Meteologix | North Macksville RFB | BoM | Weather Chaser