We've currently got a weaking upper low swirling around central NSW. That upper low is slowly moving east and weakening…but what it is also doing is drawing down some big moisture from the Coral Sea and the cyclone over the Gulf of Carpentaria. Here's the last 12 hour animation, courtesy of Weatherzone: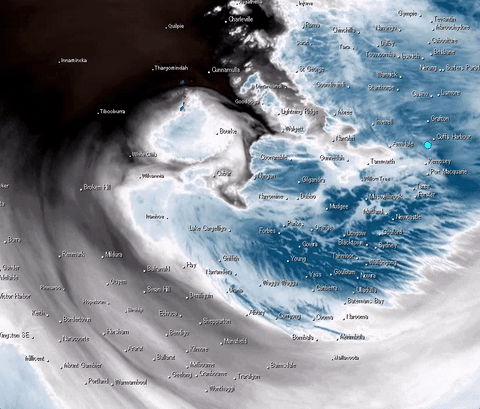 You can see the moisture being drawn down from a very humid Queensland. One big reason for that humidity is a developing cyclone in the Gulf – looking fairly spectacular in the animation. Here's the latest 12 hour rainfall animation, again courtesy of Weatherzone:
What does that mean for us? The cyclone is likely to move west and gradually have less impact across Eastern Aus. We'll likely see (what could be quite a sharp) increase in showers moving in from the ocean as that low moves closer overnight – and there could be some good totals across parts of NE NSW through tonight and tomorrow…worth keeping an eye on river levels if a decernt shower train kicks in…nothing huge likely but the ground is still wet after recent rains.
Beyond this upper low – moving east – and cyclone – moving west – we'll be looking at a few more showers and storms through the week. There are some indications of some more wetter weather in the middle outlook, but still way too far off for any certainty. I'll post more as models settle down.