We're now into Spring and at that time of year where pile burns take off into the grass and local brigades are kept busy…And this year there is a good reason why those fires are moving – it has been much drier than usual across the Coffs Coast. Here's one fire from earlier on today that kept North Bellingen and Gleniffer brigades busy: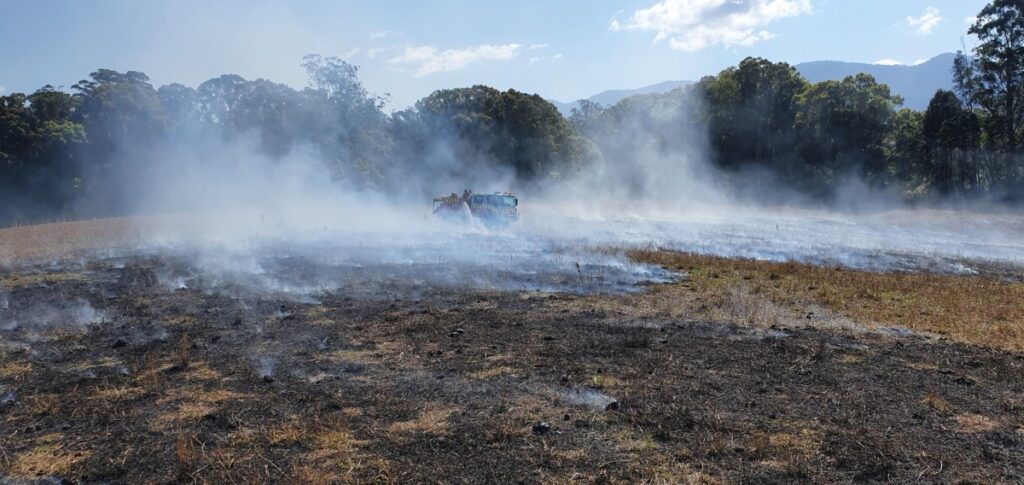 You can see how dry it has been for us when you check out the rainfall percentage for winter for NSW with an area of red across our region indicating total winter rainfall of only between 20% and 40% of normal.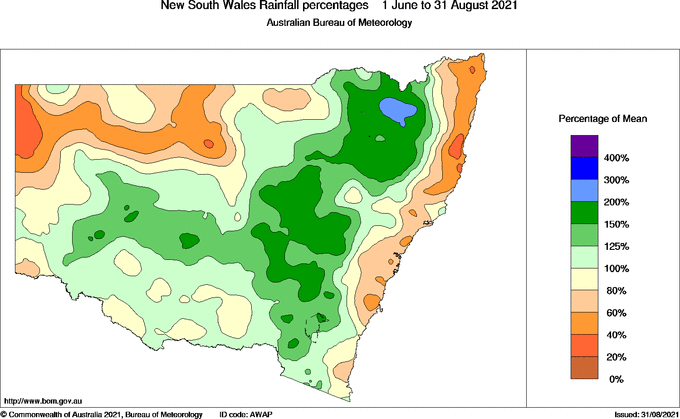 Coffs has had its driest winter since 1995 – but just inland it has been a LOT wetter, as you can also see from the map above – a good map to show the impact of the Great Dividing Range when winds and weather systems come in from the west.
Looking ahead all indicators are still pointing towards a wetter than average late Spring and Summer with the Indian Ocean, Pacific Ocean and Antarctic all pointing towards the likelihood of wetter than average conditions. Once we hit summer the Pacific plays a stronger role in our local weather – and you can see the La Nina already forming once again: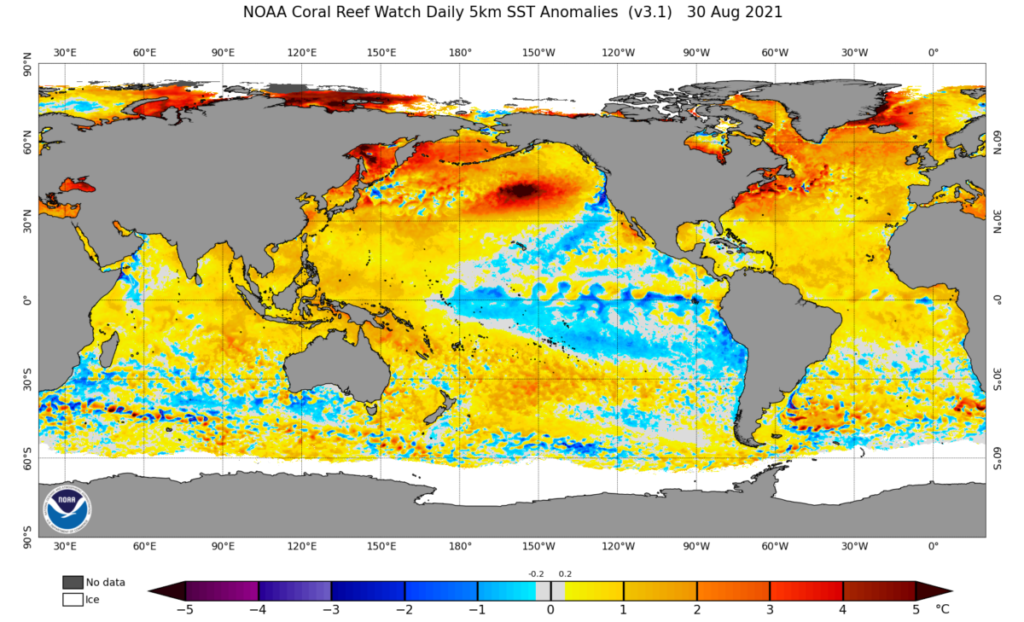 As we head into Summer the La Nina is forecast to strengthen – here are the forecast ocean temperature anomalies for one of the key La Nina regions – check out the dip in summer before we return to neutral conditions as we head into next winter: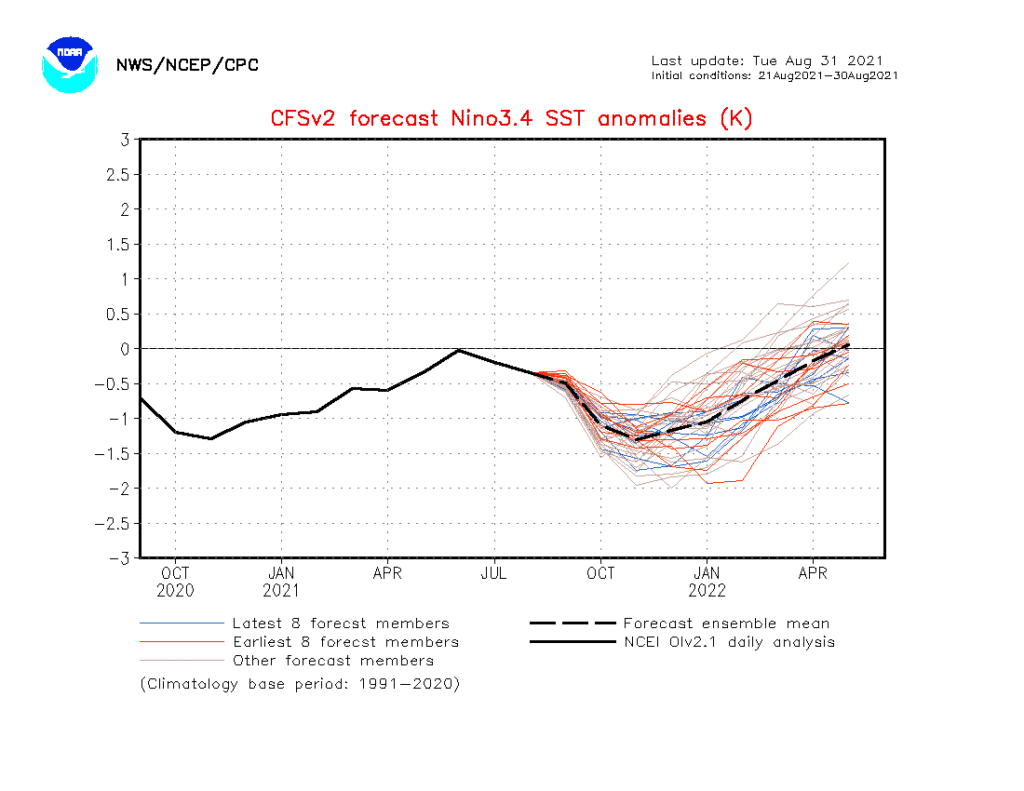 The ocean temperatures around Australia (and in fact around the world) are much warmer than average and (in combination with the ocean patterns around us) increases the chance of some heavier rain events through summer. Here's the forecast for September: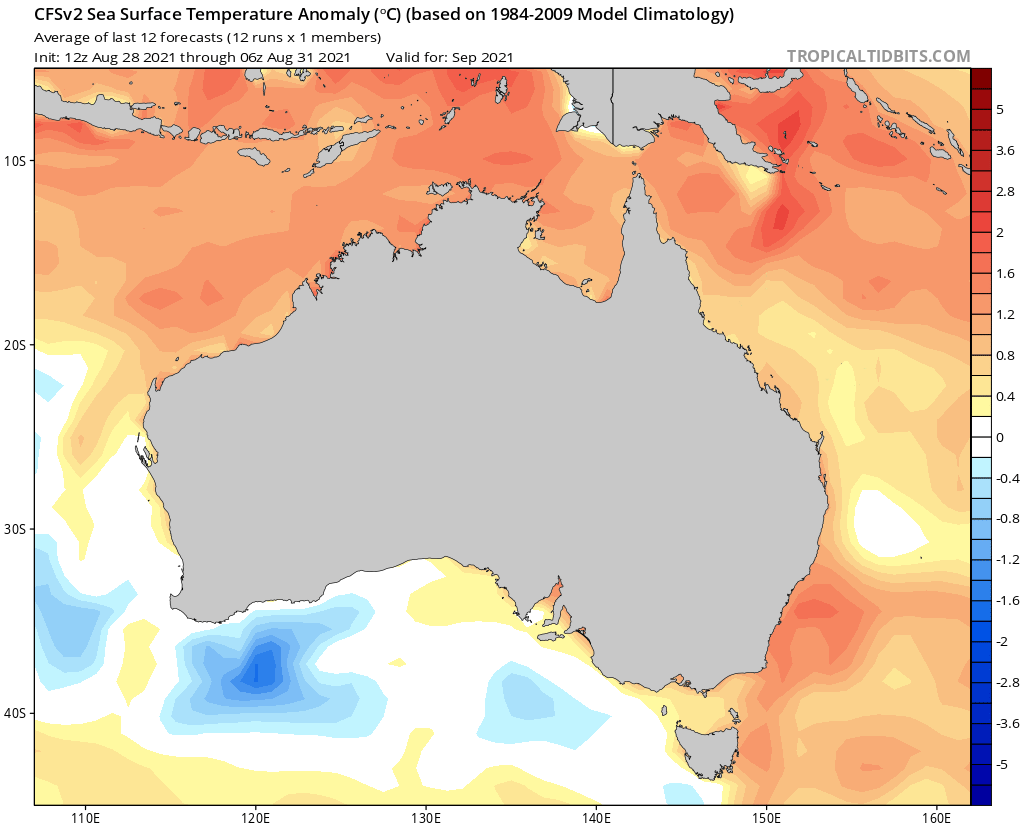 Talking of warmer than average, Australia just reported it's 4th warmest winter on record – here's how it looked across the country: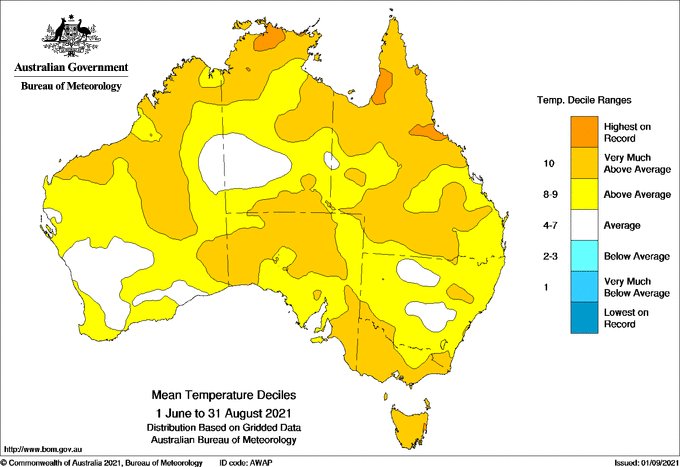 With burns happening around us the air quality has been hazardous at times. Below is the output from the air quality monitoring station hosted and donated by Kombu Wholefoods yesterday evening – you can see the impacts of the burn at Repton as the smoke moved in with the sea breeze: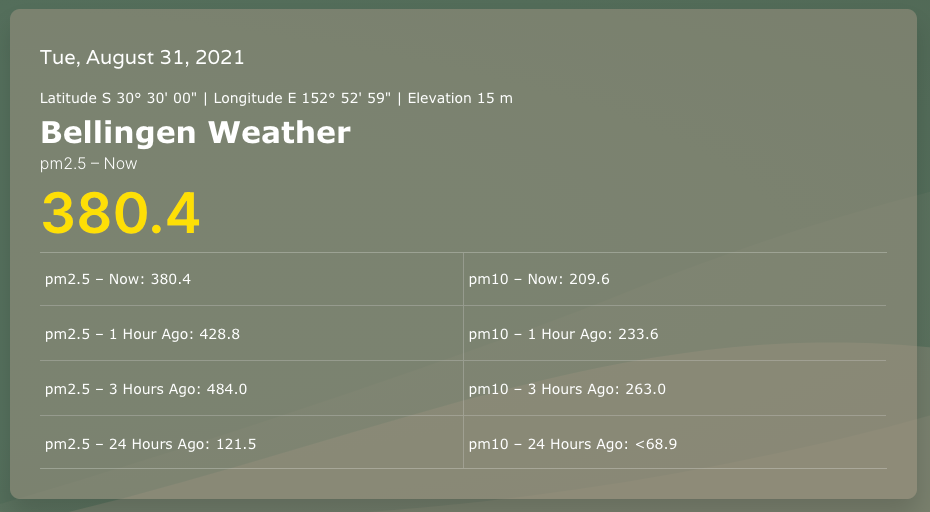 To understand what those numbers mean we've added a page to the weather website with more information. A quick summary gives us: 0-33 is Very Good | 34-66 is Good | 67-99 is Moderate | 100-149 is Unhealthy For Sensitive Groups | 150-199 is Unhealthy | 200-299 is Very Unhealthy | 300-500 is Hazardous.
To check out the live data head to the Bellingen Weather homepage and click on the Air Quality Index tab at the bottom of the page.
For now we'll see changes move through from time to time with some showers possible with the change. We've actually also got the chance of a few showers over the next 24 hours with an onshore flow developing. No big totals but don't be surprised to hear some rain on the roof. The next one with some more significant rain potential will move through this Sunday, with most models showing totals below 10mm but a couple of models offering some higher totals. As we move further into Spring we should also see some afternoon showers and storms start to develop – love that time of year!
I'll post again when we have some more significant weather on the way – until then a happy Spring to you all.
Thanks to: Kombu Wholefoods | Snapfrozen | Tropical Tidbits | NOAA | BoM